Elon Musk, Bill Gates Warn About Robots Taking Over Jobs, But Study Says People Aren't Worried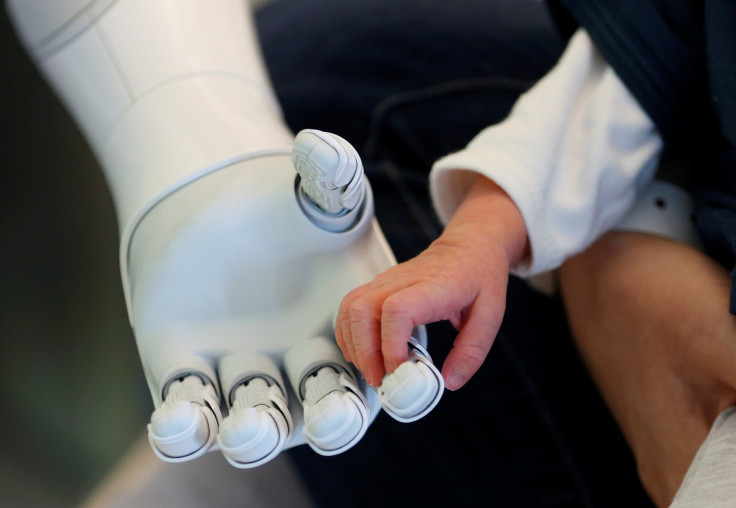 Recently, tech leaders including Tesla CEO Elon Musk and billionaire Bill Gates warned about robots taking over jobs. However, a new report shows people are not that concerned about job automation.
The report The Robots Are Coming, But Not For Me, is based on an online survey of more than 2,000 adults commissioned by consumer engagements firm LivePerson last month.
Although experts agree robots, artificial intelligence and automated technology will have at least some effect on global economies, the majority of people think they'll be alright but say other professionals will be affected by mass layoffs, the report found.
Among those surveyed, a high 88 percent said they were not very worried about losing their job after they were told about an Oxford University study that said 47 percent of US jobs were "highly likely" to be replaced by technology.
Seventy-four percent of respondents said they are not very worried about losing their jobs to automation. However, 66 percent said positions in other industries could be replaced by robots or other technology in the next 20 years.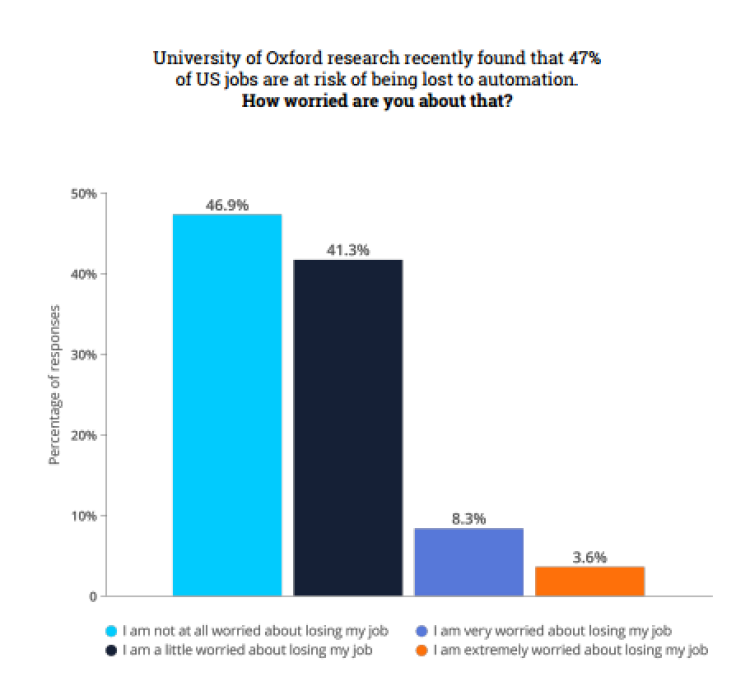 Who is Most Concerned About Robots Taking Over Jobs?
Those with professional degrees feel more secure about their jobs than those with lower education levels. Respondents who make the least income were most concerned about losing their positions, with 15 percent of those making less than $25,000 saying they are very worried their jobs will disappear. Those making $25,000-$50,000 were also worried they could be affected by job automation.
Employees in the banking and financing industry are least likely to say their industry is disappearing, with 11 percent saying accounting and finance jobs are likely to be replaced by technology in the next 20 years. Among those in the manufacturing industry, 76 percent said their industry were among the most at-risk sectors when it comes to automation.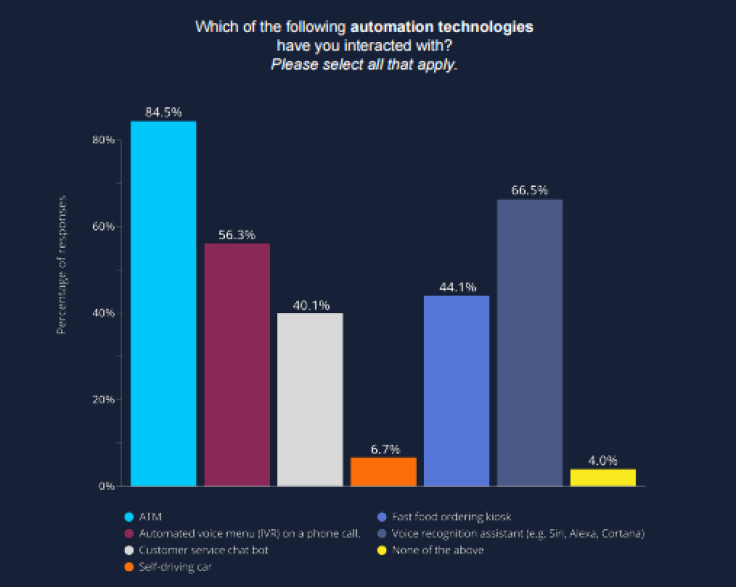 Consumers Fear The Economy More Than Robots
Almost 36 percent of consumers said they were more scared of losing their job because of a bad economy. Meanwhile, 14 percent said they feared they would lose their job over automation and 10 percent blamed their possible loss of employment because of overseas workers.
Apple's Siri, Amazon's Alexa and Fear Of Job Automation
The report also found exposure to artificial intelligence is linked to fear of losing a job because of advanced technology. Sixty-six percent of Americans have interacted with Apple's Siri, Amazon's Alexa or other voice apps, while only seven percent have experiences involving self-driving vehicles. However, among those who have understanding beyond Siri, 35 percent said they worry about losing their jobs at least once a month.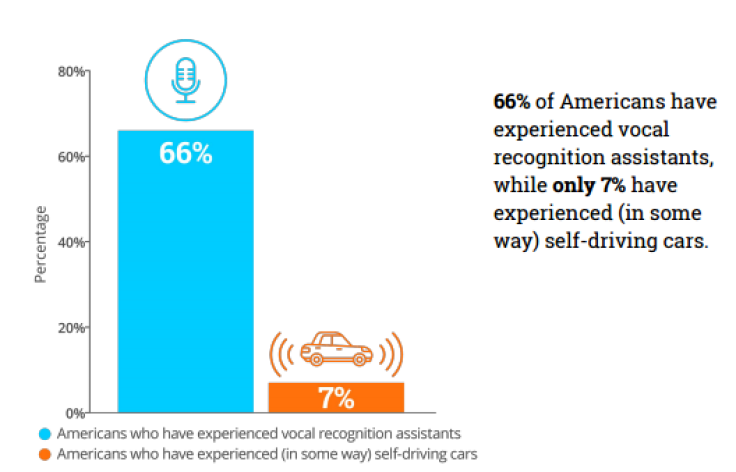 There have been previous studies pointing to job automation. A McKinsey 2015 report said 45 percent of jobs could be replaced with current technology. Meanwhile, Bank of England chief economist Andy Haldane said in November 2015 80 million jobs in the U.S. and 15 million in the U.K. could be taken over by robots.
This week, businessman and Dallas Mavericks owner Mark Cuban turned to Twitter to warn about robots' threat to unemployment saying "we need to prepare for it."
Last week, Gates said in an interview that robots should get taxed just like humans, adding that the tax system on automated labor should work like how it does with a person's earnings when the government takes part of the wages to fund social programs.
Also last week, Musk warned about artificial intelligence at the World Government Summit 2017 in in the United Arab Emirates, adding that self-driving cars will be the norm within a decade.
Meanwhile, a recent report by GPShopper shows that although retailers are pushing for more technology to enhance consumers' shopping experience, such as chatbots, virtual reality and augmented reality, customers might not care so much about it. The report had some bad news for Amazon and Google. Only 21 percent of the consumers felt that virtual assistants, like the Amazon Echo and Google Home, will boost their shopping, including during major holiday sales.
However, the report by GPShopper found consumers see self-checkout as the most useful tech service, with 51 percent of consumers saying it positively impacts their shopping experience.
The same notion was found in the LivePerson report, which found 55 percent of people trust a bot to take over the job of a cashier. Something that is seen with Amazon Go, and other retailers, like CVS and Target, who have implemented self-checkout services at their locations.
© Copyright IBTimes 2023. All rights reserved.