Employers Paid 63% More For Health Benefits In March Compared To Last Year, To $2.26 An Hour Per Worker; National Average Total Hourly For An Employee: $29.13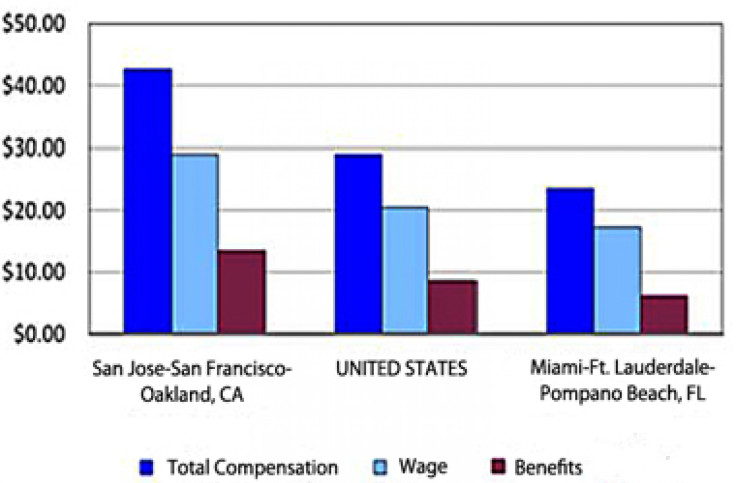 Official U.S. statistics released Wednesday show that the average employer is paying 63 percent more than a year ago to offer health insurance to its employees.
The Bureau of Labor Statistics said in March the total hourly cost of one private sector worker was $29.13 an hour, of which $2.26 goes to pay health insurance premiums. That's way up from the $1.41 employers were paying in the same month last year, showing that health insurance costs are continuing to rise for both workers and employees. The cost of offering paid leave averaged $2.01 an hour.
Payroll costs vary by region, but they increased in all metropolitan statistical areas. San Francisco's hourly cost tops $40 an hour whereas in the Miami it's $23.56.
Costs are higher for the public sector, where wages and benefits tend to outpace comparable private sector workers.
The average hourly cost of a public sector employee is higher. It costs $42.12 an hour to employ someone in state and local government. The difference is due to the higher cost of benefits afforded government workers compared to their private sector counterparts. In fact, wages make up a larger share of the total cost for private workers. The BLS says 35 percent of the cost of a public employee is benefits, higher than the 31 percent that makes up the benefits portion of the cost of employing a private sector worker – whose benefits are less generous.
© Copyright IBTimes 2023. All rights reserved.