End Of ISIS: Islamic State Commander Killed In Iraq As US, Russia And Turkey Compete In Syria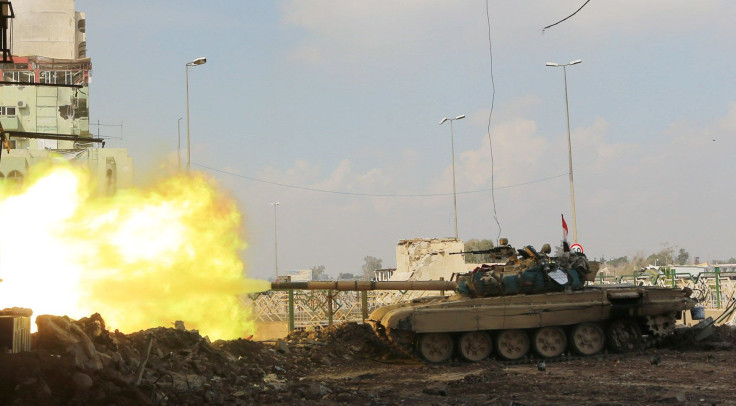 A top commander for the Islamic State group, also known as ISIS, was killed Tuesday by Iraqi forces in the jihadists' last bastion of Mosul as the U.S., Russia and Turkey converged against the militants in northern Syria.
Iraqi federal police reportedly killed Abu Abdul Rahman al-Ansary, ISIS' military commander in Mosul's Old City, as Iraqi forces and their allies fought to dislodge militants from their remaining pockets of influence in the western part of the city.
The Iraqi army, supported by the U.S., Kurdish fighters and Iran-backed Shiite Muslim militias began the operation to take back Mosul in October and managed to drive ISIS out of the eastern half of the city in January. The campaign has caused a mass exodus of both civilians and militants from the city, but pro-government forces have still faced fierce resistance as they pressed on toward the Iron Bridge over the Tigris River separating the two halves of the city.
Read: Where Is Abu Bakr al-Baghdadi? ISIS Leader Reportedly Flees Mosul
"We are still moving toward the Iron Bridge. We are taking out snipers hiding in the surrounding building, we are still pushing for the Iron Bridge," Brig. Gen Mahdi Abbas Abdullah of the Rapid Response unit told Reuters.
ISIS evolved out of al-Qaeda in Iraq, which conducted a violent sectarian campaign of attacks against U.S. forces and the local Shiite Muslim community after the 2003 U.S. invasion of Iraq and toppling of President Saddam Hussein. The group later became known as the Islamic State of Iraq and then ISIS after expanding into neighboring Syria where a civil war erupted out of a 2011 uprising against Syrian President Bashar Assad. ISIS grew to be one of the most powerful opposition groups in the conflict, ultimately clashing with the Russia-backed Syrian army, U.S.-backed Kurdish forces and Turkey-backed rebel groups.
The three international powers and their sponsored forces have waged mostly separate campaigns against ISIS. But they have converged in the northern town of Manbij, which has been under control by the Kurdish-dominated Syrian Democratic Forces (SDF) since June. As Turkish forces threaten to oust Kurdish militants, which they refer to as terrorists, both the U.S. and Russia have established a military presence in the town.
Read: Iraq Nearly Defeats ISIS As US, Russia Team Up Against Turkey
The U.S.-backed SDF voluntarily conceded positions earlier this month to the Russia-backed Syrian army, with both forces set on preventing an invasion by Turkey and its Syrian rebel allies. While no formal military alliance has been established, U.S. military said it kept in contact with Russia to "deconflict" the situation.
"Why we're there, and why we care, is we want to make sure the parties on the ground aren't shooting at each other," Navy Capt. Jeff Davis, a Pentagon spokesperson, told the Military Times Monday, adding that they have been "relatively successful in keeping all forces there focused on the common enemy of ISIS" with little violence between other groups.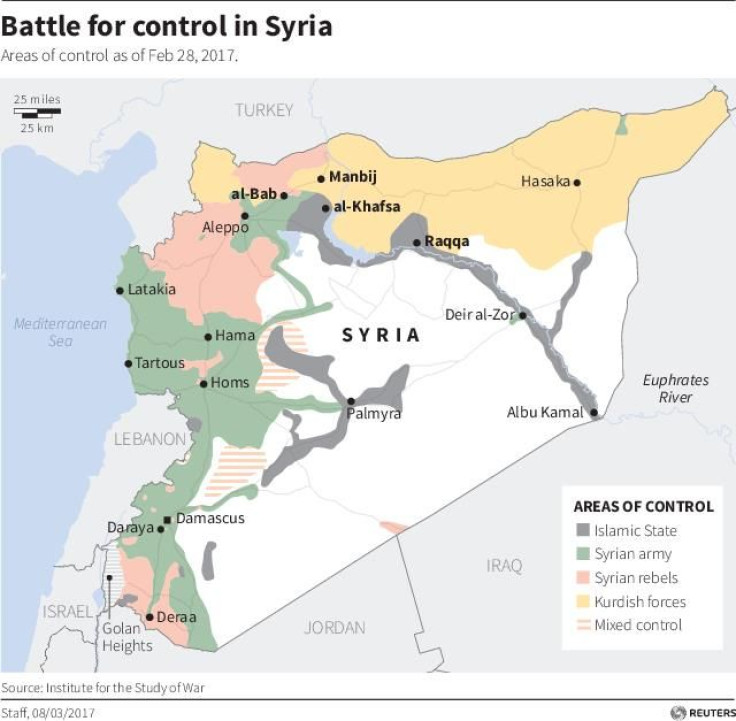 © Copyright IBTimes 2023. All rights reserved.