Enda Kenny-Trump Meeting: Full Text Of Irish Prime Minister's Immigration Speech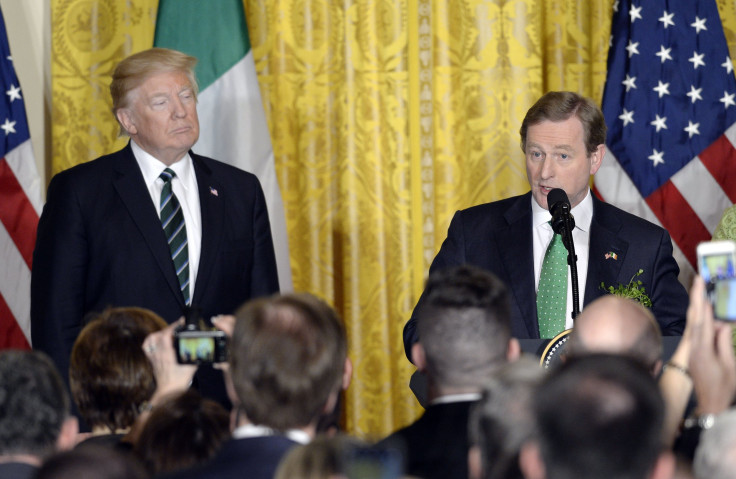 President Donald Trump welcomed Irish Prime Minister Enda Kenny to the White House on Thursday, a day before St. Patrick's Day. Kenny, who called Trump's rhetoric "racist and dangerous" in May, used the opportunity to present Trump with a bowl of shamrocks and a lecture on the immigrant spirit.
Kenny's remarks were given with Trump just a few feet away, and while they were about the history of Irish immigration to the U.S., they were heavy with political meaning. Trump has sought to crack down on illegal immigration, and, as Kenny noted, an estimated 50,000 undocumented immigrants currently reside in the U.S.
Read: Is It St. Patty's Or St. Paddy's? To The Irish, The Answer Is Obvious
"This is what I said to your predecessor on a number of occasions - we would like this to be sorted," he told the president at a lunch event. "It would remove a burden off so many people that they can stand out in the light and say: 'Now I am free to contribute to America, as I know I can.'"
Kenny's comments on the Irish in America are below:
"It's fitting that we gather here each year to celebrate St. Patrick and his legacy. He too, of course, was an immigrant. And though he is of course the patron saint of Ireland, for many people around the globe, he's also the symbol of, indeed the patron of, immigrants.

Here in America, in your great country, 35 million people claim Irish heritage, and the Irish have contributed to the economic, social, political and cultural life of this great country over the last 200 years.

Ireland came to America because, deprived of liberty, deprived of opportunity, of safety, of even food itself, the Irish believed, and four decades before Lady Liberty lifted her lamp, we were the wretched refuse on the teeming shore.

We believed in the shelter of America, in the compassion of America, in the opportunity of America. We came, and we became, Americans.

We lived the words of John F. Kennedy, long before he uttered them. We asked not what America could do for us, but what we could do for America, and we still do."
Correction, March 17, 2017, 3:01 p.m. ET: A previous version of this article misspelled the name of Enda Kenny. The new headline reflects the change.
© Copyright IBTimes 2022. All rights reserved.
FOLLOW MORE IBT NEWS ON THE BELOW CHANNELS