Eric Frein Captured After 48-Day Manhunt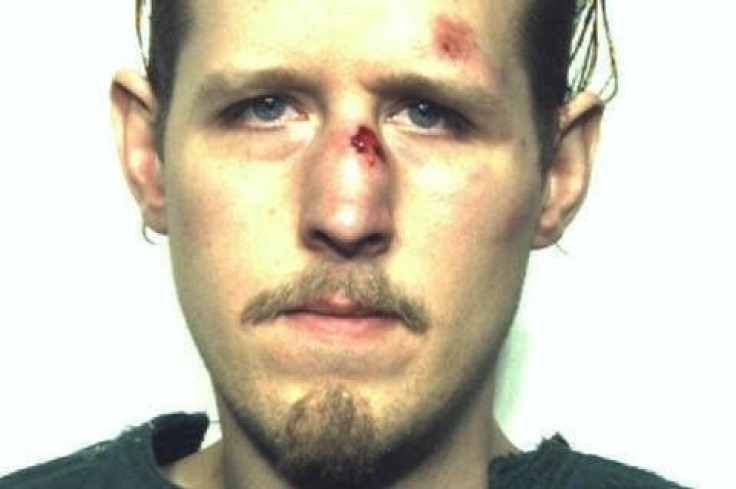 Suspected cop killer Eric Matthew Frein was captured alive Thursday night, marking the end of a 48-day manhunt, according to Pennsylvania State Police Trooper David Beohm. Hundreds of Pennsylvania state troopers have taken part in the manhunt for Frein, 31, since he allegedly ambushed state police barracks on Sept. 12, killing Trooper Bryon Dickson and wounding Trooper Alex Douglass. The FBI had named Frein one of its Ten Most Wanted Fugitives in the country and suspected he was hiding out in the Pocono Mountains.
In addition to any charges stemming from his attack on Dickson and Douglass, Frein will be charged with two counts of weapons of mass destruction after authorities discovered a pair of pipe bombs at his nearby campsite, according to Pennsylvania State Police Lt. Col. George Bivens. The bombs were rigged to maim anyone who triggered them.
Police hunting for the wanted "survivalist" have said they found a trail of clues left behind in a deadly game of cat-and-mouse. Police found soiled diapers that are used by professional marksmen when forced to stay in one place for a long period of time, Serbian cigarettes, an AK-47 and ammunition, among other things, likely belonging to the suspected cop killer. Frein speaks Serbian and Russian languages and is said to be a heavy smoker, gun fanatic and an experienced survivalist with a loathing of law enforcement agencies. He also has a fascination with Eastern European armies and claimed to have fought with Serbs in West Africa. Bivens has said Frein seemed to have been researching ways to evade capture for some time. "We are convinced that Eric Frein had been planning this attack at least for a couple years," Bivens said. "This information is supported by a search of a computer hard drive."
For nearly seven weeks, police have combed through densely wooded areas of northern Pennsylvania in search of Frein, costing state taxpayers roughly $3 million. Earlier this week, police deployed an unmanned balloon equipped with high-resolution cameras to act as a quieter, low-cost alternative to helicopters and other methods of aerial surveillance. Sightings of Frein have been reported numerous times, but the rugged terrain of the area has allowed the suspect to escape, until now. "Some of the sightings have occurred in circumstances where he kept himself far enough away where he knew it was unlikely someone could get to him," Bivens told ABC News in September. "I almost think this is a game to him."
© Copyright IBTimes 2023. All rights reserved.