Eric Garner Grand Jury Reaction 2014: New Yorkers, Mayor De Blasio Respond To NYPD Officer Daniel Pantaleo 'No Indictment'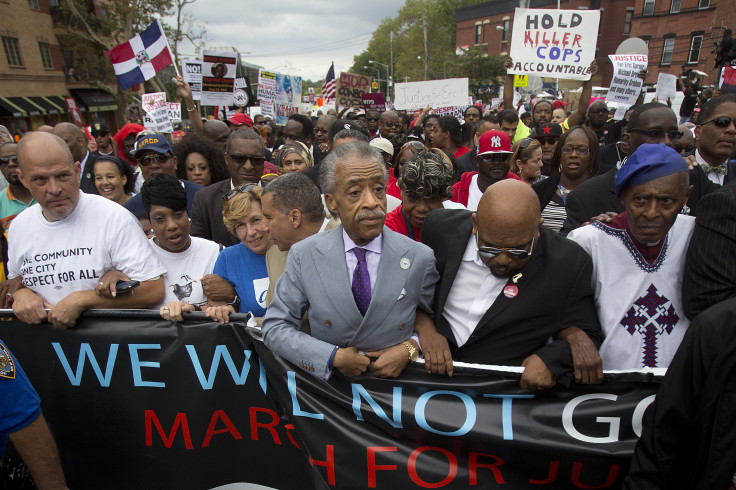 STATEN ISLAND, New York -- The decision by a Staten Island grand jury on Wednesday not to indict New York Police Department officer Daniel Pantaleo in the choking death of Eric Garner disappointed many who had hoped for a different outcome. Garner's death, caused in part by the officer's apparent chokehold during an arrest attempt in July, was widely criticized as an unjustified use of force and an indication of a larger problem in U.S. policing.
"You've got to be kidding me," Linder Hampton, who was at the memorial site on Staten Island that marked the spot where Garner was reportedly choked when the decision was announced, told International Business Times. She wore a T-shirt with the words "I can't breathe" on the back, a reference to Garner's struggle with Pantaleo, during which Garner repeatedly told the officers he was struggling to catch his breath. "All I do is pray that the Staten Island people will band together, we'll still stand and we'll rally. Maybe this decision can turn for the better. ... There has to be justice, one way or another," she said.
Another bystander at the memorial site, Brent Pierre, claimed that officials "waited for a rainy day [to make the announcement] because they know nobody's going to come out" to protest.
Jonathan Moore, an attorney for the Garner family, said he was surprised by the grand jury's decision not to indict Pantaleo. "Based on the evidence of the videotape, and the medical examiner, that this grand jury at this time wouldn't indict for anything is really just astonishing," Moore told the Associated Press. A New York City medical examiner had earlier ruled Garner's death a homicide caused in part by "compression of the neck" and chest. Garner ultimately died of a heart attack in an ambulance on the way to a hospital. Staten Island District Attorney Dan Donovan has indicated he will seek the court's permission to release information considered by the grand jury in Pantaleo's case.
The NYPD, anticipating the grand jury's decision not to indict, has been preparing for the fallout from Wednesday's announcement. Protesters are gearing up for a round of protests across New York City starting Wednesday evening. Garner's family will reportedly be at Foley Square in lower Manhattan at 5:30 p.m. Other protests have been organized for Union Square at 7:00 p.m.
"This is a deeply emotional day -- for the Garner family and all New Yorkers," New York City Mayor Bill de Blasio said in a statement. "His death was a terrible tragedy that no family should have to endure. ... Eric Garner's death put a spotlight on police-community relations and civil rights -- some of the most critical issues our nation faces today."
De Blasio encouraged protesters to remain peaceful and to demonstrate in a "constructive" way. "Today's outcome is one that many in our city did not want," he said.
In Washington, D.C., Rep. Elijah Cummings, D-Md., the ranking member on the House Oversight Committee, said Garner "didn't deserve to die. " There are no current plans for Congress to hold hearings on the Garner decision. Democratic Sen. Dick Durbin of Illinois has scheduled a broader hearing on civil rights in the Senate Judiciary Subcommittee on the Constitution, Civil Rights and Human Rights.
"Whenever you have a situation where civilians are being killed by police offices, unarmed civilians, I think it becomes very, very alarming," Cummings said. "I would like to see [hearings], but we're not in control."
International Business Times reporter Ginger Gibson in Washington contributed to this report.
© Copyright IBTimes 2023. All rights reserved.