Eritrea Wants U.N. Action on Kenya Over Somalia Claim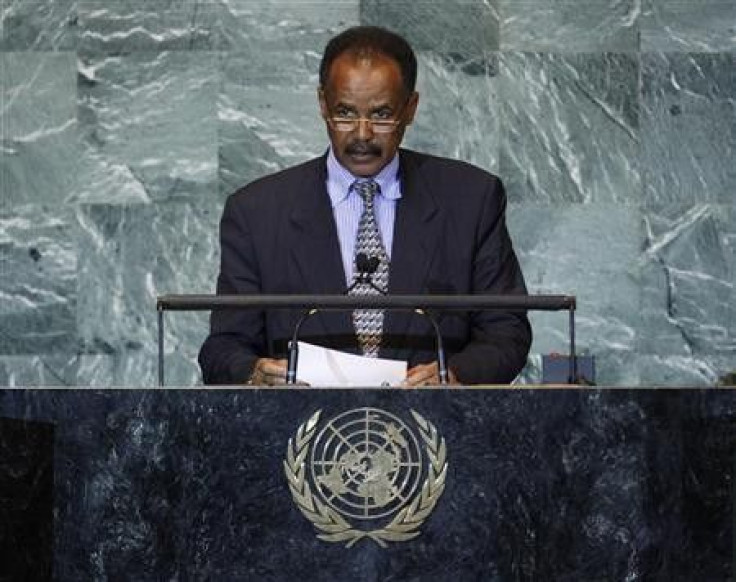 Eritrea has complained to the U.N. Security Council about Kenyan allegations that it sent weapons to Islamist rebels in Somalia, calling for an independent investigation to judge the dispute.
Foreign Minister Osman Saleh said in a letter to the Council that Eritrea was confident an investigation would find Nairobi's defamatory accusations to be baseless, and urged the United Nations to take action against Kenya in the dispute.
Nairobi has accused Eritrea of flying in weapons for al Shabaab, an insurgent group liked to al Qaeda which has been fighting the Western-backed Somali government since 2007, and which is now also battling Kenyan forces.
If, as Eritrea confidently believes, the investigation determines that there is no basis whatsoever to the very serious and harmful accusations by the government of Kenya, Eritrea calls on the Security Council to take action that would redress the injustice suffered by the people and government of Eritrea, Saleh wrote in the letter, seen by Reuters.
Defamation of a member state of the United Nations should not be indulged in with impunity and must not be tolerated, given its negative implications for regional peace and security, he said in the letter, dated November 16.
Kenya sent troops into Somalia, its anarchic neighbour, last month to rout the insurgents which it blames for kidnappings of Western aid workers and tourists on Kenyan soil, and frequent cross-border incursions.
Nairobi says it has credible information that consignments of arms were flown to the Somali town of Baidoa from Eritrea. Kenyan officials have said that Eritrean denials are not enough, and that it should go further and denounce al Shabaab.
Saleh's letter to Jose Filipe Cabral, the Security Council's rotating president for November, gave no details on who might conduct the investigation, nor did it say what action Eritrea wanted.
However, Eritrea's envoy to the African Union said the Kenyan allegations should be publicly dismissed as a first step.
It is up to the U.N. Security Council to take whatever action it feels appropriate and necessary to rectify such baseless allegations and defamation of a member state, envoy Girma Asmerom told Reuters.
However, as a starter, I strongly feel that the U.N. Security Council should urge the government of Kenya to publicly rescind its baseless accusation against Eritrea, he said.
FRENZIED CAMPAIGN
Kenyan officials have said the weapons consisted of shoulder-fired rockets, grenades and small arms munitions, and that they have been moved to areas in southern and central Somalia.
Slapped with an arms embargo, assets freeze and a travel ban for some of its officials in 2009, Eritrea faces another round of measures over charges it was aiding militants fighting to overthrow the internationally-backed Mogadishu government.
Asmara accuses Ethiopia of being behind the claims through a frenzied campaign to isolate and weaken its government. The neighbours fought a two-year war over disputed territory a decade ago but the frontier spat has yet to be resolved.
Scores of Ethiopian military vehicles carrying soldiers have
been spotted by residents in Somalia's frontier towns in what could be a joint attempt to flush out al Shabaab.
Ethiopian officials, however, say they have yet to decide on deploying troops, though they are committed to a regional initiative to stabilise the lawless Horn of Africa country.
© Copyright Thomson Reuters 2023. All rights reserved.