EU Accuses Google Shopping Of Antitrust Violations, Opens Investigation Into Android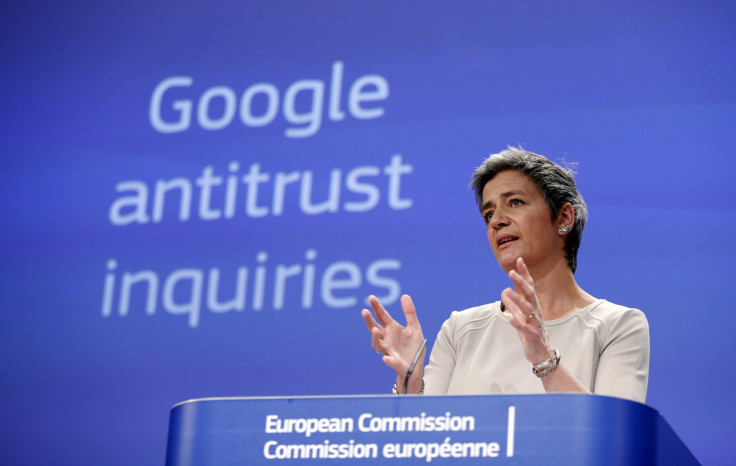 The European Union on Wednesday formally accused U.S. search giant Google of abusing its dominant position by distorting Internet search results and favoring its products and services, including its comparison shopping website, over others. In addition, the EU's competition commissioner also launched an investigation into Google's Android operating system to determine if the company's agreements associated with the use of Android breached EU antitrust rules.
"The Commission's objective is to apply EU antitrust rules to ensure that companies operating in Europe, wherever they may be based, do not artificially deny European consumers as wide a choice as possible or stifle innovation," Margrethe Vestager, the EU's competition commissioner, said, in a statement released Wednesday.
According to the EU's "statement of objections," Google artificially diverted traffic from rival comparison shopping services, which allow consumers to search for and compare the prices of products across different vendors, to its Google Shopping service.
The investigation into Android, meanwhile, would focus on assessing whether Google attempted to illegally hinder development and market access of rival mobile operating systems, and whether it forced phone makers to favor the company's own services and applications.
Google now has 10 weeks to respond to the commission's allegations and the company can then seek a formal hearing.
"Google now has the opportunity to convince the Commission to the contrary. However, if the investigation confirmed our concerns, Google would have to face the legal consequences and change the way it does business in Europe," Vestager said.
If the company is found guilty of violating the EU's antitrust rules, it could face a penalty of over $6 billion. In recent years, the commission has imposed severe antitrust penalties on other tech giants, ordering Intel to pay 1.1 billion euros ($1.2 billion) in 2009 and Microsoft 516 million euros ($546.4 million) in 2013.
Although Google is yet to respond publicly, the company had earlier released an internal memo following reports that the EU could file formal charges. "We have a very strong case, with especially good arguments when it comes to better services for users and increased competition," Google's General Counsel Kent Walker reportedly said, in the memo.
© Copyright IBTimes 2023. All rights reserved.