EU Foreign Policy Chief Federica Mogherini Calls For Palestinian State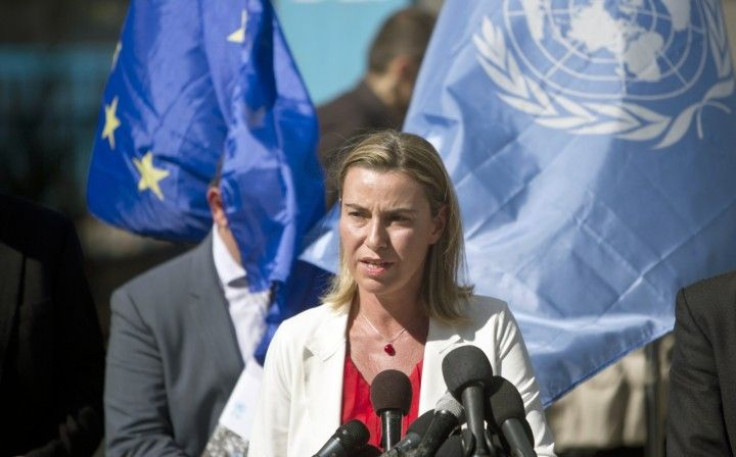 The European Union's new foreign affairs chief Federica Mogherini has called for the establishment of a Palestinian state in a visit to Gaza.
"We need a Palestinian state – that is the ultimate goal and this is the position of all the European Union," AFP quoted her saying. She added that the world "cannot afford" another conflict in Gaza.
Over July and August, Gaza was devastated by the third conflict in the region in six years, when Israel and Hamas fought a 50-day war.
The conflict resulted in the deaths of 2,140 Palestinians and more than 70 Israelis.
"It is not only the people of Gaza that can't afford having a fourth war, all the world cannot afford this," she said.
"We cannot just sit and wait. If we sit and wait it will go on for another 40 years. We have to have action now," said Mogherini, a former Italian foreign minister.
Palestinians are attempting to achieve statehood in Gaza and the Israeli-occupied West Bank.
Last month, Sweden became the first EU member to officially recognize the Palestinian state.
Senior US and European officials were cited in the Wall Street Journal claiming that other EU countries were poised to follow Sweden if peace talks between Israel and the Palestinian Authority are not relaunched.
Mogherini's visit to the regions comes amidst escalating tensions in east Jerusalem, where there have been clashes between Israeli forces and Palestinian activists.
In October, the UK lawmakers voted to recognise Palestinian statehood in a symbolic move.
This article is copyrighted by IBTimes.co.uk, the
business news
leader