EU Refugee Crisis: Hungary Set To Arrest Refugees Crossing Border Illegally As Finland Proposes Financial Solution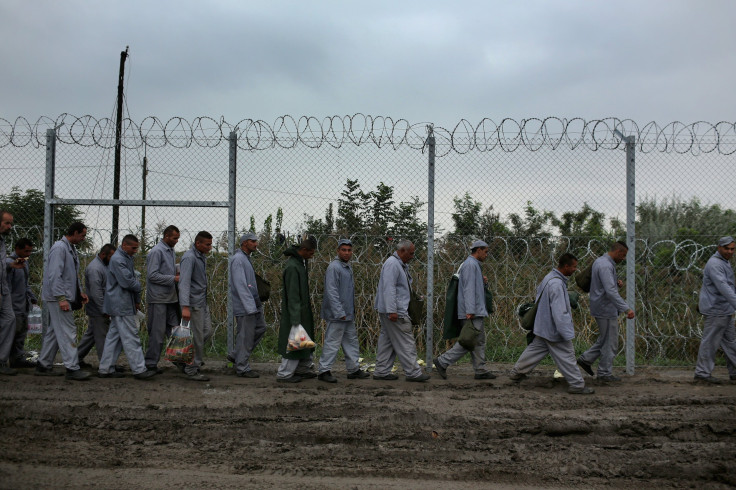 Any refugees found to be illegally crossing into Hungary will be arrested starting next week, Prime Minister Viktor Orban announced Friday, according to the BBC. Refugees had "rebelled" against the Hungarian police, prompting this new regulation, he added.
Hungary, which previously said stronger immigration laws would take effect Sept. 15, has been criticized by human rights organizations for constructing a razor-wire fence along its border with Serbia and for poor conditions in refugee holding centers. Approximately 150,000 refugees have crossed Hungary's border so far this year.
As European countries continue to struggle with political and financial solutions to the refugee crisis, there's a new proposal on the table to deal with the mounting costs of the crisis: Tax a country's wealthiest population.
The Finnish government put forth a proposed tenfold increase on both capital gains tax and income tax on high earners, according to Reuters. Finance Minister Alexander Stubb said the proposed tax increases would target the highest bracket for capital gains with an increase of one percentage point. A "solidarity tax" would be required of citizens earning over $81,000 a year for the next two years.
"These will help to cover higher immigration costs, which we estimate to be about 114 million euros this year," Stubb said Thursday at a press conference.
Finland said it now expects 30,000 refugees this year compared with 3,600 in 2014. This comes at a moment when the Finnish economy has experienced declines for the fourth consecutive year as the government concentrates on cutting spending.
Refugees have continued their attempts to enter the EU to escape war and repressive conditions in Middle East and African states such as Syria, Afghanistan, Iraq and Eritrea. The president of the 28-member EU, Jean-Claude Juncker, has proposed a quota system to distribute refugees among states. However, Central European countries, including Hungary, have rejected the proposal.
Finland would accept refugees "on a voluntary basis," but opposed any EU mandate to do so, Finnish officials said Friday. Many countries have expressed concerns over integrating and financially supporting refugees who enter the EU. Central European states have concerns over low-skill refugees taking jobs, while Western European states with high-skill economies fear they will have to increase social support for low-skill refugees.
© Copyright IBTimes 2023. All rights reserved.