EU Set To Suspend Belarus Sanctions For 4 Months After Vote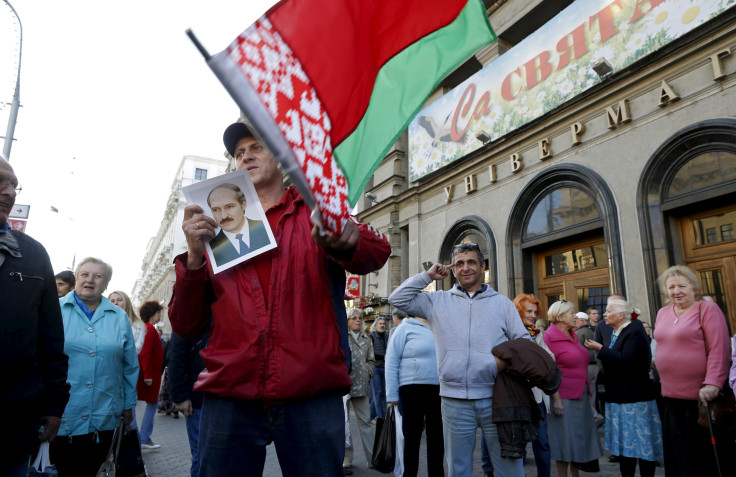 BRUSSELS (Reuters) - The European Union will lift its sanctions on Belarus, including those on authoritarian President Alexander Lukashenko, for four months after Sunday's vote barring any last-minute crackdown, diplomatic sources said.
EU foreign ministers will take the decision on Monday, diplomats said, ending three weeks of difficult talks to respond to his pardoning of six jailed political prisoners in August and hosting of peace talks for Ukraine in February.
Those moves have cemented a perception among EU officials that Lukashenko, the close Moscow ally known in the West as Europe's "last dictator", is opening up Belarus to Europe.
"Depending on Lukashenko's conduct at the presidential election, the decision to lift sanctions for four months will be formally adopted on Monday," said one senior EU diplomat close to the issue. "The EU needed to respond to the freeing of the political prisoners," a second diplomat said.
In a rare concession to protests, Lukashenko has also questioned whether Russia should be building a military air base in Belarus.
The Nobel Prize for Literature was awarded on Thursday to a Belarussian author critical of both Lukashenko and Russia, underscoring Europe's desire to support independent voices.
But the European Union insists it is realistic about Belarus, where Lukashenko, in power for 21 years, is likely to win a fifth term in office on Sunday.
NEW APPROACH
Diplomats say the EU's list of around 140 individuals will be suspended from the end of October until the end of February, allowing those in question to move their money around and travel again. An arms embargo will remain.
However, the European Union will keep the sanctions, which have been renewed every October for the last few years, under review. The suspensions could be allowed to expire if Belarus is seen as committing fresh rights abuses.
Four members of Lukashenko's security services, suspected of being behind the disappearances of political opponents, will remain under sanctions.
Some of the 25 Belarusian companies currently targeted will now be eligible for financing from the European Investment Bank. Ending other curbs that block Belarus from European capital markets, export credit insurance or EU technical assistance mean Russia is no longer the only source of financing for Belarus.
Some companies, such as military equipment exporter Beltech export, are likely to remain under sanctions.
The office of EU foreign policy chief Federica Mogherini was not available to comment, although Mogherini welcomed the prisoner release on Aug. 22.
The lifting of sanctions could mark a new phase in EU diplomacy that is less about preaching EU values and more about finding partners, following the failure of its European Neighborhoods Policy launched in 2003. The policy has not stabilized or democratized the EU's surroundings.
Lukashenko, shaken by the war in eastern Ukraine, is keen to explore ways to balance his alliances. He also wants to boost his economy, which is exposed to the recession in Russia and shrank by 4 percent in the January-July period.
EU efforts launched in Prague in 2009 failed to engage Belarus and achieve press freedoms, electoral reform and the abolition of the death penalty. Lukashenko has joined Russian President Vladimir Putin's Eurasian Union rather than taking up the European Union's offer of a free-trade deal.
© Copyright IBTimes 2023. All rights reserved.