Scared By Ukraine War, Belarus Strongman Lukashenko Mulls Ditching Russia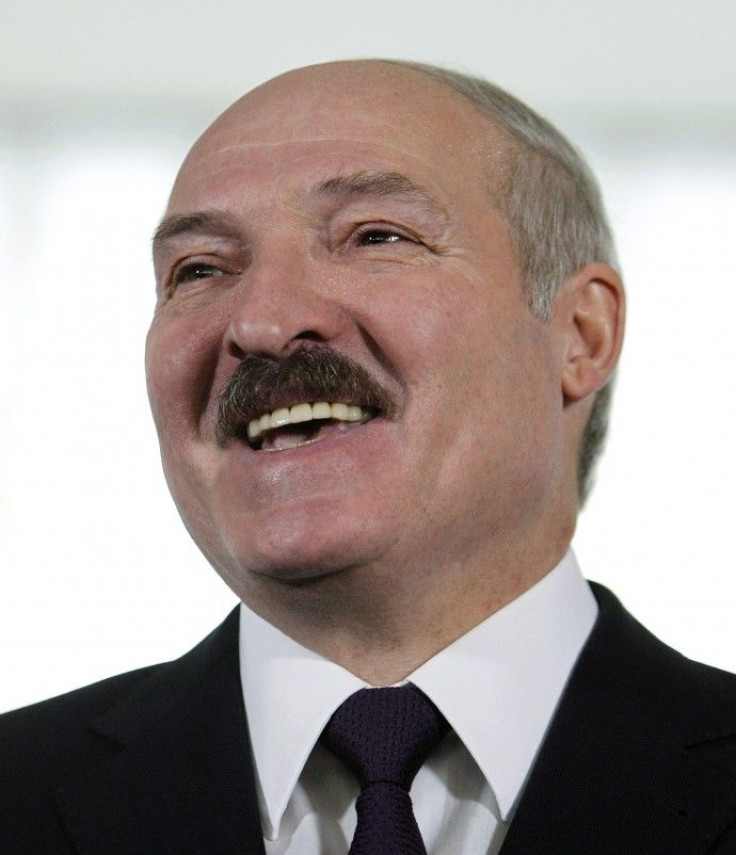 As the conflict between pro-Russian separatists and the Ukrainian government closes in on its first anniversary, fighting in the east of the country intensified this month as the rebels advanced in the areas of Donetsk and Luhansk. About 745 miles away in the Belarusian capital of Minsk, a longtime Russian ally, scared by the war, may be making plans to distance himself from President Vladimir Putin's Russia -- depriving Moscow of its closest friend among Slavic nations.
After the annexation of Crimea in March and the outbreak of war in eastern Ukraine in April, Belarus President Alexander Lukashenko, a strongman who has been called the last dictator in Europe, minced no words. "No matter who comes to the Belarusian land, I will fight. Even if it is Putin," he told the Russian independent television channel Dozhd.
Those comments marked newly strained relations with Moscow. Along a similar line, Belarus refused to join countersanctions by Russia against the West last year. In response, Russia banned all meat product imports from Belarus, as GlobalMeatNews reported.
Lukashenko may be seeing in what's happening to Ukraine a harbinger of what may come to Belarus should it ever anger its powerful neighbor. "Russia for the first time is openly at war ... with an East Slavic, white Christian, post-Soviet country, which in many respects is just like Belarus," said Matthew Rojansky, an expert on U.S. relations with states of the former Soviet Union at the Wilson Center, a think tank in Washington.
That fear may also be behind a new law set to come into effect Sunday: It does not refer to Russia by name, but appears directed at Moscow. According to the law, the "sending of armed groups, irregular armed forces, mercenary groups, or regular armed forces who use arms against the Republic of Belarus by a foreign country or countries or on behalf of a foreign country or countries" will trigger a declaration of war.
While there is no indication Russia will send combat troops to Belarus or even support militias there, as it is accused of doing in Ukraine, the reaction in Minsk is in line with what's happened in other nearby national capitals. Countries that border Russia -- including Estonia, Finland, Latvia, Lithuania and Poland -- have all bolstered their defenses and, in some cases, looked for stronger ties with NATO, fearing Russian aggression, as Agence France-Presse noted.
Lukashenko is also looking west for an economic partnership with Europe that may help Belarus offset any losses caused by distancing itself from Russia, with which its economy is closely linked. More than 40 percent of its exports go to Russia, its biggest trade partner, according to government data. But its second-largest partner is the European Union, which takes 30 percent of its exports.
"Given the increasing issues that President Lukashenko has with the Kremlin, this is an extra incentive for him to try and engage with the European Union," said Hrant Kostanyan, an associate research fellow at the Center for European Policy Studies in Brussels.
None of this balancing act between Russia and Europe is new for Lukashenko, in fact. During his 20 years in charge of the landlocked country, he has perfected navigating between the two.
After Russia's war with Georgia in 2008, Belarus enjoyed two years of warmer ties with the U.S. and Europe, the Wilson Center's Rojansky said. Now, "Lukashenko is using his opportunity to do the same sorts of things he's done before, which is reach out to the West for closer relations, which translates into money," he said. "Basically, Europe would offer Belarus easing of economic pressure in exchange for some progress on political reforms."
But the clearest indication that Belarus is entering a new phase of leaning toward Europe came Thursday, during its president's annual news conference. Lukashenko explained that if the financial difficulties experienced by Russia persist, then he will have to consider leaving the Moscow-led Eurasian Economic Union, as Foreign Policy magazine reported. This association has left Belarus sharing in Russian financial problems stemming from the crash of global crude-oil prices and Western sanctions on its financial sector.
A recent nationalistic push by the president is also suggesting a more permanent distancing from the influence that Russia has had on Belarusian life. He told a youth gathering in Minsk this month that he will reintroduce the Belarussian language into schools all across the country, where Russian is now the dominant language, as the Guardian reported. Only 23 percent of the population of 9.67 million speak Belarusian.
"Culture is what makes a Belarusian person Belarusian," Lukashenko said. "It is not only literature, music, and architecture, but also our language, which we must know; our history, which we must remember; and our values, which we must respect."
According to Rojansky, abandoning the sphere of Moscow's influence does not means Lukashenko -- far from popular among EU governments because of his authoritarian ways -- is about to turn into a mainstream, democratic European president. In fact, he may just be trying to remain popular and stave off economic disaster. "I don't think it means a huge change in Belarusian life," Rojansky said. "This isn't a state that is suddenly interested into joining the West."
© Copyright IBTimes 2023. All rights reserved.
FOLLOW MORE IBT NEWS ON THE BELOW CHANNELS