EU Tries To Woo Erdogan In Historic Visit But Division Remains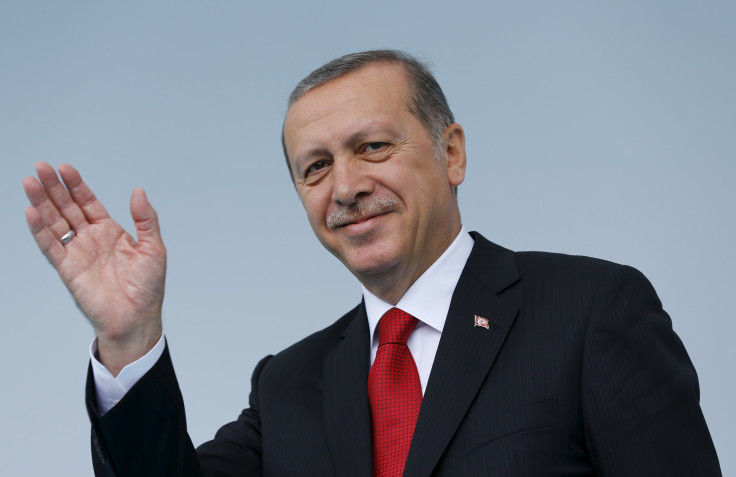 BRUSSELS (Reuters) - Turkish President Tayyip Erdogan makes a long-awaited trip to Brussels on Sunday, officially a two-day state visit to Belgium, that will be dominated by EU meetings over Europe's migration crisis and the fight against Islamic State militants in Syria.
Moscow's commencement of bombing raids in Syria could bring Russian warplanes to the very borders of the NATO country, now itself being used as a base for U.S. and allied air strikes. The dangers of unintended clashes, and uncertainty over Russia's intentions, have raised concerns in Western capitals.
Tensions over Turkey's stalled EU bid, a Turkish government corruption scandal and a canceled visit by Erdogan as prime minister in 2011 meant the red carpet welcome has been put off again and again for the leader who the West worries is becoming increasingly authoritarian after 13 years in power.
The EU has been especially critical of a crackdown on media in Turkey, which languishes far down global press freedom rankings. Scores of people have been investigated on accusations of insulting Erdogan, who remains nonetheless Turkey's most popular politician.
Outside the EU it may be, but Turkey has a key role on its eastern borders.
Europe's worst migration crisis since the break-up of former Yugoslavia now has EU governments looking to Erdogan to help stem the flows of refugees as record numbers of people flee Syria's civil war and the rise of radical militants in Iraq.
"It couldn't come at a better, or a worse time," said one senior EU diplomat involved in Europe's Turkish policy.
"Europe needs help yet Turkey is less than a month away from elections and unrest is rising," the diplomat said, referring to the run-up to the Nov. 1 parliamentary vote marred by rising violence in southeast Turkey. That follows the collapse of a ceasefire between the government and Kurdish insurgents.
ISLAMIC STATE AND KURDISH MILITANTS
The EU-Turkey agenda is packed, likely to range from the Syria crisis and the Kurdish peace process to Turkey's frustration over stalled EU accession talks.
On migration, following some of the most embittered EU meetings in years, European leaders have agreed to share out 160,000 migrants across the bloc over the next two years.
As refugees continue to arrive, EU officials have suggested sending financial aid to Ankara to keep migrants in Turkey while they process their asylum requests.
EU leaders pledged at least 1 billion euros ($1.1 billion) for Syrian refugees in Turkey, Jordan, Lebanon and other countries at an emergency summit in Brussels last month.
Diplomats say Turkey is already struggling with more than 1.8 million Syrian refugees. It is focused on limiting fallout from the Syrian civil war and clashes with Kurdish militants that extend to bombing raids on Kurdish bases in the mountains of northern Iraq.
Europe calls Kurdistan Workers Party (PKK) a terrorist organization but also supports the three-year peace process with the Kurds launched by Erdogan.
"Turkey cannot be the solution for the European Union's inability to act collectively to address the enormity of this humanitarian tragedy and develop policies to share the burden," said Sinan Ulgen, a former Brussels-based Turkish diplomat now with the Carnegie Europe think-tank.
Erdogan, an outspoken critic of Syrian President Bashar al-Assad, has condemned the Russian intervention in his support. Turkey, he said, would not allow "fait accompli" situations next to its borders.
Erdogan wants "safe zones" in northern Syria to keep Islamic State and Kurdish militants from the Turkish border. That ambition, viewed warily by Western allies, might be further dimmed by the arrival now of Russian warplanes in the country.
(Reporting by Robin Emmott; Editing by Ralph Boulton)
© Copyright Thomson Reuters 2023. All rights reserved.