Euro Area's Trade Surplus Surges; EU Trade Surplus Declines In November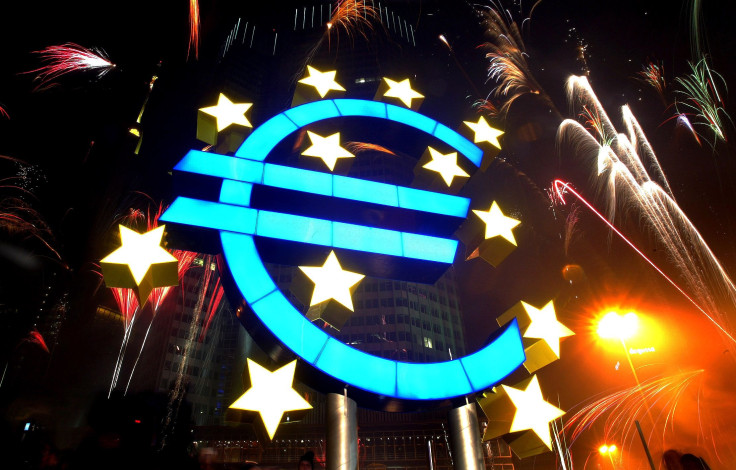 The 17-nation euro area recorded a trade surplus of 17.1 billion euros ($5.91 billion) in November, up from a downward revised surplus of 16.8 billion euros in the previous month, and the trade surplus rose sharply from 12.5 billion euros recorded in the same period last year, preliminary data released by Eurostat on Wednesday showed.
Meanwhile, the 28-member European Union, or EU, posted a trade surplus of 3.4 billion euros in November in its trade with countries outside the bloc, down from a trade surplus of 4.8 billion euros in the same period a month ago and a deficit of 3.0 billion euros in the same period last year.
On a monthly basis, seasonally-adjusted euro zone exports fell by 0.2 percent and imports dropped by 1.3 percent in November, while in the EU, exports declined by 0.6 percent while imports fell by 1.4 percent.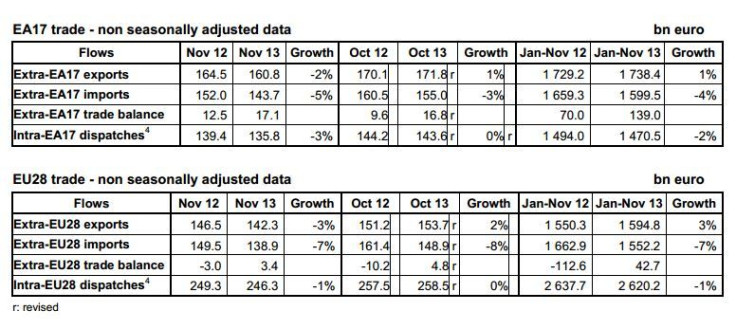 In the EU, imports from most of its major partners fell in the January 2013 to October 2013 period compared with the same period in 2012, except for Turkey (+3 percent) and India (0 percent). The most notable decreases were recorded for imports from Japan and Brazil (both -14 percent), Switzerland (-13 percent) and Norway (-12 percent), while the largest increases were recorded in exports to Switzerland (+31 percent), South Korea and Turkey (+4 percent), and the most notable reduction in exports were to India (-6 percent), the USA and Japan (both -3 percent).
Among the member countries in the EU, the largest surplus was observed in Germany (+166.3 billion euros), followed by the Netherlands (+45.5 billion euros), Ireland (+31.3 billion euros), Italy (+23.7 billion euros), Belgium and the Czech Republic (both +11.9 billion euros) in the January 2013 to October 2013 period.
The United Kingdom (-66.5 billion euros) registered the largest deficit in this period, followed by France (-63.5 billion euros), Greece (-16.2 billion euros) and Spain (-12.8 billion euros).
© Copyright IBTimes 2022. All rights reserved.
FOLLOW MORE IBT NEWS ON THE BELOW CHANNELS