Europe Refugee Crisis: Croatia Bans Entry Of Serbian Vehicles Amid Deepening Border Row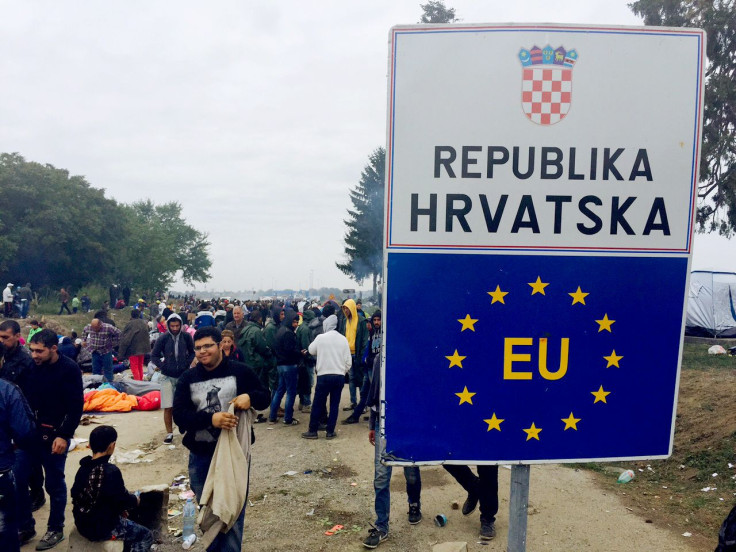 UPDATE: 4:14 a.m. EDT -- Croatian Interior Minister Ranko Ostojic said Thursday that Serbian citizens could still enter Croatia, but Serbian-registered vehicles were barred from doing so.
"As far as people are concerned, they can enter Croatia," he said, according to Reuters. "Our border is ready and open for any other car without Serbian registration. Buses with Serbian registration will not enter into Croatia."
Previous reports had said that both citizens and vehicles would be banned from entering the country.
Original story:
Croatia imposed a ban on Serbian citizens and cars from entering its territory, Croatian officials said Thursday, just a day after Serbia banned Croatian cargo traffic.
"Serbian passport holders and cars registered in Serbia cannot enter Croatia until further notice," an unnamed police officer from the main border crossing between the two countries told Reuters.
The retaliatory move came after Serbia banned Croatian cargo traffic and goods Wednesday, amid a dispute over allowing the cross-border movement of refugees between the countries that has raised tensions among eastern European nations.
"I am sorry about this. We had planned to open the border today but now we have to react to this," Croatian Prime Minister Zoran Milanovic said Thursday from Brussels. "There will be no war or violence, everything will be calm, but this is not normal behavior (by Serbia)," he added.
On Tuesday, Croatia had banned all trucks except those carrying perishable foodstuffs entering from Serbia and closed seven of its eight border crossings, telling Serbia instead to direct the asylum-seekers to Hungary and Romania.
A midnight deadline that Serbia set to end that blockade expired, and Serbia said it had no choice but to "introduce measures to protect its statehood," according to Thomson Reuters.
"I hope that very soon we will find a solution. Unfortunately there is very little that Serbia can do alone," Serbian Interior Minister Nebojsa Stefanovic said earlier Thursday. Serbia said the blockade was costing its economy millions of dollars a day.
Croatia had also clashed diplomatically with Hungary, when it bussed hundreds of migrants out to its Hungarian border last week after its own capacities were overwhelmed. In total, over 40,000 migrants, largely composed of Syrian refugees, have entered Croatia through Serbia since Hungary shut its borders last Tuesday.
Budapest last week also began extending its anti-migrant fence, which it had already erected along its Serbian border and had defended with force, along its Croatian frontier. Hungary said that over 10,000 migrants entered the country Wednesday, a new record for that country, Agence France-Presse reported.
Meanwhile, European Commission Vice President Frans Timmermans warned Thursday that a failure to address the refugee crisis would result in a surge of right-wing extremism in Europe, and called for better border controls to filter out people who are not eligible for asylum.
"We have to make sure that those countries where people arrive are better placed to make sure people are registered, that people who don't have the right to asylum are returned swiftly," he said, according to Reuters. "If we're not able to tackle this issue, if we're not able to find sustainable solutions, you will see a surge of the extreme right across the European continent."
© Copyright IBTimes 2023. All rights reserved.