Europe Refugee Crisis: Germany's Angela Merkel Calls For Unity Ahead Of Crucial EU Meeting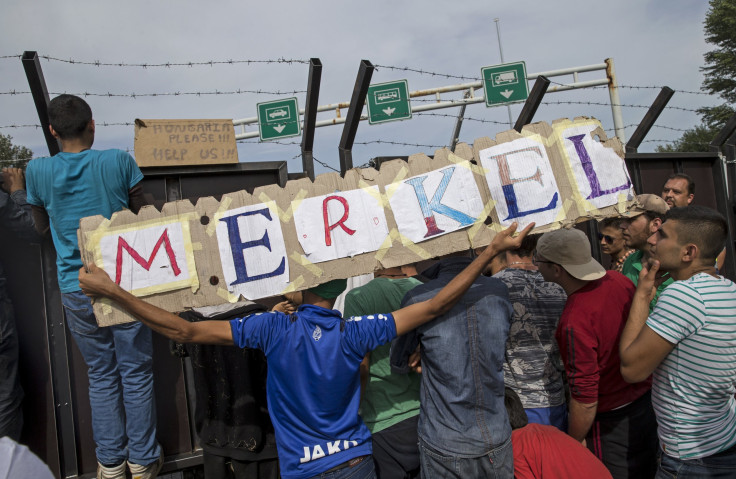 German Chancellor Angela Merkel called for unity among European leaders Sunday ahead of a crucial EU meeting in Brussels Wednesday to determine the future of the overwhelming refugee crisis.
"Germany is willing to help. But it is not just a German challenge, but one for all of Europe," Merkel said while addressing trade union leaders, according to Reuters. "Europe must act together and take on responsibility. Germany can't shoulder this task alone."
EU ministers had failed to find a unified response to the crisis last week, prompting European Council President Donald Tusk to schedule the Wednesday meeting. Tensions have flared between countries in central and eastern Europe as they struggle to cope with a massive influx of refugees trying to enter the border-free Schengen zone. Hungary has accused neighboring Croatia of a "major violation of international law" over its attempts to force Budapest to accept hundreds of refugees.
Foreign ministers from the Czech Republic, Poland, Slovakia and Hungary are also set to meet Monday in Prague to discuss the fate of hundreds of thousands of refugees on their borders.
"We will talk ... about how to solve the issue of the migrants, how Europe should protect its borders," Polish Foreign Minister Grzegorz Schetyna told Deutsche Welle Monday, adding that it was necessary to "distinguish refugees from economic migrants."
Schetyna also condemned a proposed European Union quota system that would force countries to accept a certain number of refugees. "Each country must be able to decide how many migrants it can receive. Imposing a quota would be, in my view, against European principles," he said.
The issue of separating refugees from economic migrants was also echoed by Merkel on Sunday, who said that Germany should not protect those who were immigrating for economic reasons, but only those fleeing violence or persecution. "We are a big country. We are a strong country. But to make out as if we alone can solve all the social problems of the world would not be realistic," she said.
The head of the European Parliament, Martin Schulz, told German broadcaster Deutschlandfunk that he expects EU ministers to agree to a voluntary scheme to relocate 160,000 refugees at a Tuesday meeting. "There will be some discussions, but at the end there will be an agreement on the relocation of the 160,000 [migrants]," he said, according to Reuters.
Meanwhile, thousands more refugees entered Europe Saturday by attempting the perilous Mediterranean crossing to the Greek islands. The Greek coastguard said 26 people were feared drowned Sunday, when an inflatable boat, attempting to reach the island of Lesbos from the Turkish shore, capsized.
© Copyright IBTimes 2023. All rights reserved.