European Bourses Avoid Major Selloff As Markets Reopen After Paris Attacks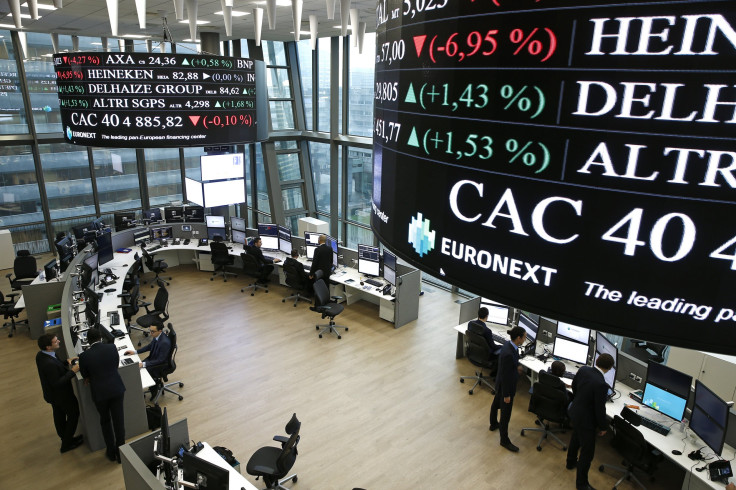 Opening for the first day after the deadly attacks in Paris, European markets witnessed a rocky start Monday, with equities opening broadly lower. However, the markets recovered fairly quickly, avoiding a major selloff that many feared and forecast.
France's CAC 40 index dropped 1.1 percent at in the first few minutes of trading, before recovering and trading up 0.2 percent. Stocks connected to the tourism sector -- which many fear will be impacted by the attacks -- bore the brunt of the early morning selloff. Air France's stock dropped 6 percent, while shares of Eurotunnel fell 4.2 percent.
Shares of the French hotel group Accor also slipped, falling 7 percent at the open.
"These Paris terrorist attacks and the larger scale of this attack could have a meaningful negative impact on the travel and tourism sector," Robert Lutts, president and chief investment officer at Cabot Wealth Management, told Reuters. "It is possible this could cause investors to take a bit more cautious stance on the higher risk sectors of the markets."
U.S. stock futures also recovered after a short stint in the red, and were up nearly 0.2 percent Monday.
The rout was less pronounced than feared in other European markets, with London's FTSE 100 recovering from initial losses and trading up 0.3 percent. The pan-European Stoxx 600 and Germany's DAX dropped 0.6 percent at the open before paring their losses and trading up 0.4 percent and 0.2 percent respectively.
"Expectations are high that the global markets are going to remain under pressure as trading for the week gets under way," Jameel Ahmad, chief market analyst at ForexTime Limited, told the Guardian. "Investor sentiment towards global markets was already looking shaky as last week concluded, and the recent events are going to weigh further on this."
Meanwhile, the euro -- already under pressure over expectations that the European Central Bank may slash interest rates next month -- hit a six-and-a-half month low against the yen Monday, as the Japanese currency benefited from its traditional safe-haven status. The euro fell to as low as 130.64 yen -- the lowest level since April -- and was last trading at 131.92 yen.
Earlier, as investors mulled the potential impact of the attacks, Asian stocks were initially hurt by a selloff. However, after the initial decline, Asian markets remained mixed. While Japan's Nikkei 225 and South Korea's Kospi Composite index closed down more than 1 percent, India's Sensex and China's Shanghai Composite index were both up 0.7 percent.
© Copyright IBTimes 2023. All rights reserved.