European Markets Fall But Monetary Easing Hopes Persist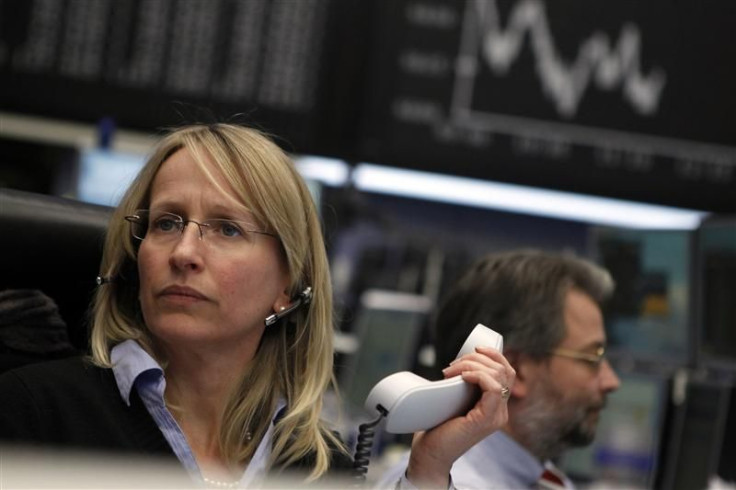 European markets fell Wednesday, but investors continued to expect that the central banks would coordinate to announce stimulus measures to regain the growth momentum.
The German DAX 30 index fell 0.31 percent or 20.62 points to 6557.59. Shares of Deutsche Bank AG dropped 1.34 percent and those of Commerzbank AG declined 1.10 percent.
The French CAC 40 index was down 0.48 percent or 15.78 points to 3255.42. Shares of Renault SA fell 1.42 percent and those of BNP Paribas SA declined 1.02 percent.
London's FTSE 100 index dropped 0.29 percent or 16.31 points to 5671.42. Shares of BP PLC fell 1.56 percent and shares of HSBC Holdings PLC declined 1.14 percent.
Spain's IBEX 35 fell 0.57 percent or 41 points to 7178.5. Shares of Bankinter SA fell 1.14 percent and those of Acciona SA dropped 1.01 percent.
Investors are hoping that the central banks in Europe will make sure that monetary easing measures are put in place to boost liquidity. Market players anticipate that the European Central Bank (ECB) will cut the main rate to below 1 percent in its meeting at Frankfurt Thursday.
Market participants consider that the fact that labor market indicators have worsened in the last one month will call for stimulus measures. The level of the euro zone unemployment increased for the thirteenth consecutive month during May, taking the unemployment rate to 11.1 percent. Spain has continued to see a sharp rise in its unemployment rate, which rose to 24.6 percent in May against 24.3 percent in April.
The monetary indicators also prompt investors to sense that the ECB will go for monetary easing urgently. The ECB's earlier liquidity measures are having some positive effects, but there is no sign that they are prompting a pick-up in bank lending. The euro zone monetary base has been broadly flat at near a record high over the past month as a slight fall in ECB long-term lending to banks has been offset by a rise in lending at the Bank's main one-week refinancing operations, Capital Economics said in a note.
© Copyright IBTimes 2023. All rights reserved.
FOLLOW MORE IBT NEWS ON THE BELOW CHANNELS