Even As India Pours Billions Into Education, Rural Schools Continue To Totter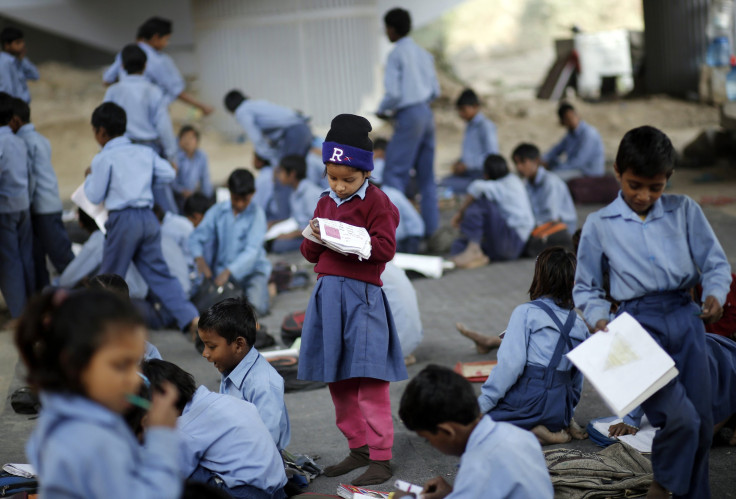 Even as India boasts of some of the world's best engineering and business schools that are a challenge to get into, elementary education in the country, especially in the rural hinterlands, continues to languish, a new survey has revealed.
According to the Annual Status of Education Report (ASER) released Monday by the ASER Centre, which is supported by Indian nonprofit Pratham, less than half the children in grade 5 could read a grade 2 textbook, even as 96 percent of children in the 6-14-year age group enrolled in a school.
"We live in a country that has achieved near universal enrollment, built enough schools, and has appointed teachers and academic support staff. In the same country, we have children in higher grades who cannot read well and cannot comprehend what they read. It is also clearly visible that a large proportion of children are leaving government schools and seeking other options including supplemental help over and above school," according to the report.
In 2014, India increased its education budget by 11 percent to nearly $11 billion, which is 3.3 percent of its Gross Domestic Product.
"Overall, the situation with basic reading continues to be extremely disheartening in India," the report says. ASER found that, in 2014, only a fourth of all children in grade 3 could fluently read a grade 2 text. This number rises to include just under half of all students in grade 5. Even in grade 8, only three out of four children can read a grade 2 level text.
The report further notes that though enrollment levels in the 6-14 age group are high, "the proportion of 15 to 16 year olds not enrolled in school is substantial." In rural areas, 15.9 percent of boys and 17.3 percent of girls in this age group are currently out of school, it notes.
The report also takes aim at the inequities of the government's approach to solve the country's education problem.
"Well into the second decade of this century, the Ministry of Human Resource Development (MHRD) did not really take interest in learning achievements. Its sole focus was on provisions, inputs and infrastructure," it says. "The thinking seemed implicitly linear; first all infrastructure needs have to be taken care of and then quality issues can be addressed. Unfortunately, in states where infrastructure issues were not severe, there too states followed the MHRD cue and did nothing significant about basic learning levels," it goes on to say.
In 2009, India passed the Right to Education law, which made education a fundamental right of every Indian citizen and provides for free and compulsory elementary education to every child between six to 14 years of age. However, over 640 million children, or more than a third of all 6-14 year olds, in India continue to pay for their education. Moreover, about 4.7 million children go to schools not recognized by the government.
ASER's data show that the number of children who were able to read simple English sentences has actually gone down in the last five years. While in 2009, 60.2 percent of children in grade 8 could read simple sentences in English, in 2014, the figure was 46.8 percent.
"... the paradox of the last ten years is that while governments spent money on building schools and hiring teachers by the lakhs (hundreds of thousands), and also provided free textbooks, uniforms, and mid-day meals, the net enrollment in government schools went down and enrollment in private schools went up sharply, especially in the primary stage," the report says.
The new report comes even as the Narendra Modi-led Bharatiya Janata Party government has had a controversy-ridden first few months in office, ever since he appointed actor-turned-politician Smriti Irani, who does not have a college degree, as his human resources and development (HRD) minister. Irani is in charge of overseeing the nation's education sector.
In fact, as an India Today report notes, even secondary education has its share of problems. Premier engineering and medical schools are running on up to half the sanctioned faculty strength, lack modern education curricula and are over-regulated. Irani has reportedly been pushing for a legislation that would allow foreign universities to set up shop in India, something that was first proposed by the previous Congress party-led United Progressive Alliance government.
However, as this Wall Street Journal report notes, at present, even as several foreign universities have a presence in India, either via partnerships with local universities or companies, or through local representatives, they may not rush to set up campuses in India because of over-regulation.
© Copyright IBTimes 2022. All rights reserved.
FOLLOW MORE IBT NEWS ON THE BELOW CHANNELS