Facebook Stock Plummets Post-IPO: 3 Ways Mark Zuckerberg Can Turn It Around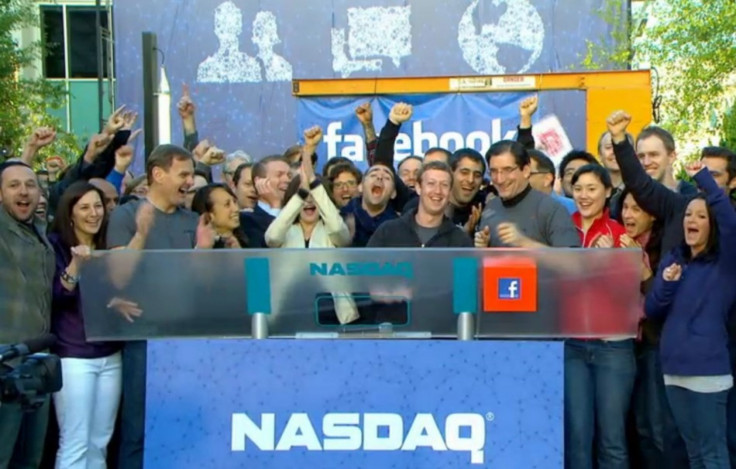 After an extremely loud but ultimately undazzling IPO on Friday, Facebook was looking forward to its second day of trading, hoping that its first full day on the stock exchange would show investors a bit more oomph. But newlywed CEO Mark Zuckerberg, whether he's at home in Palo Alto or honeymooning with his new bride Priscilla Chan, won't be too pleased to learn that his company took a big tumble on the stock exchange on Monday. Facebook shares (listed as FB on the Nasdaq) fell from $38.27, roughly the initial offer price, to $34.03 apiece, a drop-off of about 11 percent. Facebook actually reached a low of $33 during the day, but managed to rebound slightly before the market closed.
Based on the company's share prices, Facebook is now valued at about $95.63 billion -- it was valued at $104 billion on Friday -- and Zuckerberg himself took about a $2.2 billion hit in paper losses, even though his stake is still worth more than $17 billion. Zuckerberg also retains about 56 percent of the company's voting power.
Wall Street analysts find Facebook's dropoff immensely disappointing, especially considering this was the most heavily traded IPO in recent memory, but most of them blame Facebook's lead underwriters, including Morgan Stanley. Morgan Stanley's role was to be the stabilization agent, to ensure Facebook enjoyed a good first few days of trading on the market; in this regard, Morgan Stanley seems to have failed. Morgan Stanley will now worry about increasing debt, another hit to its own shares, and possibly even a credit rating downgrade from Moody's. Woof.
The underwriters completely screwed this up, said Michael Pachter, an analyst at Los Angeles-based Wedbush Securities. This thing should have been half as big as it was, and it would have closed at $45.
While Facebook boasts more than 900 million registered users, investors are realizing that users don't always mean revenue. Even though Facebook's revenue grew by 88 percent in 2011, even Zuckerberg himself said in his company's S-1 statement to the SEC that this rapid annual growth was simply not sustainable. Zuckerberg's own prediction turned out to be true: Facebook's first quarter earnings fell 12 percent while expenses only increased.
If Zuckerberg hopes to turn around his company's stock, he must rectify a few issues within Facebook itself. Here are three ways Zuckerberg can steer Facebook back in a profitable direction.
1. Monetize the mobile app.
The Facebook app sacrifices ads for the sake of aesthetics, but Zuckerberg should reconsider -- or at least brainstorm -- other ways of monetizing his mobile site. Zuckerberg has said he's never wanted to charge for his services, but if he can build more useful applications leveraging his user base through the platform (a la Google), Zuckerberg will create more partnership opportunities with other companies, and therefore, more money. Google is Google because it has a lot of help, and Facebook is still learning how to lift itself up through the help of others. At the very least, Zuckerberg could and should devise a clever way to embed advertisements into his service -- without overt banner ads, of course.
Zuckerberg understands that our world is becoming increasingly mobile, and the Facebook founder even once admitted that if he built Facebook again from the ground up, he would have built it exclusively as a mobile application. The future is clearly mobile, but Facebook needs to find a way to package advertisements so they don't take up too much real estate or interrupt the overall experience of the app. This is a tall order, but Facebook has plenty of smart people. They can figure this out.
2. Win back old fans, and make Timeline Profiles optional.
Facebook is now dealing with intensifying competition from other budding social networks like Twitter and Pinterest, and Zuckerberg must do what he can to defend his territory. One of the most polarizing changes in the past year has been the addition of Timeline Profiles, but Zuckerberg should listen to his fans (especially now) and make this new addition completely optional. He should also consider making all features of his website optional, to let users mold their Facebook the way they wish. Opening Facebook in this way would be extremely beneficial for the website's favor, as well as its stock.
One bad aspect of Facebook -- and a possible reason why some users are leaving, or growth is slowing -- is that the company imposes its will upon its 900-million-plus user base, often unapologetically. Facebook Timeline was an ambitious move for Zuck, but many fans hate the changes, and have elected to join other social networks instead. In order to keep competition at bay, Facebook should take a page out of the open-source handbook and let the users ultimately decide their Facebook experience.
3. Build more through Zynga, or partner with other gaming companies.
Social games company Zynga currently accounts for 12 percent of Facebook's overall revenue, but the company can only do so much. It continues to build new games, but Zynga's reputation has turned off many users outside of a certain age range. The company's games are geared more toward younger players, but Facebook is a much bigger platform than just preteens.
If Facebook really wants to succeed in the market, it should consider either helping Zynga expand its gaming portfolio to more mature games, or partner with another company entirely. Games not only keep users on the page, but if done right, they can keep users entertained, happy and coming back for more. The Freemium model has worked particularly well with social games, and Facebook should consider expanding this model for more games from different developers. If Facebook wants to create a more open and connected world as its IPO promised, Zuckerberg will need to look outside the scope of Zynga.
Facebook Is Growing Up, But Slowly
Facebook enjoyed the second-biggest IPO all-time on Friday after Visa's IPO in 2008, which raised $19 billion and traded its initial shares at $44 apiece. It's pretty impressive considering how much younger Facebook is than Visa (8 vs. 42, respectively), and how Visa's platform is geared completely around money, while Facebook's platform is not about money at all -- at least at its core. It's about its users, but it's just gotten THAT BIG.
Eight years after TheFacebook.com was registered in a Harvard dorm, Facebook now wants to be taken seriously. After those early years of questionable redesigns and privacy breaches, the company has matured greatly: Recognizing how its platform was a hotbed for bullying, the company in December launched a suicide prevention program that allowed users to instantly connect with real crisis counselors through Facebook's chat messaging system. In March, Facebook announced a new suite of tools at the White House Conference for Bullying Prevention, in an effort to protect users from bullying and create a culture of respect among users.
Facebook is now also starting to realize its potential as an important service for connecting people with needs: Earlier this month, Zuckerberg announced a new lifesaving feature for Facebook: a platform for organ donors. Even though the U.S. Department of Health and Human Services says more than 7,000 people die each year while waiting for an organ transplant, Facebook's vast social network will certainly help raise awareness of the issue.
While Facebook is becoming a more human company, it still lacks enough partnerships to make it a company worth its stock. Facebook has more than 900 million registered users -- yes, that's the thousandth time I've repeated that statistic -- yet Zuckerberg is doing very little with that data. Companies would kill to have just a piece of that data to get better insights into how their audiences interact with Facebook each day. All they need to do is figure out how to monetize different areas of the site beyond simple banner ads.
But even though it has yet to recognize its full potential, Facebook has already proven to be an incredibly worthwhile investment. You don't go from being a Harvard dorm room project to the biggest social network in the world and the second-biggest IPO in history with just luck: Zuckerberg is one of the geniuses in our young generation, and he is consistently finding the right people to carry out his message.
While his network has fallen in and out of favor with worldwide audiences on a regular basis, the bottom line is this: People do leave, but they almost always come back. That's a very powerful message for one company to boast. Zuckerberg just needs to figure out more ways for people to not only return, but to stay. A captive audience will be key to Facebook staying in the black.
© Copyright IBTimes 2023. All rights reserved.
FOLLOW MORE IBT NEWS ON THE BELOW CHANNELS