Facebook Is Testing A New Job Search Feature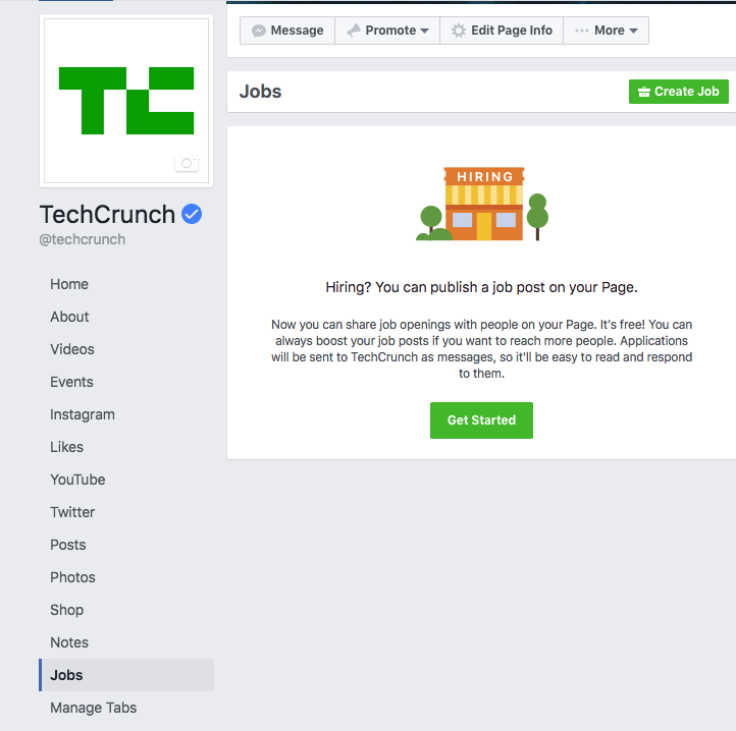 Facebook is testing a new "Jobs" feature along with a new "Apply Now" button, according to TechCrunch.
The new jobs feature will act as a landing page where businesses can send new hires rather than sending them to their own website or job boards like Indeed. Users who are looking to get into specific company can subscribe to that company's Facebook page and be notified of open positions. The new Facebook feature allows Pages to share details like the job title, salary or if it's full-time or part-time.
Facebook told USA Today, "Based on behavior we've seen on Facebook, where many small businesses post about their job openings on their Page, we're running a test for Page admins to create job postings and receive applications from candidates."
Facebook "Job" postings will also feature an "Apply Now" button that launches a job application, but with information from a user's public profile.
Testing a "Job" feature makes sense, especially since just about everyone has a Facebook account. Recruiters would be able to use all of the data to reach the right candidates. Also, most people use Facebook and will see the job ads.
Most LinkedIn users only visit the site when they want to update their profile or search for a new job. In comparison, not everyone has a LinkedIn account. LinkedIn also has 467 million members compared to Facebook's 1.79 billion users
© Copyright IBTimes 2023. All rights reserved.