Facebook-WhatsApp Buyout: 3 Angles To Consider In The $19 Billion Deal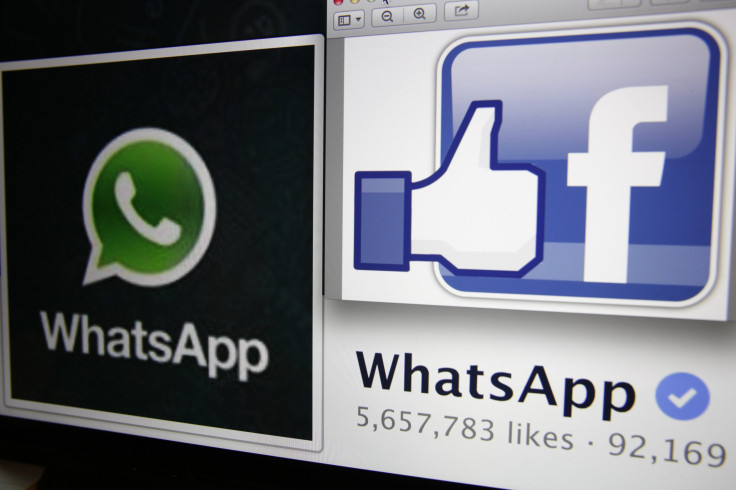 A relationship that started between Facebook (NASDAQ:FB) CEO Mark Zuckerberg and WhatsApp CEO Jan Koum in early 2012 over coffee at a German Bakery in Los Altos, Calif., led to a staggering $19 billion deal Wednesday, reportedly the biggest Internet pact since Time Warner's (NYSE:TWX) $164 billion merger with AOL (NYSE:AOL) in 2001.
Following the 2012 meeting, Zuckerberg and Koum became friends, and on Feb. 9, the two met over dinner to discuss a possible deal, with Zuckerberg asking Koum to become Facebook's board member. Koum agreed to the proposal after five days, and both of them negotiated a price, Bloomberg reported, citing "a person with knowledge of the matter."
"Clearly, it's going to be a worldwide, cross-platform app that's popular probably in areas where Facebook isn't," Brian Blau, a social media analyst at Gartner, told Bloomberg. "They're buying a large, robust user base that has a varied demographic."
The $19 billion deal -- $12 billion in stock, $4 billion in cash and $3 billion in restricted shares -- gives Facebook access to WhatsApp's 450 million global users. But, exactly how Facebook's latest acquisition will help the social-networking giant in its quest to connect the planet, especially with Zuckerberg's Internet.org initiative for connecting the world on mobile devices, remains to be seen.
Here are three angles to help better understand what the deal means for Facebook.
Facebook: Silicon Valley's Top Dealmaker
According to Bloomberg, Google (NASDAQ:GOOG) was involved in 126 deals worth $17.6 billion over the past three years. But, WhatsApp's price tag has helped Facebook change the equation in one stroke to beat the search-engine giant to become Silicon Valley's top dealmaker, Quartz reported.
Connecting The Entire Planet: Not That Easy
Although millions of people are using WhatsApp, with one million users being added daily according to the company's claims, a major portion of that user base is in Europe, and in emerging markets such as India, Brazil and Mexico. While Facebook stands to gain access to WhatsApp users in all these countries, the deal is not likely to help Zuckerberg's company make much of a dent in Asian countries, particularly in China, the world's largest mobile market.
In China, Tencent's (HKG:0700) WeChat has taken a commanding lead with more than 250 million users while Japan is dominated by Line with 300 million registered users. In South Korea, a messaging app called KakaoTalk is reportedly installed on 93 percent of smartphones in the country, while Viber is the most popular messaging service in the Middle East.
What About Facebook And Snapchat?
Facebook has spent a total of $20 billion to acquire both Instagram (acquired for $1 billion in April 2012) and WhatsApp, and, according to TechCrunch, it is unlikely that the social networking giant will try once again to buy "an ephemeral photo messaging company" like Snapchat for billions of dollars more.
Facebook wanted Snapchat -- it allegedly copied the app in December 2012 to launch a similar app called "Poke" and even made multiple acquisition offers. But, with Koum sitting on Facebook's board, there is now a big question mark on a potential future acquisition of Snapchat.
WhatsApp's co-founder Brian Acton's harsh comments about Snapchat also revealed the rough-edged competition between the two companies: "It's not 100 percent clear to me what's working about Snapchat. Great, teenagers can use it to get laid all day long. I don't care," Acton told Wired in an interview Wednesday.
Meanwhile, investors seem to be unhappy with the current deal and pushed Facebook's shares down 5 percent in after-hours trading on Wednesday.
However, after Zuckerberg and Koum addressed investors, the share price went up slightly to close at $68.06 in New York, a 1.13 percent gain. But, in pre-market trading on Thursday, the stock was once again trading down 2.12 percent.
© Copyright IBTimes 2022. All rights reserved.
FOLLOW MORE IBT NEWS ON THE BELOW CHANNELS