Facebook's Instant Article Program Goes Live With New York Times, BuzzFeed, National Geographic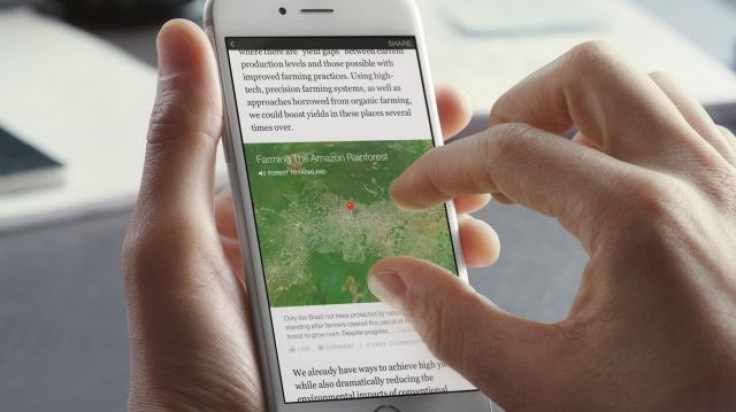 If you have the Facebook app for the Apple iPhone and follow the New York Times, get ready to see some changes in your News Feed. Along with the likes of BuzzFeed, National Geographic, NBC and the Atlantic, the daily newspaper will begin testing the direct publishing of news articles on Facebook through the social network's new Instant Articles program Wednesday.
The first post will go live at 10 a.m. EDT, according to CNN Money. Facebook published a video Wednesday morning that shows how the articles will look. The demonstration was done with a piece about bees published by National Geographic. See it here.
As shown in the video, Facebook users will be directed to a page within the Facebook app after clicking on a news story. The app allows publishers to include audio clips, auto-play videos, interactive maps and photographs. Facebook users can also comment and indicate likes on individual parts of the article. If you have ever used Facebook's news app Paper, the experience appears similar to that.
One of the main reasons Facebook has been pushing the program is for a faster experience for users. In a blog post on the new program, Facebook said articles take an average of eight seconds to load on Facebook. It said the experience will be 10 times faster through the Instant Articles program.
Facebook's program was first explained by the New York Times in March. Months before then, Facebook approached several news companies with a plan to improve the user experience for consuming news via Facebook. But since the first report, Facebook has been reluctant to disclose any more details other than confirming that the program did exist. Facebook has signed on nine launch partners. BBC News and the Guardian in the U.K., as well as Bild and Spiegel in Germany, all are expected to begin participating in the program soon.
Immediate questions about the program centered on revenue and statistics, which are both aspects publishers can control on their own websites. Through Instant Articles, they will be able to keep 100 percent of the revenue gained via advertising within their posts or presented as sponsored content. For example, the post to be published by BuzzFeed Wednesday will be paid for by the marketers of the film "Pitch Perfect 2," CNN Money reported.
One concern is that Facebook could change aspects of the program in the future, a fear that has led many publications to avoid signing on. According to Re/code, however, companies are not committed to the program.
© Copyright IBTimes 2022. All rights reserved.
FOLLOW MORE IBT NEWS ON THE BELOW CHANNELS