Failed Russian Mistral Ship Deal Will Cost France Twice As Much As Paris Spent To Build Military Vessels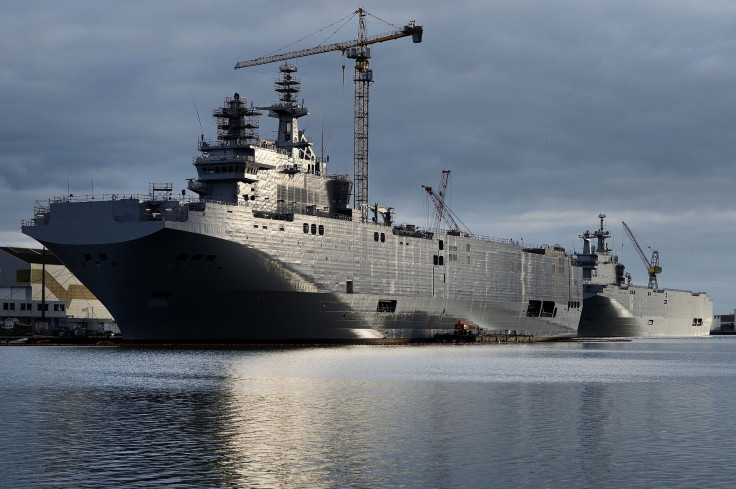 A French newspaper report Friday claimed the true cost of the failed Mistral warship deal between Russia and France will be double the original cost of the two ships. President Francoise Hollande's government, which released a statement last week indicating that an order-cancellation deal had been reached, could end up paying more than 2.4 billion euros ($2.67 billion) rather than the $1.27 billion that had been widely reported. The original deal to build both ships, the Vladivostok and the Sevastopol, was only $1.2 billion.
Russian Military Expenditure Over Time | FindTheData
The revelation has led to calls from opposition parties to establish a parliamentary committee to investigate what happened in the negotiation process, and that Defense Minister Jean-Yves Le Drian's should resign. France's economy is struggling and the country cannot afford to keep the ships, but will find them hard to sell as they have been specially designed for the type of helicopters that are unique to Russia's military.
"Mistral revelations: Two billion euros, the price of Hollande's whims," the National Front party tweeted.
The newspaper, French weekly Le Canard Enchaine, a left-leaning satirical newspaper that also conducts serious investigations, noted that France paid back the deposit of $996 million and another advance payment of $111 million to compensate Russia for having built helicopters that were specially designed to land on the Mistrals. The French government will also have to compensate Russian and French shipyards and engineers to the tune of $660 million and $385 million, respectively. Refitting the ship with NATO-standard electronics will cost around $220 million. And each month the ships sit in the Saint-Nazaire dock will cost taxpayers an additional $5 million.

The paper also reported that France lost the license to build Mistral ships in Russia and lost the contract for decades of repair and maintenance totaling around $500 million.
Russia was supposed to take possession of the first ship earlier this year, but Hollande's government was put under pressure by European leaders to withhold until Moscow met the terms of February's Ukraine ceasefire agreement. Hollande said that if Russia was able to ensure peace in Donbas and join talks over its annexation of Crimea in March 2014, then he would sanction the handover of both ships. By June, France had breached the agreement.
© Copyright IBTimes 2023. All rights reserved.
FOLLOW MORE IBT NEWS ON THE BELOW CHANNELS