Famous Presidential Affairs: Warren Harding Letters Rank 23rd President With JFK, FDR Affairs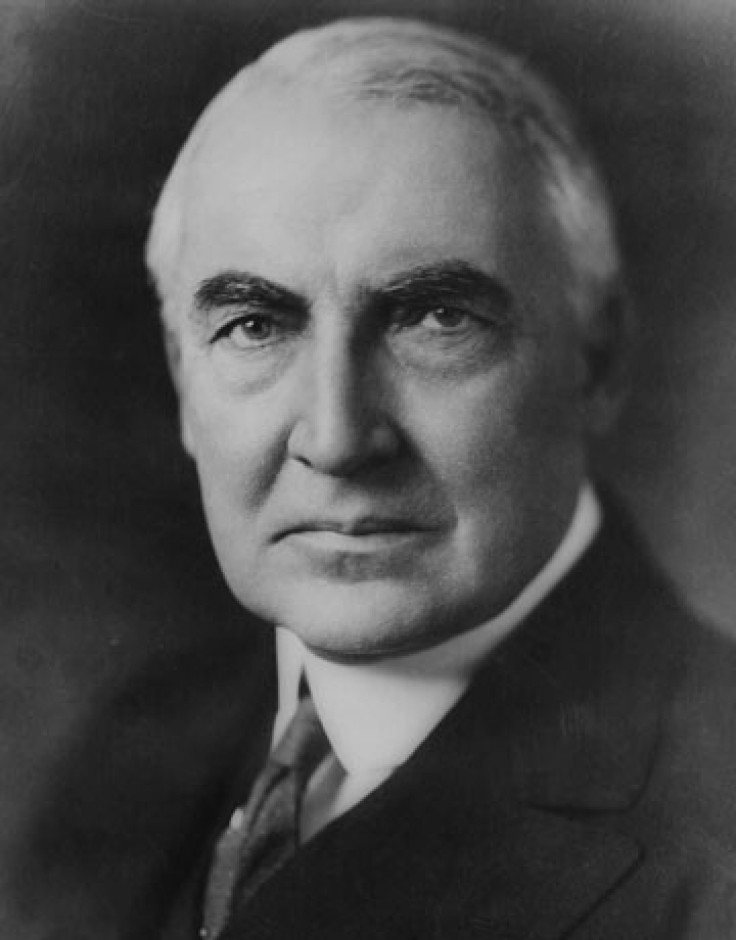 More than a century after Warren G. Harding began an affair with a friend of his wife, the American public will be allowed to read the former president's love letters. Historians, who have respected the 50-year period of secrecy requested by one of Harding's relatives, hope the notes will provide an insight into a president perhaps rivaled only by JFK when it comes to rumors about his adulterous dalliances.
The Library of Congress announced that approximately 1,000 pages of love letters between the 29th president, who followed Woodrow Wilson and preceded Calvin Coolidge in the "Roaring Twenties," and a woman named Carrie Fulton Philips will be published on July 29.
The affair, which has been confirmed by members of Harding's family, and the letters, began in 1905 when Harding was the lieutenant governor of Ohio, continuing through his years in the Senate and ending just before he took the presidential oath in 1921. The escapades ended at least in part because Philips began blackmailing the Republican Party over her sexual relationship with the president to-be.
The two remained on good terms, however, with Philips -- joined by her husband and mother -- visiting the president during his short time in the White House (Harding died in 1923 while still in office). The scandal was kept secret for decades, until Philips' guardian and lawyer examined her estate after Philips' death in 1960 and found the box of letters hidden at her Marion, Ohio, home.
A Harding biographer sought to use the letters, the vast majority of which are dated from 1910 through 1920, in a 1963 chronicle of the deceased president's life, but his use of direct quotes and other information gleaned from the love notes was prevented by a lawsuit filed by Dr. George Harding, a nephew of the president.
"In 1972, Dr. Harding donated the letters to the Library of Congress for safekeeping, with the stipulation that the library keep the papers closed until July 29, 2014, which would be 50 years from the day the probate judge first closed them," a library statement explained. "The letters have been locked in a vault in the library's Manuscript Division since their donation. Taken as a whole, the correspondence sheds light on a man on the eve of his presidency and a country on the brink of World War I."
What's especially shocking about this nugget of presidential history is that the Philips episode isn't the only relationship Harding had behind his wife Florence's back, or even the most scandalous. A 1998 Washington Post profile titled "A President of the Peephole" revealed that Harding frequently engaged in "assorted other flings," including with including two chorus girls and a Washington Post employee known only as Miss Allicott, and that he "even publicly oggled Margaret Gorman, the first Miss America, in Atlantic City," shortly after she won the crown.
"It's a good thing I am not a woman," Harding reportedly said. "I would always be pregnant. I can't say no."
But the distinction of Harding's most famous affair is his reported relationship with Nan Britton, a secretary who may or may not have been obsessed with Harding in the years before he ascended to the Oval Office. Britton claimed in 1928 that Harding fathered her child during his presidency with her book, "The President's Daughter," widely considered to be first kiss-and-tell about a U.S. president.
Harding is just one of the presidents said to have engaged in extramarital love-making during his time as commander-in-chief. Along with the seemingly unending rumors about Secret Service agents hiding President John F. Kennedy's alleged affair with Marilyn Monroe (among others), Presidents Thomas Jefferson, Franklin D. Roosevelt, Dwight D. Eisenhower, Lyndon B. Johnson, and Bill Clinton have all been implicated in affairs of their own. And Grover Cleveland admittedly fathered an illegitimate child before being elected in 1884, although he was a bachelor at the time.
In fact, Americans looking to the history books for some tabloid-esque drama are encouraged to start with the letters between Johnson and his wife, Lady Bird (nee Claudia Taylor). A woman named Madeline Duncan Brown insisted that she and Johnson engaged in a 20-year affair during which he bought her an apartment and fathered one of her children.
Previous reports don't mention whether the trove of Johnson letters discuss the alleged affair, but Claudia Anderson, a library archivist who supervised the letters, told the Associated Press that they do reveal a side to the president that a nation torn up by Vietnam never witnessed. Anderson said LBJ is "certainly romantic in these letters in that he is wooing [Lady Bird], he's trying to impress her and he makes various arguments why they should get married."
"He wants a commitment from her … the letters express that," she went on. "They are fascinating."
© Copyright IBTimes 2023. All rights reserved.