The FARC Declares Ceasefire, As Colombia President Praises Historic US-Cuba Deal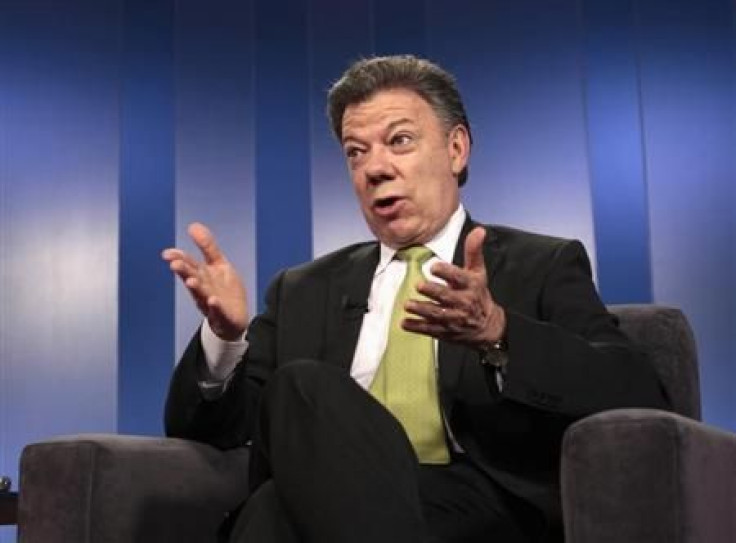 Colombia's President Juan Manuel Santos praised U.S. President Barack Obama's move to re-establish full diplomatic relations with Cuba on Wednesday, after more than 50 years of hostility between the United States and the island nation. Santos said the historic rapprochement will "create a future of peace in the Americas."
"This fundamental step for the normalization of relations between Cuba and the U.S. will change the history of the hemisphere," Santos said on Twitter Wednesday, adding that the Colombian government "will do whatever it takes" to bridge differences and support a restored friendship.
Santos' re-election in June was widely seen as a nod to the peace process he initiated with leftist members of the Revolutionary Forces of Colombia (FARC) group in late 2012. The rebel group on Wednesday declared an indefinite unilateral ceasefire beginning Dec. 20, which many hope will eventually conclude the bloody conflict, Reuters reported.
"The coming months are fundamental," the FARC's statement reportedly said. "We want to overcome these useless bloody episodes." The Colombian government has yet to respond to the statement, though Santos has refused a two-way truce since negotiations began in Cuba in 2012, according to Reuters.
Cuba has been a safe haven for FARC members for decades. The nation supported and hosted peace talks last year between the rebel group and the Colombian government. Cuba has been listed as a sponsor of terrorism by the U.S. Department of State since 1982. However, Obama ordered U.S. Secretary of State John Kerry on Wednesday to review Cuba's spot on the U.S. State Sponsors of Terrorism List.
Per Obama's directive, Kerry is sending his assistant secretary for the Western Hemisphere to Cuba in January to lead the next round of the U.S.-Cuba migration talks. "I was a 17-year-old kid watching on a black and white television set when I first heard an American President talk of Cuba as an 'imprisoned island,' " Kerry said in a statement Wednesday. "I look forward to being the first secretary of state in 60 years to visit Cuba." Kerry noted that a critical focus will be on encouraging democratic reforms and respect for human rights within Cuba.
The FARC was established in the 1960s as a military for the Colombian Communist Party following an attack on rural Communist territories by the Colombian military. What began as a peasant movement has burgeoned into a guerrilla organization that has sustained violent conflict with successive Colombian governments ever since, according to Reuters.
© Copyright IBTimes 2023. All rights reserved.