President Obama Announces Historic Shift In US-Cuba Policy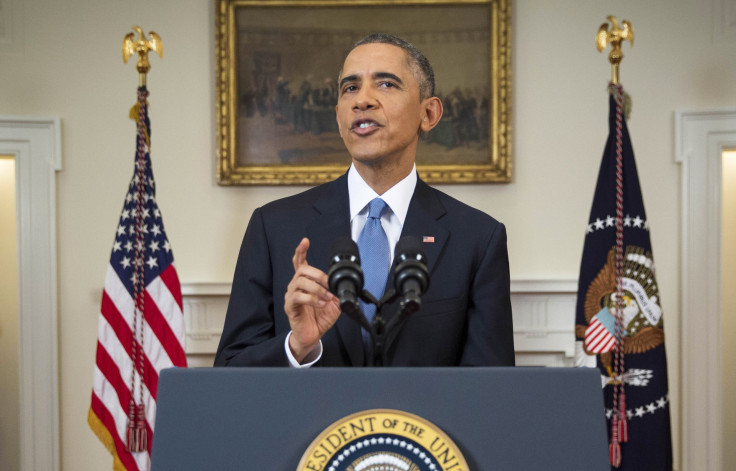 President Barack Obama on Wednesday announced a tidal shift in the United States' policy on Cuba, saying that Washington would restore diplomatic relations with Havana and loosen restrictions on travel, remittances and exports to the island. The move, which White House officials said comes after months of high-level discussions, constitutes the biggest thaw in U.S.-Cuba relations in more than 50 years.
"These 50 years have shown that isolation has not worked," Obama said in a national address Wednesday afternoon.
"Today America chooses to cut loose the shackles of the past," he added.
U.S. and Cuban officials will start discussions Wednesday on paving a way forward for re-establishing a U.S. embassy in Havana. It's not clear when that process will be finalized, but White House officials said the formal decision had already been made. U.S. Secretary of State John Kerry will also begin a review of Cuba's position on the U.S. State Sponsors of Terrorism list, which it has been on since 1982.
The U.S. will increase limits on remittances to Cuban nationals from $500 to $2,000 per quarter, barring government officials and some members of the Communist Party. Obama also opened up several additional categories for travel, with licenses for business, family, humanitarian, religious and educational visits to the country. Americans in Cuba will be able to use debit and credit cards there, and they will be allowed to bring back $400 worth of goods -- including up to $100 worth of tobacco products, including Cuban cigars -- to the U.S.
The White House is also easing export restrictions on a number of goods, notably on telecommunications equipment and agricultural and construction goods. Cuba, meanwhile, is authorizing increased Internet infrastructure within the country.
While Obama's announcement constitutes sweeping changes to restrictions on U.S.-Cuba relations, the embargo still remains in place. Congress has the power to lift it through legislation, but it's unclear if lawmakers will follow the president's lead. General tourism to the island, meanwhile, remains prohibited.
The historic shift in relations comes after Cuba released Alan Gross, a former subcontractor for the U.S. Agency for International Development, who was imprisoned in Havana for more than five years. The U.S. and Cuba also engaged in a prisoner swap, with Washington releasing three Cubans convicted of espionage in 2001 in exchange for a U.S. intelligence source who had been imprisoned in Cuba for more than 20 years. Administration officials declined to name the U.S. intelligence source, but said his release was a crucial factor in the deal to normalize relations with Havana.
The move also apparently comes after more than a year of discussions between U.S. and Cuban representatives. White House officials said many of those negotiations were hosted by Canada, with a final meeting at the Vatican. They also credited Pope Francis with providing a major impetus for the talks through a personal appeal he sent directly to Obama and Cuba's President Raúl Castro.
Obama and Castro spoke over the phone for at least 45 minutes Tuesday to finalize the details of the policy change. It was the first presidential-level communication between the countries since the U.S. embargo was imposed on Cuba in 1961, senior Obama administration officials said.
Besides Alan Gross' imprisonment, U.S.-Cuba relations have hit snags in recent weeks over revelations that USAID covertly launched democracy-promotion programs on the island, which Cuban officials have decried as attempts to destabilize the regime. Most recently, the Associated Press reported that USAID recruited local hip-hop musicians to foster activism among Cuban youth.
Officials said that USAID's democracy-promotion programs would continue, while acknowledging they would still be a point of disagreement between U.S. and Cuban officials. They also said the shift in U.S.-Cuba policy had "nothing to do" with the resignation of USAID director Rajiv Shah, announced Wednesday morning, and that they had known about his plans to step down for some time already.
"I do not expect the changes to bring about changes in Cuban society overnight," Obama said during his speech Wednesday. "But I believe that with a policy of engagement, we can more effectively stand for our values and help the Cuban people help themselves as we move into the 21st century."
© Copyright IBTimes 2023. All rights reserved.