Farm Bill A Top Concern As House Members Return From July 4th Break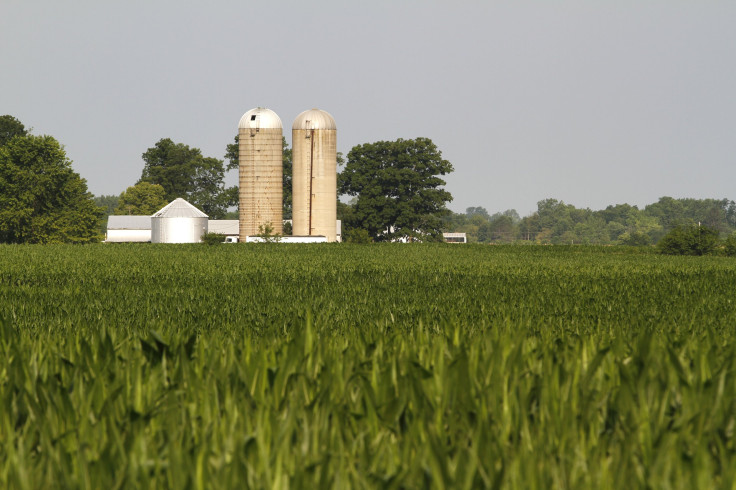 In the hundreds of districts across the country last week, members of Congress who were home for the July 4 holiday encountered various local concerns, from cutting a Young Marines program in Louisiana to sequester cuts at military bases in Georgia. There were also areas of continuity across many districts, both blue and red, where Congress' failure to pass the farm bill last month is a top priority to constituents.
Back from the holiday, concern over the farm bill is a top, bipartisan concern for many members of Congress, particularly those from rural districts, who hope the bill will pass before Capitol Hill is again deserted during the long August recess. But there is no consensus yet among Republicans on how to proceed with the bill. In a memo to House Republicans last week on July's agenda, Majority Leader Eric Cantor, R-Va., only noted the farm bill once, saying vaguely, "Members should be prepared to act on a revised farm bill."
There was "very much disappointment over the failure of the farm bill," Rep. Tom Cole said of his constituents in Oklahoma's 4th Congressional District, where agriculture is a large presence. The issue "better be" resolved this month, he said. "I'd hate to be a Republican member in a rural district going home without a farm bill. I think that's a very difficult position to be in."
The farm bill is generally considered a bipartisan measure. Its failure came as a surprise last month, when most Democrats and conservative Republican members voted against the bill; Democrats thought the food stamp assistance in the bill was being cut too much, and the right wing thought these cuts weren't big enough. Now, it's unclear whether leadership will try to split off the food and nutrition portion -- most of it is funding for food stamps, known as the Supplemental Nutrition Assistance Program or SNAP -- from the rest of the bill or try to pass it again intact. Whichever way House Republican leaders decide to go, they will anger some in their own party.
Cole says he would support a farm bill without the food stamp and nutrition benefits, which account for nearly 80 percent of the bill's $940 billion price tag over the next 10 years, but that he think it's the wrong strategy. Splitting the bill would make it harder for it to ultimately reach President Obama's desk, Cole says, adding that he'd also prefer to work in a bipartisan manner. "I've been in enough huddles when I was a kid, when the quarterback calls the play, I guess I'll go execute it, but I'm really not sure this is the right play to be calling," Cole said. "And in this case, I think splitting the farm bill is not the best play."
Democrats, including Rep. Collin Peterson of Minnesota, the top Democrat on the House Agriculture Committee, who hails from a heavily agricultural district, agree that the House needs to move the bill in one piece. "The only thing I heard about was the farm bill," Peterson said, speaking about his visit home last week. "My district is all farming, it's all rural, so the only thing I heard was, 'why can't you get the farm bill passed?'" Peterson said the bill could pass by stripping out a couple of the Republican-sponsored amendments that Democrats found intolerable last time. Splitting the bill, he said, is a "very bad idea" that would endanger final passage.
But Republican Rep. John Fleming, whose Louisiana district includes a substantial amount of agriculture as well, said he expects Republican leadership to move the bill as two separate pieces, though he doubts it will happen before the August break. "Leadership asked me if I would vote for the farm bill if we cut it from the SNAP piece. I said I would," said Fleming, who voted against the bill last month. "I want to see the farm piece passed, but the nearly a trillion dollars in SNAP spending for food stamps is way too much." Elected in 2008, Fleming has been around a few years longer than most of the 62 House Republicans who voted against the bill, who are freshman or sophomore members.
"I also have farmers who are very, very concerned and disappointed that Congress was unable to pass the farm bill," said Democratic Rep. Sanford Bishop of Georgia's 2nd Congressional District. "It is necessary for farmers and people in rural America to be able to make plans and have some certainty going forward as to how to plan for their lives and their livelihoods and of course the farm bill was that blueprint for agriculture in America."
Of course, the farm bill wasn't the only topic of conversation. Rep. Bishop said his constituents worry about furloughs on the military bases in his district. "Those are earnings, wages that will not go into those households, money that will not be spent for groceries and in the communities, on retail. So they're very concerned about that. I'm very concerned about that. I heard about that over the break," he said.
Republican Rep. Tom Price, also in Georgia, said his constituents are talking a lot about immigration reform. "Just secure the border," is the message Price said he got from his conversations on the issue back home. In Louisiana, Fleming said he attended a religious freedom rally back home, where people are angry that a Young Marines program to help troubled youth about lost federal grant money because the local sheriff refused to strike the word God from the group's pledge. "We have a lot of attacks that are occurring out of the administration that are restricting our right to religious expression," he said. "So that's a big topic that we're discussing back at home."
On the issue of the National Security Agency's surveillance programs, which have dominated the news lately, Rep. Steve King, the Iowa Republican who has made a name for himself as one of the chamber's most conservative members, said he tried to relay to his constituents what the surveillance state means.
"I've said that each one of those components of surveillance that we have, I can probably take that and justify it constitutionally or statutorily or case law-wise," King said, describing the conversation he had with constituents back home. "And now we have to put that whole thing together and it's creepy. How much security are we willing to give up so that we no longer have that creepy feeling of somebody watching us?"
King mentioned a large swath of government and private activity as part of this "surveillance state," adding to the NSA's activities the fact that President Obama's campaign used information about voters in their campaign effort, the scandal over targeting of tea party groups at the Internal Revenue Service, the ability to track credit card charges and being caught on a video camera at a gas station. "I can live with a lot of that, but I can't live with the government that might use all of that. And that also, if you wonder if they can profile people for voting purposes, can't they profile them for government jobs, for health care benefits. How far can this go?" King said. "I'm not suggesting that this is completely out of hand or that that is what's going on -- these are questions we're going to have to answer. We have not come to grips with the meaning of the surveillance state."
But then King came back to the farm bill, which is important to his Iowa constituents. And on that, he was optimistic: "I think before the August break we're going to bring a bill to the floor," he said.
© Copyright IBTimes 2023. All rights reserved.
FOLLOW MORE IBT NEWS ON THE BELOW CHANNELS