'Fat Leonard' Navy Scandal Shows Need For More Scrutiny Over US Defense Contracts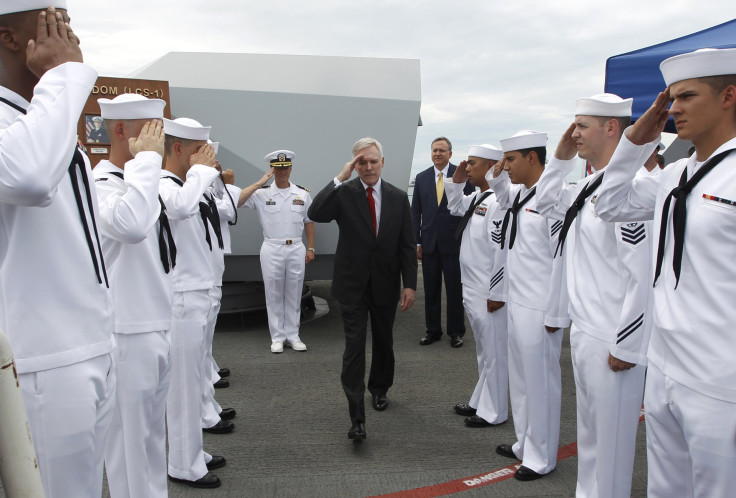 A U.S. Navy corruption scandal involving a Malaysian defense contractor known as "Fat Leonard" who bribed Navy officials with prostitutes, Cuban cigars, Kobe beef and other luxury goods suggests the Department of Defense needs better training and oversight for its auditors tasked with preventing these very types of scams, government watchdog groups said. The ongoing bribery case involving Leonard Glenn Francis and his Singapore-based firm, Glenn Defense Marine Asia, stands out for its blatant disregard of the law, but it also underscores how vulnerable the defense contract process is to criminals, said the groups that demand greater oversight of taxpayers' dollars.
"We don't entirely know much about whether this is just the tip of the iceberg or whether there are even bigger problems, but it is an issue dating back probably as long as we have been doing contracts in this country," said Steve Ellis, vice president of Taxpayers For Common Sense, a nonpartisan watchdog group in Washington, D.C. "Any time you have something to gain, someone is going to try to game the system."
Francis' scheme, the biggest corruption case in the U.S. Navy's history, is particularly noteworthy because of how many Navy officials he was able to buy off, said Scott Amey, general counsel for the Project on Government Oversight, a nonpartisan independent watchdog based in Washington, D.C. "There's plenty of rules and regulations on the books that prevent this activity, but these people thought they could operate above the law and in the darkness, and they got away with it for a certain time frame," Amey said.
Francis admitted in federal court in San Diego Thursday to crafting the decadelong corruption scheme. Five current and former U.S. Navy officials have pleaded guilty so far, and prosecutors said they will seek charges against others, according to the Washington Post. The scam went up the ranks, with the Navy stripping security clearances from two admirals, including the chief of naval intelligence, over their alleged involvement.
"It is astounding that Leonard Francis was able to purchase the integrity of Navy officials by offering them meaningless material possessions and the satisfaction of selfish indulgences," said Laura Duffy, the U.S. attorney for the Southern District of California, whose office has led the investigation. "In sacrificing their honor, these officers helped Francis defraud their country out of tens of millions of dollars. Now they will be held to account."
Francis, known within the U.S. Navy as "Fat Leonard" because of his hefty size, faces up to 25 years in prison. He was arrested in a sting operation in a San Diego hotel in September 2013. He has said he and his firm overcharged the Navy for hundreds of Asian port visits. He got away with the $20 million scam by bribing Navy officials with a wealth of goods, including fancy meals, expensive liquor, designer handbags, computers and handmade ship models.
U.S. Navy Secretary Ray Mabus has pledged to set up a special disciplinary process aimed at looking into how far the scam reached. "The Navy holds its personnel to the highest standards and those who fall short are held accountable," Rear Adm. Dawn Cutler, a Navy spokeswoman, said in a statement. "NCIS uncovered the criminal activity associated with this case and continues to cooperate with the Justice Department."
Military leaders have grappled with how to curtail corruption throughout history. In 2012, four civilian employees at the North Island Naval Air Station in California pleaded guilty in federal court in a seven-year bribery and fraud scheme involving bogus invoices submitted to the Navy. Last year, two former government contractors were sentenced to prison after pleading guilty to involvement in another Navy contract bribery scheme. The U.S. Department of Defense Office of Inspector General has also been critical of the military's weak contract controls in the past.
That doesn't mean the Department of Defense's contracting process is rife with corruption or in need of a serious overhaul, Ellis said. "Considering the volume of contracts that are issued, in some respects, you can look at raw corruption like this as being more of an outlier than a rule," he said.
At the same time, the case shows the military needs more experienced contracting officers to sniff out bad contracts for potential waste and overcharging that hurts taxpayers, Ellis said. "Part of the reason why this sticks out so vividly is that it is so shocking essentially that these guys were such a cheap date, being bought out with Kobe beef," Ellis said of the Francis scam.
Auditors should have stopped Francis' plot years ago by figuring out he was overcharging the Navy for port stops, Amey said. "I think what this case highlights is the lack of federal administration and oversight of federal contracts," he said. "They probably should have found this problems years ago."
FOR FREE to continue reading
✔️ Unlock the full content of International Business Times UK for free
offer available for a limited time only
✔️ Easily manage your Newsletters subscriptions and save your favourite articles
✔️ No payment method required
Already have an account?
Log in
© Copyright IBTimes 2023. All rights reserved.