Federal Labor Board Says Wal-Mart Illegally Disciplined Workers Over Protests, Strikes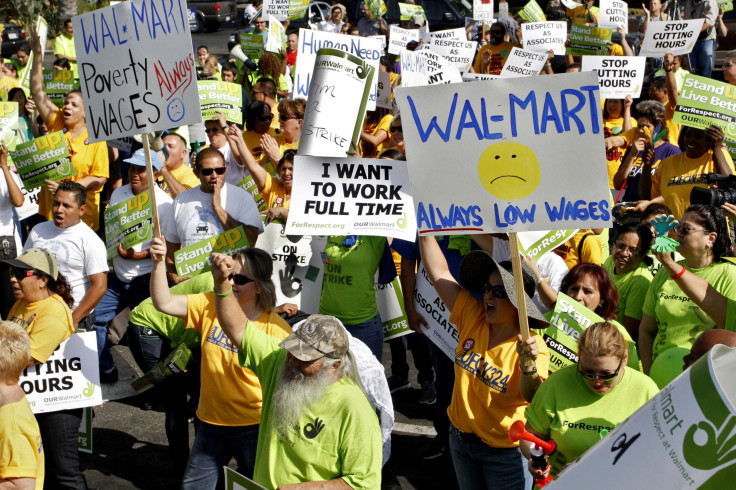 Wal-Mart Stores, Inc. (NYSE:WMT) could face charges over allegations of illegal disciplinary action against employees who participated in protests last year, the National Labor Relations Board, or NLRB, said on Monday.
The board, which protects the rights of private-sector employees who organize, with or without a union, to improve their wages and working conditions, said its general counsel, Richard Griffin, found merit in accusations that the retail giant threatened retaliatory action against employees in several states if they held strikes and protests ahead of last year's Black Friday, which follows Thanksgiving and marks the beginning of the holiday shopping season.
"The Office of the General Counsel has authorized complaints on alleged violations of the National Labor Relations Act," the quasi-judicial NLRB said, in a statement. "If the parties cannot reach settlements in these cases, complaints will issue."
Wal-Mart officials at stores in California, Colorado, Florida, Illinois, Kentucky, Louisiana, Maryland, Massachusetts, Minnesota, North Carolina, Ohio, Texas and Washington unlawfully threatened, disciplined, and, in some cases fired, employees engaging in protests, the board said, adding that in two of these states the threats were publicized on national television and in statements to employees. In some of the states, employees were put under surveillance in anticipation of protests, the board said.
Wal-Mart spokeswoman Brooke Buchanan, who spoke to Associated Press, said the company disagreed with the board's decision and is prepared to defend itself.
"We believe this is just a procedural step and we will pursue our options to defend the company because we believe our actions were legal and justified," Buchanan said.
If no settlement is reached between Wal-Mart and the NLRB, the board would move to an administrative law judge, and if the judge finds merit in the allegations, the company could be penalized and forced to inform its employees about their rights.
Griffin threw out some of the allegations against Wal-Mart, saying the retailer was not guilty of violating workers' rights by telling non-employee protesters to move away from the company's property to public property. The board also rejected claims that Wal-Mart violated any law in changing work schedules of employees in two of the states.
Earlier in November, more than 50 people, not employed by Wal-Mart, were arrested for protesting outside a new outlet in the Chinatown area of Los Angeles, demanding better wages and benefits for workers.
Wal-Mart has long drawn the ire of labor unions for failing to hire union members and for paying workers relatively low wages.
© Copyright IBTimes 2023. All rights reserved.
FOLLOW MORE IBT NEWS ON THE BELOW CHANNELS