Federal Reserve Expected To End Bond Buying, Shift Focus Onto Interest Rate Hike Timing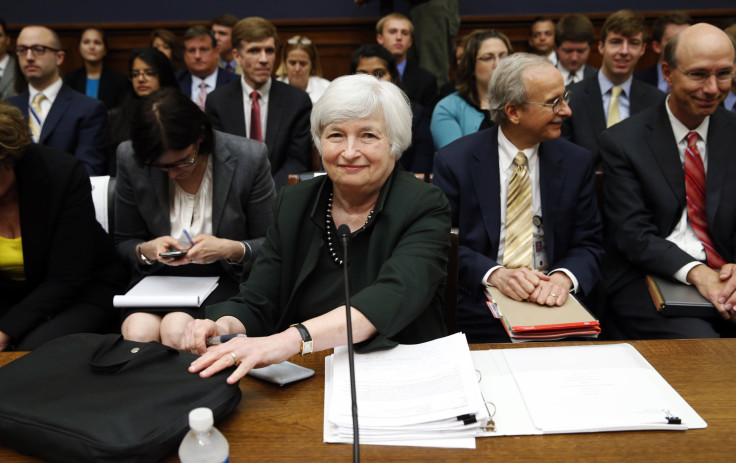 When the Federal Reserve's policy-making committee makes its highly anticipated announcement on Wednesday afternoon, market watchers expect the central bank to soon end its quantitative easing program, which has injected billions of dollars into the economy and lifted inflation, and to imply that an interest rate hike is no longer a "considerable time" away.
Throughout the recovery from the 2008-2009 financial crisis, the Fed has used its asset-purchase program to keep interest rates at a historic low, allowing businesses and consumers to borrow money cheaply and finance purchases like investments, homes and cars. Employment has risen, but Fed officials disagree about how this should affect their policy regarding interest rates, meant to keep prices stable.
Since March, the Fed has said an interest rate hike would take place a "considerable time" after its quantitative easing program ends.
"If that language wasn't softened at Wednesday's meeting, then it will surely be next month," said Paul Dales, U.S. economist at Capital Economics.
The Fed has been steadily reducing its asset purchases this year, starting from $85 billion per month. Economists say the Fed on Wednesday will likely announce another $10 billion per month scaleback in its asset-purchase program, bringing them to $15 billion per month and likely ending the program in October.
That would shift the Fed's focus to the timing of an interest rate hike. At an annual meeting in August, Fed Chair Janet Yellen said the central bank officials were questioning how many job searchers relative to jobs exist, data that's hard for economists and government to capture accurately, and disputing how that slack in the labor market should affect the timing of rate hikes.
"The message that they're going to convey is that they don't have a date circled on the calendar for when they will raise interest rates," said Greg McBride, chief financial analyst for Bankrate.com. "They will say they are data-dependent, watching the economic data come and trying to gauge at what point the economy is healthy enough to raise interest rates."
The Federal Open Market Committee will issue a statement at 2 p.m. with its latest Summary of Economic Projections with forecasts through 2017, followed by a press conference with Yellen at 2:30 pm.
© Copyright IBTimes 2023. All rights reserved.