Federal Reserve System: Fed To Debate Inflation Concerns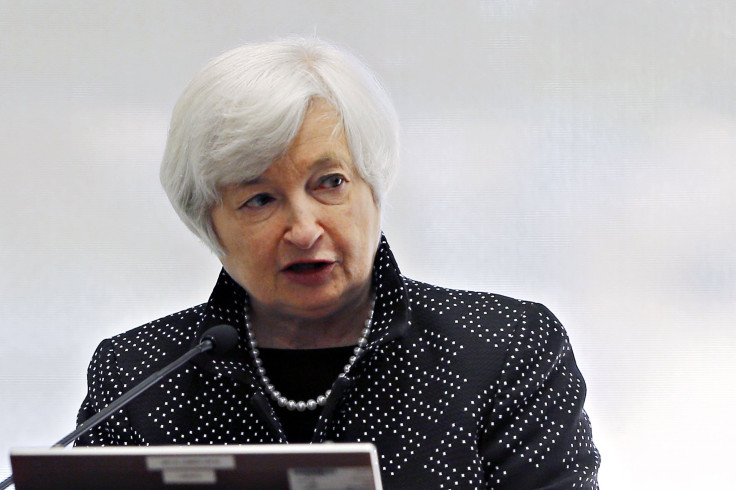 Just as the U.S. Federal Reserve convenes a meeting to discuss the economy Wednesday, new data shows U.S. consumer prices posted their biggest drop in almost six years last month as gasoline prices continued falling due to the global drop in crude oil prices.
Inflation continues to run below the Fed's 2 percent target, as it has for nearly 30 consecutive months. The Consumer Price Index (CPI) released Wednesday showed prices fell 0.3 percent in November compared with the previous month. The annual rate of inflation in November was 1.3 percent. That came after a rate of 1.7 percent in October.
Meanwhile, data last month showed the price index for personal consumption expenditures, the central bank's preferred measure for inflation, rose 0.1 percent in October from September and increased 1.4 percent from a year earlier, the Commerce Department said Nov. 26.
Because inflation remains below the Fed's target, most economists don't expect it to raise rates before the middle of 2015.
In the midst of Russia's currency crisis, global markets are now anticipating the Federal Reserve's final two-day policy meeting of the year to see if the U.S. central bank will reveal clues about future policy changes. The Federal Open Market Committee (FOMC) is scheduled to release its final policy statement of 2014 at 2 p.m. EST, followed by a press conference from Fed Chair Janet Yellen at 2:30 p.m.
With Wednesday's statement from the Fed on tap, most economists expect the phrase "considerable time," which refers to how long interest rates will be maintained at the current historic lows, will be dropped. Since this is Janet Yellen's last press conference before March, now is an opportune time for the Fed to start conditioning markets for the eventuality of interest rate hikes in 2015, according to Greg McBride, chief financial analyst Bankrate.com.
"I expect the Fed will remove the 'considerable time' phrase from the statement, events in Russia and elsewhere notwithstanding," said McBride. There could be volatility Wednesday afternoon in the U.S. stock market, depending on what the Fed says and how it says it.
"That's where a catalyst to a market reaction will come from," McBride said. This will be a "tightrope moment" for Yellen because if the central bank missteps in any way, either by surprising the global markets now, investors could witness a potentially destabilizing amount of volatility in both the bond and stock markets, McBride said.
The Fed will also release its final projections for 2014, and economists expect there to be a slight upward adjustment to gross domestic product, along with small downward adjustments to the unemployment rate and inflation. "It's pretty obvious they're not going to change the interest rates today," Guilfoyle said. "But we're almost certain they are going to change their economic projections for 2014, and possibly 2015 and 2016."
Ahead of the Fed's announcement, U.S. stocks jumped in midday trading. The Dow Jones Industrial Average, which measures the share prices of 30 large industrial companies, rose 144.43 points, or 0.85 percent, at 17,213.30; the S&P 500 Index, which tracks the share prices of the nation's 500 largest publicly traded companies, gained 22.17 points, or 1.15 percent, at 1,995.39. The Nasdaq Composite added 44.78 points, or 0.98 percent, to 4,593.14.
© Copyright IBTimes 2023. All rights reserved.