Feds Won't Prosecute Phoenix Sheriff Joe Arpaio On Abuse Of Power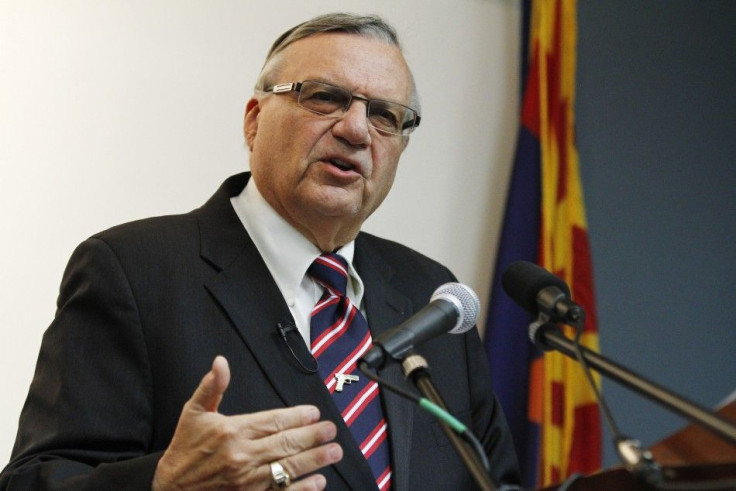 Federal prosecutors have closed a probe into America's self-proclaimed toughest sheriff -- Joe Arpaio of Maricopa County, Ariz. -- on abuse of power with no charges filed, they said.
Authorities were investigating Arpaio, 80, for his part in failed public corruption cases against officials who were odds with him, the Associated Press reported. The sheriff brought cases against a judge and two county officials in 2009.
Federal authorities also announced late Friday that they will not prosecute alleged misuse of county credit cards by sheriff's officials, alleged misspending of jail-enhancement funds and other matters.
The FBI led the investigation and was said to be looking at whether Arpaio used the powers of his office to target his political enemies. At one point in 2009, his office along with the county's elected prosecutor were investigating at least 14 local government officials, all of whom had defied Arpaio in some way. The targets included judges, politicians and others officials high up in local government.
Meanwhile, the Justice Department's separate civil case against Arpaio continues. Earlier this year, the department's Civil Rights Division sued the sheriff and his agency, alleging widespread abuse and profiling of Latinos. A department spokesperson told Talking Points Memo late Friday that case was still alive.
"They did their investigation, they didn't find enough probable cause and they didn't bring an indictment," Arpaio said after returning to Phoenix from the Republican National Convention in Florida. "We don't go around framing anybody. My people are not crooks."
An assistant U.S. attorney in Phoenix, Ann Birmingham Scheel, released a statement saying her office "is closing its investigation into allegations of criminal conduct" by current and former members of the sheriff's and county attorney's offices.
Scheel said she was acting on behalf of the U.S. Department of Justice. In a letter to Maricopa County Attorney Bill Montgomery she wrote, according to the Arizona Republic: "Law enforcement officials are rightfully afforded a wide swath of discretion in deciding how to conduct investigations and prosecutions. Unfortunately, such discretion can act as a double-edged sword: Although it empowers fair-minded prosecutors and investigators to discharge their duties effectively, it also affords potential for abuse. Our limited role is to determine whether criminal charges are supportable. After careful review, we do not believe the allegations presented to us are prosecutable as crimes."
Scheel acknowledged that a disciplinary panel had concluded former Maricopa County Attorney Andrew Thomas, his deputy Lisa Aubuchon and Arpaio had conspired in a criminal manner to violate retired Judge Gary Donahoe's civil rights.
"However, our obligation is different from the State Bar disciplinary panel, [which] under its rules and burdens of proof, has reached certain conclusions about the conduct of Thomas and Aubuchon," she wrote. "We must weigh the evidence and law under the far heavier burden associated with criminal prosecution. Based on this review, we have concluded that allegations of criminal misconduct under federal statutes are not prosecutable."
Maricopa County Supervisor Mary Rose Wilcox, one of those who has sued Arpaio alleging she was improperly investigated, told the Republic she was shocked.
"I can't imagine why they would do that when there's so much evidence there, particularly from the Thomas case and all the testimony that came out. I just am floored," she said.
Meanwhile, another Republican Arizona sheriff, Paul Babeu of Pinal Coumty, was cleared of criminal wrongdoing on Friday for alleged threats he made against an ex-boyfriend to keep their relationship a secret, TPM reported.
An immigration hawk like Arpaio, Babeu until recently was a rising star in the Republican Party. He was the Arizona co-chair of Mitt Romney's presidential campaign and had launched a run for Congress this year.
Then in February, a newspaper in Phoenix publicly outed him as gay and revealed that a former boyfriend, Jose Orozco, said Babeu had threatened him.
An immigrant from Mexico who was living illegally in the United States on an expired visa, Orozco said the sheriff planned to have him deported if their relationship ever became public. Babeu then held a news conference accusing Orozco of hacking into his campaign website after they broke up.
On Friday, a special prosecutor assigned to the case, Arizona Solicitor General Dave Cole, cleared Babeu of wrongdoing.
"There is no indication that he misused any authority or misused public money to harass or intimidate Jose Orozco," Cole wrote in a memo released Friday. "As indicated in the agent's report, Orozco's allegations are not supported by the facts."
Cole also said there would have been enough evidence to charge Orozco with with identity theft and harassment, but that the possibility of conviction would have been slim. Because of that, Cole said, no one would be charged in connection with the case.
Babeu immediately quit Romney's campaign when the allegations surfaced in February. Weeks later, he quit his race for Congress and decided to run for re-election as sheriff. On Tuesday, he won his Republican primary against several challengers. Arpaio was unopposed in his primary.
© Copyright IBTimes 2022. All rights reserved.
FOLLOW MORE IBT NEWS ON THE BELOW CHANNELS