Feeble Windows Holds Back Microsoft Profit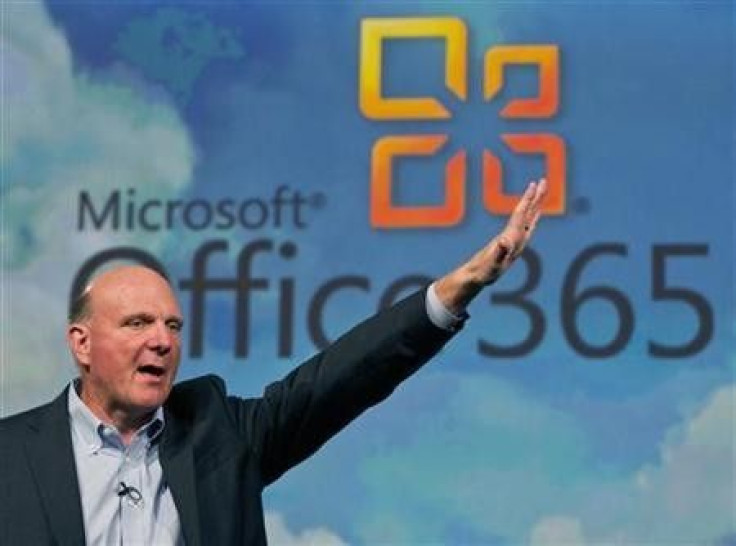 Microsoft Corp's flagship operating system made only slight gains last quarter, largely due to business and emerging market spending, holding back profit growth for the world's largest software company.
Sales of Windows, which still runs more than 90 percent of the world's personal computers, edged up only 2 percent from the year-ago quarter, in line with limp PC sales across the board.
That broke the streak of three straight quarters of declines, but it fell short of some analysts' hopes.
We still had Windows miss again, although not by nearly as much as it has the last couple quarters, said Brendan Barnicle, an analyst at Pacific Crest Securities.
Sales of Windows 7, Microsoft's latest system, have leveled off after a big launch in 2009. Growth is now dependent on Microsoft's core business customers, which are still spending on technology despite the slow economy.
In contrast, hard-up consumers are waiting for next year's Windows 8, putting off purchases indefinitely, or opting to buy Apple Inc iPads instead.
Microsoft Chief Financial Officer Peter Klein said the cycle of businesses buying new PCs to replace aging machines was still in the middle innings, offering hope of continuing modest growth.
We expect that dynamic of business PCs growing faster (than consumer) to last throughout this fiscal year at least, Klein said on a conference call with analysts.
Microsoft's shares, which have traded in the $20-$30 range for the last decade, fell 0.7 percent in after-hours trading, to $26.85. They closed at $27.04 on Nasdaq.
BING LOSS NARROWS
The brightest spot for the world's largest software company was an indication that its perennially money-losing online services unit -- including the MSN Internet portal and Bing search engine -- may have turned a corner.
The unit lost $494 million in the quarter, the lowest loss in the last seven quarters, slowing the flood of red ink that has cost Microsoft more than $5 billion since it launched Bing in mid-2009, as it invests heavily to catch up with Google Inc.
Microsoft made no new statements about Yahoo, which is up for sale. Reuters and the Wall Street Journal have reported that Microsoft may work with private equity firms in putting together a bid for the ailing Internet giant, which it tried and failed to buy outright in 2008.
CFO Klein sidestepped an analyst's question on whether a sale of Yahoo might interfere with Microsoft's search engine cooperation with the company, which has yet to yield the expected profits.
This is a long-term alliance, said Klein. They're super-focused on what we need to do. And no matter what, that's the goal at hand.
NO BEAT
The Redmond, Washington company reported fiscal first-quarter net profit up 6 percent to $5.74 billion, or 68 cents per share, compared with $5.41 billion, or 62 cents per share, a year ago.
That met Wall Street's average estimate, according to Thomson Reuters I/B/E/S. It is the first time in 10 quarters that Microsoft has not exceeded the average estimate.
They were just in line on EPS, which typically Microsoft beats, said Barnicle. Q1 is seasonally not a big quarter for Microsoft, and this was no exception.
Overall sales rose 7 percent to $17.37 billion, helped by Office, which remains popular with businesses even in the difficult global economy.
The Office unit posted an 8 percent gain in sales to $5.6 billion, making it Microsoft's biggest-selling and most profitable unit.
The server and tools unit, which sells the server software behind the datacenters enabling cloud or Internet-based computing, rose 10 percent to $4.2 billion, but even that fell short of some analysts' expectations for the fast-growing area of the technology market.
The entertainment and devices unit posted a 9 percent gain in sales, helped by the Xbox, which remains the most popular game console in the United States.
MORE CASH OFFSHORE
Microsoft said its $8.5 billion deal to buy online chat service Skype, which closed last week, would add about $600 million to expenses this fiscal year. The company now estimates costs of $28.6 billion to $29.2 billion for fiscal 2012, which started July 1.
Microsoft has a cash hoard of $57.4 billion, with $51 billion of that -- or 89 percent -- parked overseas. The company is increasing its overseas cash aggressively. Three months ago, Microsoft said it had $52.8 billion in total cash, with only $45 billion -- or 85 percent -- overseas.
Faster-growing rival Apple on Tuesday reported it has $81 billion in cash.
© Copyright Thomson Reuters 2023. All rights reserved.