Female Raiders Fan Attempts Suicide, Jumps From Upper Deck At Oakland Coliseum, Saved By 61-Year-Old Ex-Marine: Reports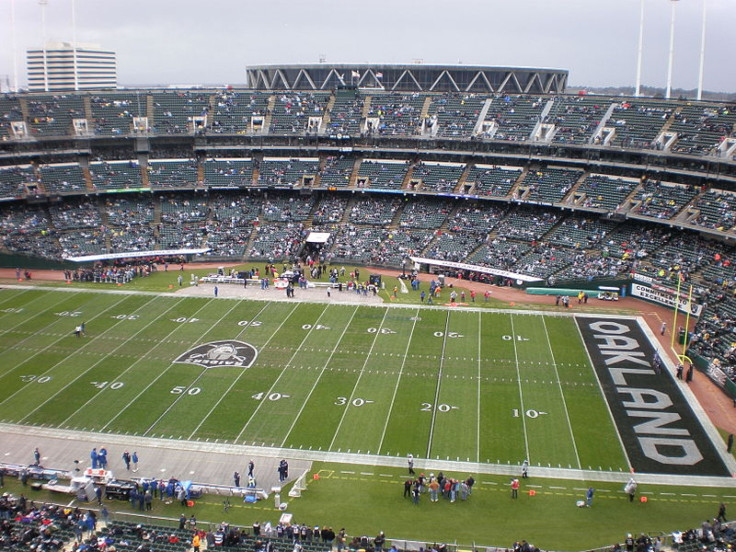 A female Raiders fan jumped from the upper deck of the Oakland Coliseum in an apparent suicide attempt minutes after Sunday's game, but she survived because a man tried to catch her and broke her fall.
The incident occurred about 15 minutes after the Oakland Raiders' loss to the Tennessee Titans on Sunday, the San Jose Mercury-News reported. The unidentified female Raiders fan walked to section 301 of the stadium, an area off-limits to the general public, where she tried to jump to her death.
However, a pair of men, one a 61-year-old Marine Corps veteran, spotted the woman, and the ex-Marine attempted to persuade her not to jump. The heroic Stockton, Calif., man repeatedly shouted "Don't do it" to the woman. But the female fan decided to jump anyway.
The ex-Marine broke her fall when he tried to catch her, preventing the woman's suicide attempt from being successful. The woman was knocked unconscious and is currently in critical condition at a local hospital, the San Francisco Gate reported. Authorities are still not sure why the woman wanted to jump to her death. The good Samaritan also suffered serious injuries, but he is in stable condition and is expected to survive.
"He saved her life, quite honestly, at his own expense," Alameda County Sheriff's Office spokesperson, Sgt. J.D. Nelson, told reporters. "This guy 100 percent saved her life. She'd be dead now."
Nelson visited the ex-Marine in the hospital. Despite his injuries, the lifelong Raiders fan was alert and talking to authorities.
"He just couldn't imagine having people see that," Nelson said. "He said it was a reaction. Even now, at the hospital, he's very concerned about her. He's a real compassionate person. Raiders fans get a bad reputation, yet here's this guy who went way over and above what most people would do to try and save this woman."
The female Raiders fan's suicide attempt is the latest in a series of incidents in which fans have fallen at NFL stadiums this season. On Nov. 17, a Buffalo Bills fan was seriously injured after attempting to slide down an upper-level aisle railing and falling to the seats below.
[h/t Deadspin]
© Copyright IBTimes 2023. All rights reserved.