Ferguson, Missouri, Protests: International Newspapers, Media Showcase Violence, Destruction, Flames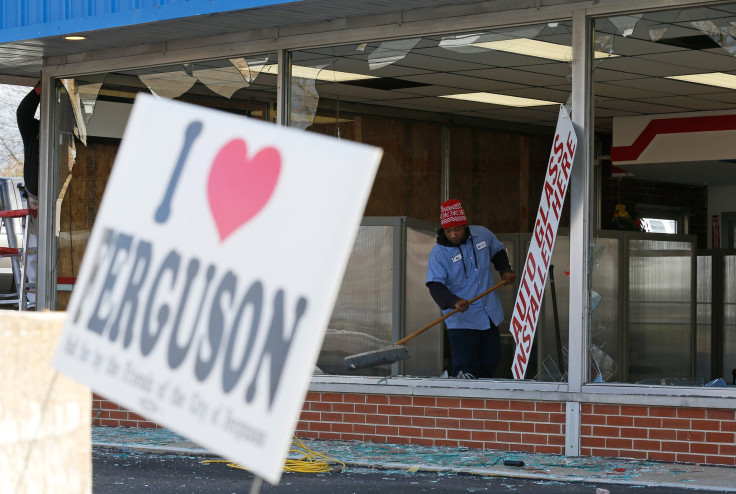 Numerous global news outlets covered the St. Louis, Missouri, grand jury's decision not to indict the police officer who fatally shot an unarmed black teenager by spotlighting burning police cars, looting and destroyed shops. However, some non-U.S. media used the occasion to delve into the nation's history of racial tension.
The St. Louis County grand jury's decision, announced Monday night, to not indict Officer Darren Wilson in the death of Michael Brown, an 18-year-old resident of Ferguson, Missouri, galvanized global attention.
Some international groups and prominent figures spoke out about the Ferguson protests. U.N. human rights chief Zeid Ra'ad Al Hussein said Tuesday he was "deeply concerned at the disproportionate number of young African-Americans who die in encounters with police, as well as the disproportionate number of African-Americans in U.S. prisons and the disproportionate number of African-Americans on death row." The Popular Front for the Liberation of Palestine, which claimed responsibility for an attack on a Jerusalem synagogue last week, also expressed solidarity with the protesters, noting that the "United States' legal system is historically and at present a perpetrator of massive violence and imprisonment against black people."
But international news media organizations Tuesday largely refrained from direct commentary on Monday's unrest, although some had previously weighed in when the protests began escalating in August.
Russia's state-funded news agency Russia Today promised "dramatic images" of the Ferguson protests on its homepage Tuesday, featuring a photo of a masked demonstrator carrying a flare. The photo gallery itself featured scenes from the height of the unrest, with shots of cars set aflame, destroyed shops and armed law officers.
The Times of India described Ferguson's unrest as an eruption of "black fury," noting that while most protests across the U.S. Monday night were peaceful, the evening was still one of the "most racially charged nights in U.S. history."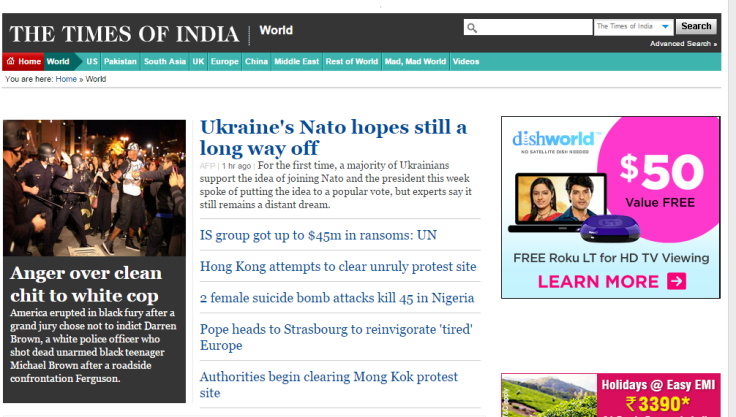 The Frankfurter Allgemeine Zeitung, Germany's most prominent moderate daily, showcased a photo of a burned, ransacked shop in Ferguson along with a somewhat-restrained headline: "Police surprised by severe unrest."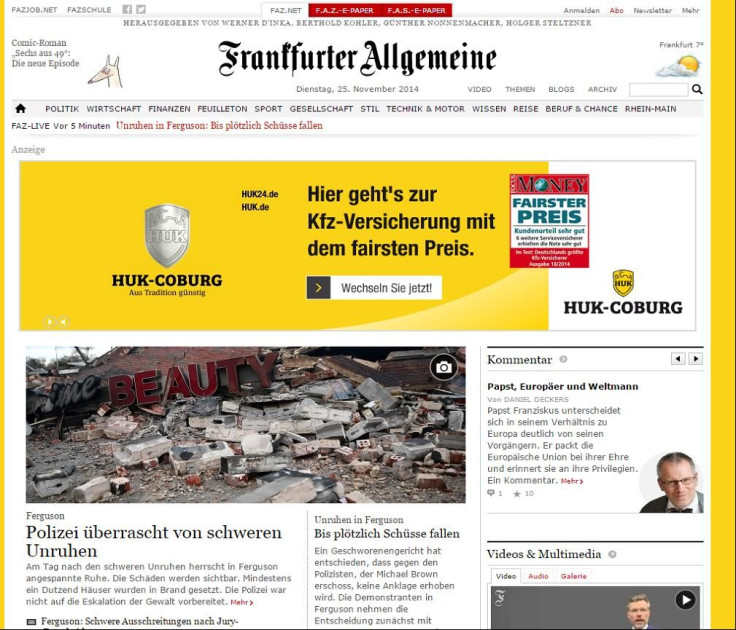 Argentina's widely read conservative La Nacion newspaper dedicated a section of its site Tuesday to "racial tension in the United States," spotlighting the arrests, street clashes and store looting in Ferguson and Darren Wilson's background. One piece noted that the grand jury's decision was a "ruling that awakened the ever-latent racial tension in the United States in the worst way."
"Ferguson demonstrates that despite the election of the first African-American president in 2008, racial tension is an unresolved issue in the United States, where almost 13 percent of the population is black," the piece continued.
Italian left-leaning newspaper La Repubblica featured the Ferguson news on its homepage Tuesday morning with headlines reading, "The USA revolts against Ferguson verdict," and "UN human rights commissioner says too many blacks hit by police." A photo of a man with the treatment for tear gas streaming down his face accompanied the news package.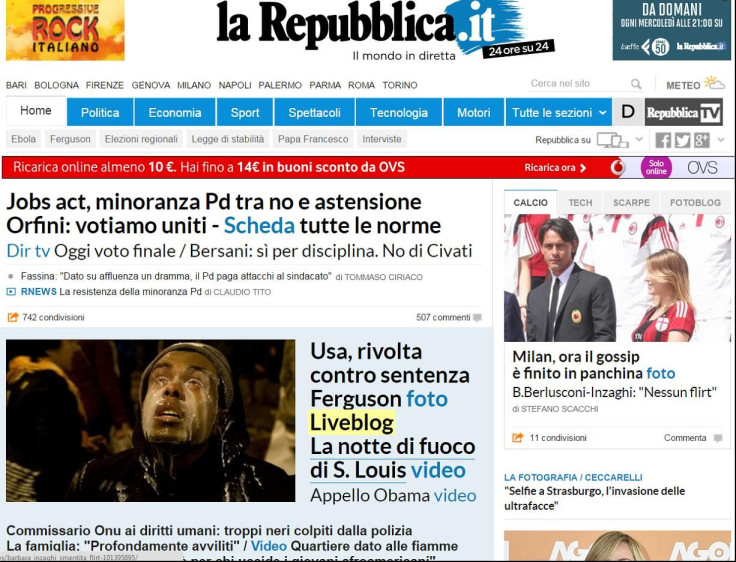 An opinion piece by Anahi Rubin on Telesur, Venezuela's state-run news outlet, compared the outcry in Ferguson to the ongoing demonstrations in Mexico over the case of 43 students believed to have been killed at the hands of local gangs and police. "What these two places have in common, in addition to the killing of minors, is the role of the state. What political, historical and sociological coincidences have developed to result in the death and disappearance of innocent youths," she wrote.
"Although there are alleged perpetrators in prisons, justice still has not arrived in either case, not in Ayotzinapa or in Ferguson," the piece added.
The Independent newspaper of Britain produced several pieces examining tensions in Ferguson, including a list of possible reasons why the grand jury declined to indict Darren Wilson, a graphical depiction of known facts in the case and a spotlight on questions over the timing of prosecutor Bob McCulloch's press conference announcing the grand jury decision, which he scheduled for 8 p.m. Monday.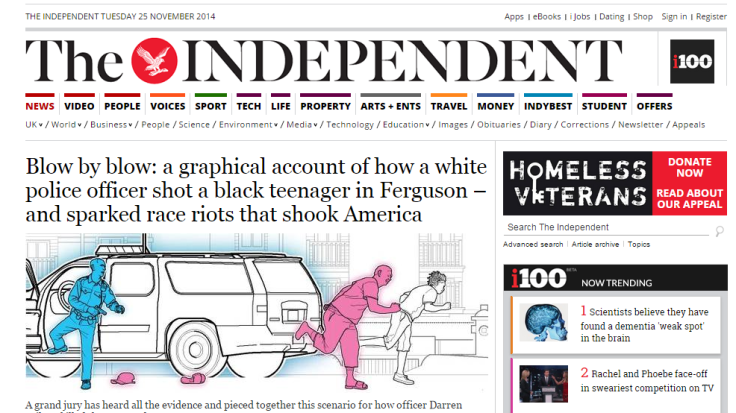 Many on China's social media platforms watched as the protests gained momentum, criticizing the unlawful reaction of some protesters.
"These are a bunch of people who do not respect the law!" Ken Kuang, the founder and president of Torrey Hills Technologies, a San Diego-based metal distributor, wrote.
"After evading the white police, riots in Ferguson remind us that Americans urgently need universal values. Tonight we are all Americans!" Zhu Qi, a Wuxi business executive said in a post on Weibo.
China's news media has been relatively muted. China Daily and Xinhua have only published hard-news stories about the grand jury decision and the riots holding back on editorial commentary — at least for now.
Michelle FlorCruz contributed to this report.
FOR FREE to continue reading
✔️ Unlock the full content of International Business Times UK for free
offer available for a limited time only
✔️ Easily manage your Newsletters subscriptions and save your favourite articles
✔️ No payment method required
Already have an account? Log in
© Copyright IBTimes 2023. All rights reserved.