Ferguson Police Chief Tom Jackson Apologizes To Michael Brown's Parents: 'I'm Truly Sorry For The Loss'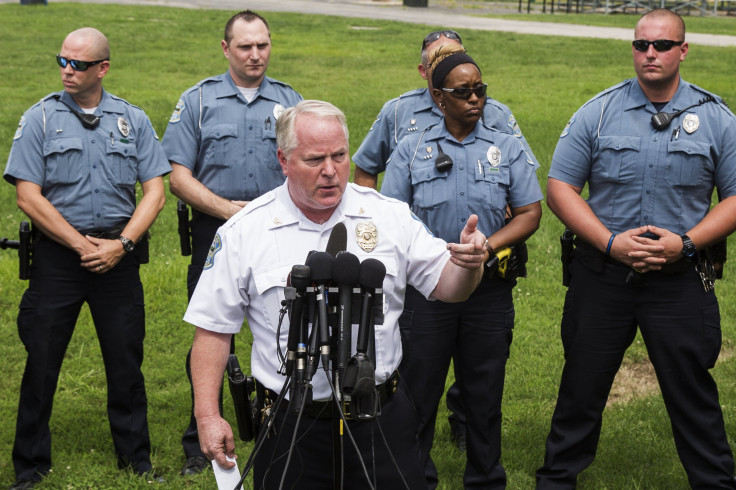 Almost two months after the fatal shooting of unarmed black Ferguson, Missouri teen Michael "Mike" Brown, Ferguson Police Chief Tom Jackson offered a public apology to the slain 18-year-old's parents, Michael Brown Sr. and Lesley McSpadden, in a statement via CNN Thursday. "I want to to say this to the Brown family, no one who has not experienced the loss of a child can understand what you're feeling," he said. "I'm truly sorry for the loss of your son."
Jackson also apologized for the investigation into Brown's death that left him uncovered and unattended in a public arena after being shot by white Ferguson Police Officer Darren Wilson on Aug. 9. "I'm also sorry that it took so long to remove Michael from the street," he said. Jackson said Brown's body was unmoved in an effort to collect proper evidence in order to "gain a true picture" of what happened. "It was just too long and I'm truly sorry for that. Please know that the investigating officers meant no disrespect to the Brown family, to the African-American community or the people of Canfield. They were simply trying to do their jobs," he said.
In the statement, Jackson announced his plans to become engaged in the racism and police brutality debates that were sparked by Brown's death. "Overnight I went from being a small-town police chief to being a part of a conversation about racism, equality, and the role of policing in that conversation. As chief of police and as a resident, I want to be part of that conversation. I also want to be part of the solution," he said.
Jackson addressed "peaceful" protestors who may have felt slighted in their efforts to raise awareness after Brown's death, saying he was solely responsible for those who felt unable to exercise their right to ensemble. Jackson said he is aware of the feelings of "mistrust" among some African American communities in Ferguson following Brown's death, and that his department has to make a change. "The city belongs to all of us," he said. "It is clear that we have much work to do."
Brown was unarmed and was reportedly seen by several witnesses surrendering before being shot by Wilson in Ferguson. An autopsy showed the teen had been shot at least six times, the New York Times reports. On Aug. 15, Jackson confirmed Wilson's identity and that he had been placed on administrative leave following the shooting. Brown was laid to rest at Ferguson's Friendly Temple Missionary Baptist Church on Aug. 25.
© Copyright IBTimes 2023. All rights reserved.