New Mike Brown Shooting Video May Support Claims Of Surrender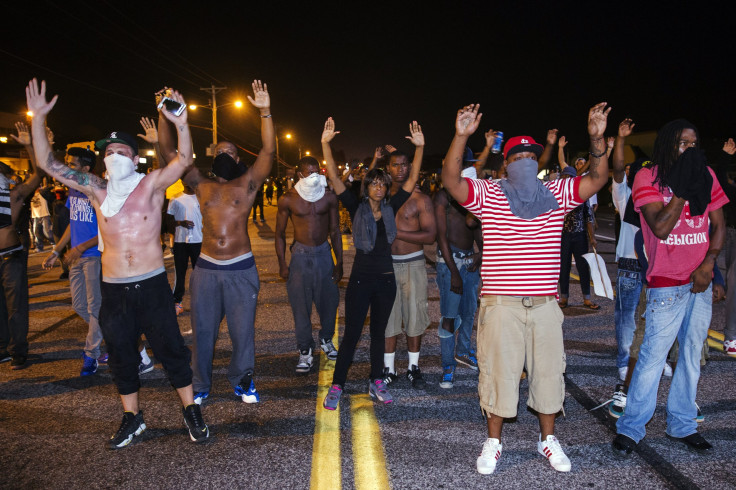 Newly reported cellphone video of the moments after Michael Brown was shot in Ferguson, Mo., shows witnesses putting their hands in the air, and it could back up claims by the unarmed black teenager's supporters that he was surrendering when Police Officer Darren Wilson shot him. A man can be heard saying, "He had his f------ hands in the air," referring to Brown. Benjamin Crump, the Brown family's attorney, called the footage "the best evidence you can have" that Brown was surrendering, except for video showing the actual shooting.
CNN was the first to show the video, cablecasting it on "Anderson Cooper 360" this week. The Associated Press also got its hands on the footage.
The witnesses -- landscapers who were working near where Brown was shot last month -- had their hands in the air moments after the shots that killed Brown were fired. Legal experts told the AP that fact may bolster claims Brown was surrendering when he was shot. Residents of a nearby apartment complex also have said Brown had his hands up.
"The thing that strikes me is we actually have a film of what's going on and while it's hard to hear the construction workers say what they're saying, you have one construction worker putting his hands up in the air, which appears to be him demonstrating what he's seeing," Peter Joy, a professor at Washington University School of Law in St. Louis, told AP.
Lori Lightfoot, an attorney who used to work for a division of the Chicago Police Department that handled officer-involved shootings, said there are some questions that the video doesn't answer, including exactly how far away the witnesses were from Brown and their vantage point. "Given the stakes, it's essential that all of these issues be tied down," she told AP.
Crump said the new cellphone video is a convincing piece of evidence. The workers, who were white, met with the Brown family and told them their version of events. They were working for a business south of St. Louis and weren't Ferguson residents. But Crump said those facts aren't what makes their account compelling.
"Not because they were not residents of Ferguson, and not because the construction workers were Caucasian, but because it is a contemporaneous recording of their immediate actions of what they had just witnessed," he said. "It's the best evidence you can have other than a video of the actual shooting itself."
The workers were also interviewed as part of the authorities' investigation into the shooting, according to Ed Magee, a representative of the St. Louis County prosecutor. The U.S. Justice Department and a state grand jury are investigating the case, but a decision on whether Wilson will be charged isn't expected until next month.
© Copyright IBTimes 2023. All rights reserved.