FIFA Corruption Scandal: Ethics Panel Recommends 9-Year Ban, Fine For Former Secretary General Jérôme Valcke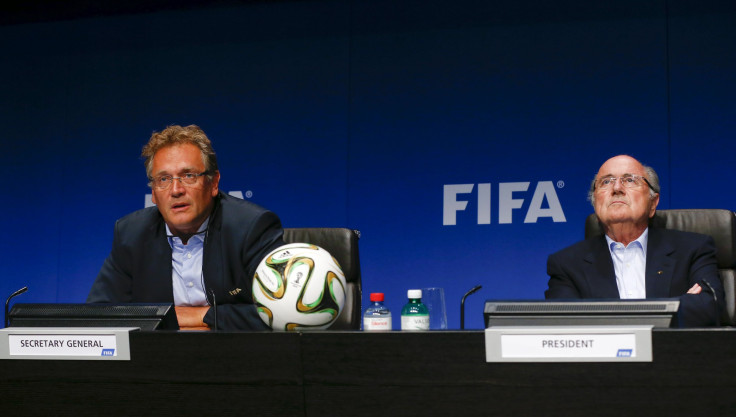 Jérôme Valcke, FIFA's former secretary general and the right-hand man to banned president Sepp Blatter, should face a nine-year suspension along with a fine of 100,000 Swiss francs ($99,100), the ethics panel of the sport's governing body recommended Tuesday. Valcke is the third high-level official to come under the cross hairs of the panel after Blatter and Michel Platini, the president of soccer's governing body in Europe, were banned over illegal payments at the organization.
The ethics panel headed by Cornel Borbély recommended the nine-year ban — the harshest yet in the corruption scandal — for nine alleged violations, which include offering and accepting gifts and other benefits, duty of disclosure, cooperation and reporting and conflicts of interest.
Valcke was in-charge of the soccer body's main source of revenue: the World Cup. In October, FIFA handed Valcke a three-month ban after media reports surfaced in Europe and South America implicating him in a scheme to sell World Cup tickets at inflated prices. The committee on Tuesday also requested to extend the interim ban by another 45 days.
According the Guardian, the FIFA ethics committee also has been examining allegations related to Valcke's expenses and, among other things, his use of a private jet.
Valcke's lawyer, Barry H. Berke, reportedly responded angrily to the proposed penalty. "Today's press release is nothing more than a self-serving public relations effort to wrongly attack Mr. Valcke in a desperate attempt to try to prove that FIFA can police itself," Berke told Bloomberg.
"Mr. Valcke did absolutely nothing wrong as any independent and fair review of the facts would establish," he added.
In December, the ethics committee banned Blatter and Platini for eight years each over an unauthorized 2 million-Swiss franc ($2 million) payment from FIFA, approved by Blatter, to Platini in 2011. Both men have denied any wrongdoing and said they intend to appeal their bans.
In a separate event Tuesday, Prince Ali bin Al Hussein of Jordan, who is vying for Blatter's post in an election next month, called Blatter and Platini "totally irresponsible." He warned that FIFA would be heading for a new "catastrophe" if it doesn't elect the right candidate to succeed Blatter. The prince, a former FIFA vice-president, lost to Blatter in an election on May 30.
"In this day and age, to have an oral agreement is totally irresponsible," he told reporters in London after unveiling a new manifesto for his election bid. "You have to be open, it has to be accountable. That's just a normal way of doing business."
© Copyright IBTimes 2022. All rights reserved.
FOLLOW MORE IBT NEWS ON THE BELOW CHANNELS