FIFA Corruption Scandal: Can Soccer Sponsorship Recover After Blatter, Platini Bans?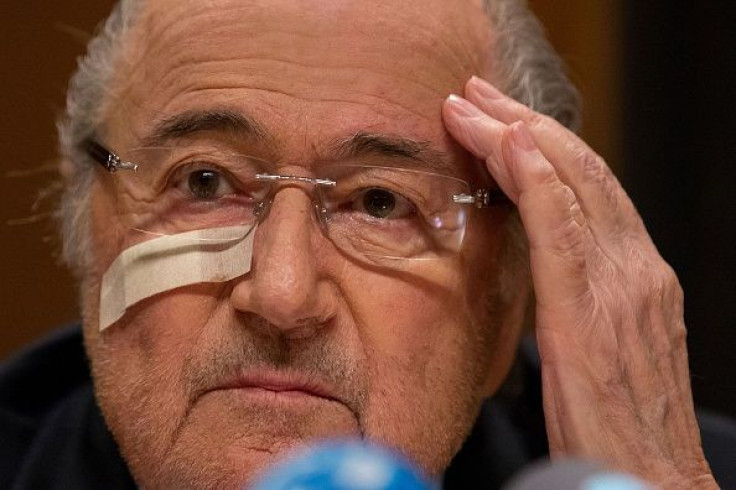 For FIFA's corporate sponsors, Monday was perhaps the first sunny day in a persistently overcast year. As the global soccer organization's nightmarish 2015 draws closer to a merciful conclusion, its ethics committee announced an eight-year ban for two of the sport's most prominent figureheads, most notably Sepp Blatter, the FIFA chief synonymous for many with the organization's prolonged struggles with corruption.
Starting in October, FIFA's flagship partners -- ubiquitous household names like Coca-Cola, Visa and Adidas -- have used their leverage to push for corruption reform and the removal of Blatter. His exit from FIFA, barring a successful appeal from the 79-year-old, is a much-needed public relations boost for FIFA and its sponsors, which have millions tied up with the organization. But with a projected 2015 deficit of some $100 million and ahead of both February's special congress to name a new FIFA chief and the 2018 World Cup in Russia, Blatter's ouster is just one step forward for FIFA, which could have a tenuous road forward to win back full-throated support from current and lost sponsors.
"Long-term sponsors must be deeply relieved to see the back of Blatter [walking away]," said Stefan Szymanski, a professor of sports management and economics at the University of Michigan." But those same sponsors want to be assured they won't have to deal with another year like 2015, say, five years down in the future.
"If [FIFA has] not seemed to deal with this, [sponsors] may be reluctant to get involved," Szymanski said. "Commercial sponsors don't want to be considered corrupt just be association."
Mens FIFA World Cup Statistics by Country | PointAfter
A Brutal Year
Blatter and Union of European Football Associations head Michel Platini were each banned Monday from international soccer for eight years, largely in connection to a payment of $2 million to Platini from FIFA in 2011, for which the judiciary chamber of the ethics committee ruled there was no legal basis. Meanwhile, FIFA is in the midst of a year that has seen two rounds of sweeping charges against various organization officials by the U.S. Department of Justice for allegations including racketeering and money-laundering.
In 2014, a World Cup year, FIFA brought in $2.09 billion in revenue. In the three non-World Cup years prior, that figure never dipped below $1 billion. The organization estimated that 29 percent of its revenues from the period, totaling more than $5 billion, came from marketing rights.
Yet in 2015, FIFA was expected to post a loss of about 67 million pounds, or $100 million, according to a report earlier this month from a UK news service. That was largely the result of lagging dollars from a group of defecting sponsors and others who threatened to leave. Of 14 top slots reserved for sponsorship partners, just seven were filled, and efforts to find regional sponsors flopped entirely. Further, major sponsors Coca-Cola, McDonald's, Visa and Anheuser-Busch all demanded in October that Blatter step down. They and other sponsors then doubled down in December and urged independent oversight for FIFA's reform process, according to the Associated Press.
"Sponsors seek continuity and credibility when aligning with sports properties," said David Carter, executive director of the sports business institute at the University of Southern California, in an email. "The possibility of pulling their sponsorships from FIFA would have represented a disruption in their marketing campaigns."
Companies that join with FIFA are primarily making an investment aimed at the World Cup, the biggest event for the world's sport. With an important special congress in February aimed at deciding on a new head for FIFA, potential sponsors will likely look to make sure an investment in the World Cup is safe from new rounds of corruption allegations. Major sponsors Coca-Cola and Adidas declined comment for this story, while others were not immediately available.
"The answer is that, in the end, what people care about is the soccer tournament -- the World Cup -- every four years," Michigan's Szymanski said. "That's what the sponsors are paying for, the access to the global market."
Szymanksi said the greatest threat to FIFA -- and, in turn, the principal concern for its sponsors -- would be an international backlash against the World Cup, especially the 2018 contest to be held in Russia, similar to the Olympics being severely hamstrung by political boycotts in the '70s and '80s. FIFA has not been welcoming outside oversight and is not considering a presidential candidate outside of the insular soccer world. That could be a concerning sign for sponsors hoping to avoid similar troubles further down the line.
Imagine half of a company's board was under indictment, hypothesized Victor Matheson, a sports economist at the College of the Holy Cross in Worcester, Massachusetts. Then, that company says, "Well… Let's comb through middle management and see who the next guy is."
Monopoly Money
It's one thing to get Coca-Cola to apply pressure to FIFA, but it's another beast entirely to get an Englishman to not watch his national team play in the World Cup. TV rights make up the lion's share of FIFA's revenue, accounting for 48 percent of the total from 2011-2014. As long as people love soccer, which doesn't seem likely to stop for the next century or so, they'll probably watch the World Cup, despite any issues with FIFA.
"We all know you don't want to see hot dogs being made. That doesn't mean you don't eat them at ballpark," Matheson said. Because of that fact, FIFA might next year recover some of the ground it lost in 2015.
"Sponsors care about appearances," said Ted Philipakos, a soccer business expert and professor at New York University's Tisch Institute for Sports Management, Media, and Business. Firing Blatter is a mark in the plus column for appearances. The continued march toward the next World Cup is a plus as well, despite it being dogged by corruption allegations.
"The popularity of the sport is almost unchanging," Philipakos said. "[FIFA] is an organization that has been struggling with corruption for a very, very long time. And you have situations now where fans are particularly outraged about the World Cup bidding process, yet are they going to stop watching? That's unlikely."
FOR FREE to continue reading
✔️ Unlock the full content of International Business Times UK for free
offer available for a limited time only
✔️ Easily manage your Newsletters subscriptions and save your favourite articles
✔️ No payment method required
Already have an account?
Log in
© Copyright IBTimes 2023. All rights reserved.