FIFA, Corporate Sponsors To Hold Corruption Reform Meeting In Zurich, Report Says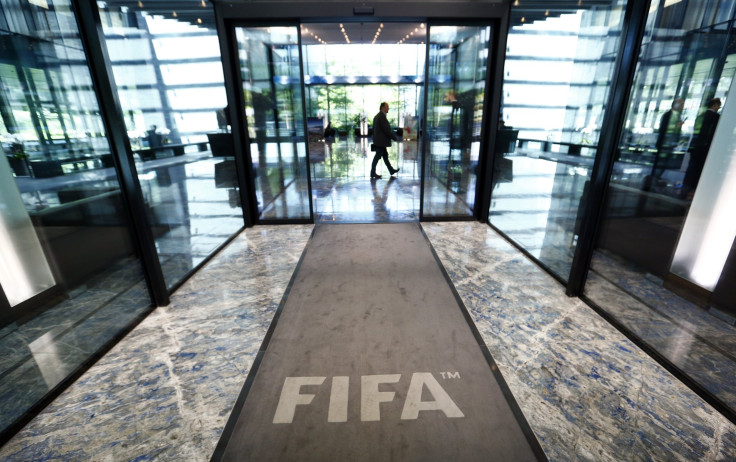 FIFA officials will meet with representatives from some of international soccer's major corporate sponsors Thursday in Zurich, to update them on reform attempts amid the organization's ongoing corruption scandal, a source familiar with the situation told Reuters on Tuesday. The meeting will come days after FIFA named former Olympic official Francois Carrard to lead a 12-person reform committee.
It's unclear which of FIFA's corporate sponsors will be represented at the meeting. Leaders of Visa, Coca-Cola and McDonald's have each called for independent oversight of reform efforts since the May indictments of nine current and former FIFA executives on a variety of corruption-related offenses. None of the three companies had addressed Reuters' report as of Tuesday afternoon.
The arrested officials, two of whom were FIFA vice presidents, stand accused of accepting millions in bribes from marketing executives in exchange for preferential treatment on sponsorship and media rights. Longtime FIFA President Sepp Blatter won re-election just days after the arrests, but resigned his post in early June as the corruption scandal widened. Blatter vowed to lead the organization's efforts at self-reform and will remain in office until his successor is chosen in early 2016.
In July, Visa and Coca-Cola each called for a change in FIFA's leadership and asked the organization to submit to external oversight. "We view the stewardship of our company, our brands and our clients with the utmost importance and try to hold ourselves to the highest standards," Visa CEO Charles Scharf said in a statement at the time, the Associated Press reported. "We seek to partner with those who think and act like us. I don't believe that FIFA is living up to these standards."
So far, FIFA has resisted any attempt at reform that does not allow the organization to maintain a degree of control. Carrard's reform task force is composed of officials drawn from FIFA's regional soccer federations. The committee will submit recommended reforms in September to FIFA's executive committee, whose members will decide which reforms are ultimately enacted.
Earlier this month, the U.S. prosecutor whose office led efforts to indict FIFA executives in March warned the organization about "superficial" attempts at reform.
"Superficial changes at FIFA to its statues will not be sufficient and, likewise, mere changes of personnel in certain positions without a genuine commitment to good governance will not be sufficient. And, as our investigation continues, we will be looking at what reforms are adopted and how they are implemented," said Kelly Currie, acting U.S. attorney for the Eastern District of New York, who led efforts to indict nine current and former FIFA executives on corruption charges in May, Reuters reported.
© Copyright IBTimes 2023. All rights reserved.
FOLLOW MORE IBT NEWS ON THE BELOW CHANNELS