FIFA Election Update: Prince Ali Lobbies China Officials For Support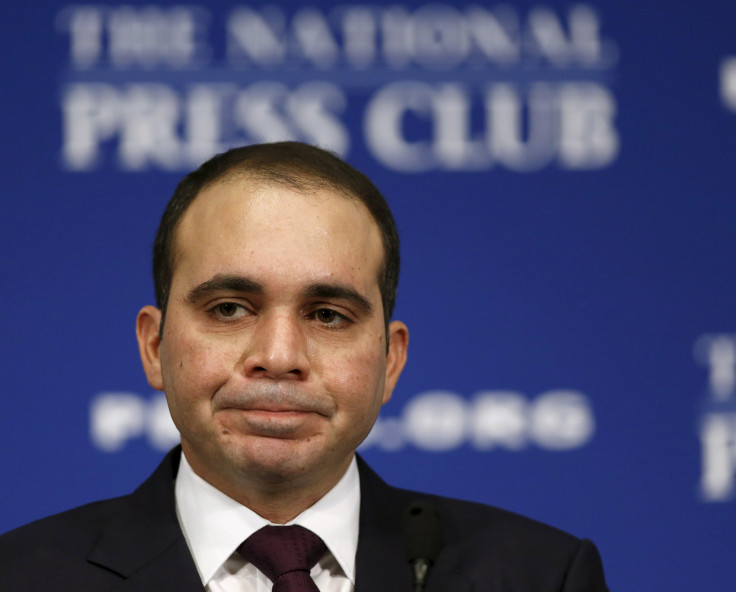 Prince Ali bin Al Hussein of Jordan, one of the five contenders to lead FIFA, said reform and a new direction was necessary to restore public faith in the group as he lobbied for Chinese support ahead of the February election, the Wall Street Journal reported Tuesday. Prince Ali, who is the FIFA vice president for Asia, indicated support for China hosting the World Cup and for setting up Asian regional headquarters for soccer's governing body.
On the heels of eight-year bans -- handed down by FIFA's ethics committee -- each for FIFA president Sepp Blatter and UEFA head Michel Platini, the son of the late King Hussein of Jordan emphasized to Chinese soccer and sports officials the need for reform and change.
When asked about the bans, Prince Ali, whose brother is King Abdullah of Jordan, said, "We need a new future," according to the Journal. Further commenting on Blatter's defiant response to the ban for alleged ethics violations, Ali said, "It's time that people should have the dignity to allow us to move on."
Both Blatter and Platini have indicated they will appeal. Platini, once the heir-apparent to Blatter, said he hopes to still stand in the Feb. 26 special congress to elect a new FIFA president.
"I think that's a process that he has a right to do," Prince Ali said of Platini's potential appeal to the independent FIFA Appeals Committee and the Court of Arbitration for Sport, according to the Journal. "But again, we have very little time to really get things back going. I think we wasted a year already, to be honest, and the expectation now is that this organization takes a new direction."
Prince Ali was the sole challenger in a May election that Blatter won, before saying four days later he would step down, amid a continued corruption scandal that has seen many FIFA officials indicted by the U.S. Department of Justice. Ali has jumped back into the fray, hoping this time to win over enough votes from national soccer associations.
"I trust in the 209 national associations to make the right decision this time," Prince Ali said according to Agence France-Presse. "I come from a national association and a lot of us are tired of what has been happening."
Prince Ali is now campaigning on reform ideas, such as limiting the presidency to two terms and disclosing FIFA's minutes and finances, including executive committee salaries. He has also said he is not interested in playing the "political games" often associated with elections and FIFA, and that he would take responsibility for the group's mistakes, according to the BBC.
Ali said he visited China as part of a tour to solicit opinions from soccer associations ahead of the election. He said he made no deals with China concerning the World Cup, but did say he hoped to have the country's support.
"I wish them the best, and, if I am elected, obviously I'll be a big supporter of Chinese football," he said, according to the Wall Street Journal. "Personally, I hope one day that China does host a World Cup. For example, we've seen what a wonderful thing they've done with the Olympics. So I think there could be such great potential for that."
© Copyright IBTimes 2023. All rights reserved.
FOLLOW MORE IBT NEWS ON THE BELOW CHANNELS