FIFA President Sepp Blatter Says He'll Be Cleared Of Corruption Charges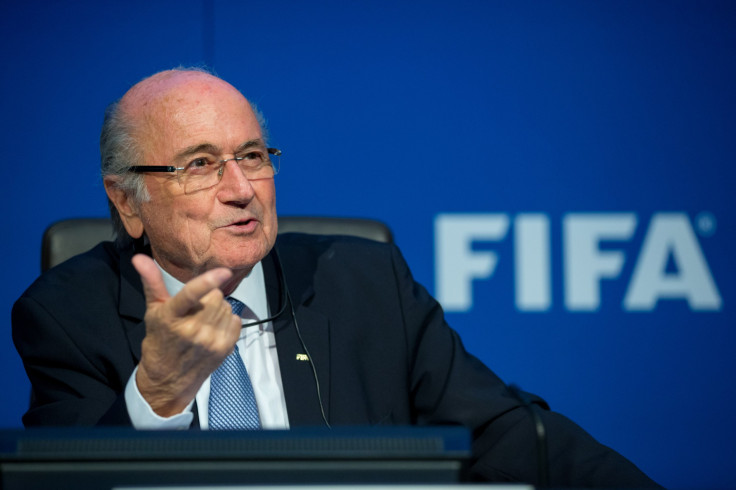 The most hated man in international soccer thinks he'll walk out of a FIFA ethics court hearing Monday with a cleared name. FIFA President Sepp Blatter told Swiss newspaper Blick on Sunday that he believes the corruption charges that were brought against him in October will be thrown out. "The judge told me at the start, 'The corruption charges have been withdrawn,' " Blatter is reported to have said.
The charges center on a payment of about $2 million Blatter made to Union of European Football Associations President Michel Platini in 2011, when Platini was a consultant to FIFA, international soccer's governing body. In an October interview with the Swiss TV station RROTV, Blatter described the payment to Platini as part of a "gentleman's agreement."
In October, FIFA suspended Blatter, Platini and others from all soccer-related activities for 90 days while it conducted an investigation into the matter. Both men unsuccessfully appealed those suspensions, and on Monday, they will learn whether their bans will run for longer terms.
The verdict carries broader implications as well. Since the U.S. Justice Department indicted a number of FIFA administrators and marketing executives on bribery charges this summer, many of the soccer organization's biggest advertisers have grown more vocal in their calls for reform. In October, Coca-Cola, McDonald's, Anheuser-Busch and Visa called for Blatter's resignation. On Dec. 1, Adidas joined those four companies in writing a letter to FIFA demanding the organization's reforms happen under independent oversight.
Should those sponsors walk, that could wind up costing FIFA a tremendous amount of money. It earned $1.5 billion from sponsorships between 2011 and 2014, including $177 million from each of its six "World Cup partners" in 2014 alone.
Regardless of what happens to Blatter and Platini on Monday, many heads have rolled already. Former FIFA executive Chuck Blazer, who later revealed he was working with the FBI, pleaded guilty to a $100 million corruption probe; Ganesh Thapa, the president of the All Nepal Football Association, was banned for 10 years for bribery; and the heads of both Thailand's and Brazil's top soccer bodies are under investigation for bribery.
© Copyright IBTimes 2022. All rights reserved.
FOLLOW MORE IBT NEWS ON THE BELOW CHANNELS