What Does 'No Homo' Even Mean? Roy Hibbert Was Unfairly Punished For Using 'Slur'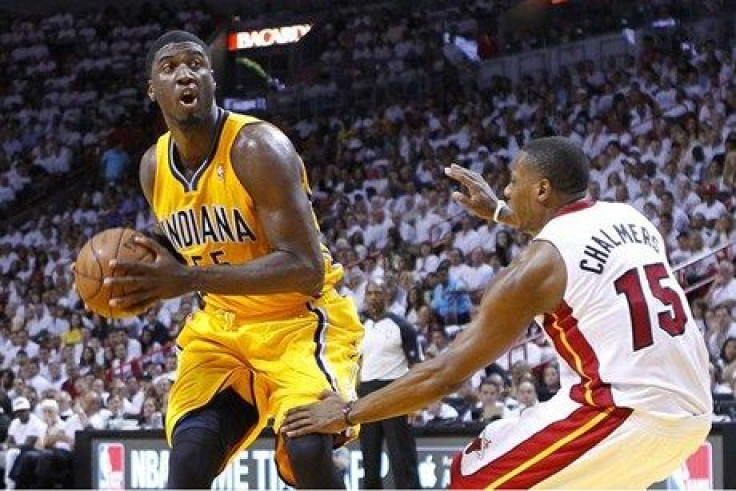 Indiana Pacers star Roy Hibbert was in rare form in his postgame press conference following Game 6 of the Eastern Conference Finals on Saturday, dropping what the NBA has called "offensive comments," including an F-bomb and a term that has been deemed a homophobic slur.
The use of the F-word -- the four-letter one that rhymes with truck, not the undeniably anti-gay slur that also starts with "F" -- was unnecessary and vulgar, and NBA Commissioner David Stern was right to punish the 7-foot-2 center for using it in televised comments. Hibbert, who used the word as a diss to reporters, even admitted as he was saying it that he was in the wrong.
"Y'all m------------- don't watch us play throughout the year, to tell you the truth," Hibbert said. "So that's fine. I'm going to be real with you, and I don't care if I get fined. We play, and we're not on TV all of the time, and reporters are the ones that are voting and it is what it is. And I don't make it, that's fine. I'm still going to do what I have to do."
But the hubbub over his use of the term "no homo" is a little more complicated. Stern fined the Pacers star $75,000 for using the term and the aforementioned F-bomb, saying that Hibbert's remarks were "offensive" and off-limits.
"While Roy has issued an apology, which is no doubt sincere, a fine is necessary to reinforce that such offensive comments will not be tolerated by the NBA," Stern said in a statement.
The problem is, he didn't say anything that is explicitly defined by any relevant authority as patently offensive. Asked how Miami Heat superstar LeBron James was able to dominate in the paint, he offered a simple explanation.
"LeBron was scoring in the post or getting to the paint 'cause he was stretching me out so much -- no homo," Hibbert said.
Afterward, when concerns were raised about Hibbert's use of "no homo," he issued a swift apology.
"[My remarks] were disrespectful and offensive and not a reflection of my personal views," he said in the statement. "I used a slang term that is not appropriate in any setting, private or public, and the language I used definitely has no place in a public forum, especially over live television."
The term "no homo" is one that many NBA fans are likely unfamiliar with, and it does have some root in anti-gay sentiment. But it is not a defined slur, and it was not used in an offensive or bigoted way. The Associated Press thinks it was, as it wrote that he said "'no homo,' a phrase that implies fear of appearing gay." But the NBA hasn't defined it as such, and the word "fear" in the AP description may be too loaded in this instance.
Hibbert's use of "no homo" was meant to indicate that the explanation leading up to it should not be seen as an expression of positive personal sentiments regarding James, who has been a fierce rival of Hibbert's in this ongoing Eastern Conference Finals.
He was explaining that James' skills were what led him to be able to take advantage of Hibbert in the Saturday showdown, but that his respect for LBJ's game should not be misconstrued as an indication that he harbors any particular good will for him.
It's not the most artful language, and if the NBA wants to ban it because of the way it is often used in an offensive and homophobic manner, then the league should specifically state that.
But what Stern should not do is arbitrarily pass down punishment for something that is questionable but ill-defined. And arbitrary is just what the punishment is, because James himself has used the term without getting in trouble (reminds one of how the calls have been going for this entire series -- sorry Heat fans, all six of you.)
In 2010, a reporter was interviewing "The King" and shoved a microphone very near his highness' face, inspiring him to say "give me a little room, [you] put it in my mouth, no homo." Check out a video of the exchange below:
It's the same term, used in a more offensive manner, as it makes a veiled reference to a sex act, and yet James faced no repercussions from the NBA or his team.
Compare James' remarks above to Hibbert's use of the same term on Saturday as captured in the video below. Hibbert's use of "no homo" was at worst equally as offensive as James'.
And therein lies the unfairness. Hibbert shouldn't have used the term. And the NBA should probably rule it too offensive for players to use, especially now that it has fined Hibbert for saying it. But Stern shouldn't call Hibbert out for using it while he's describing a player who previously used the same term without the Commish batting an eyelash.
Let's hope Stern pays as much attention to the horrendous officiating likely to continue in Game 7 tonight as he does to the words said when lesser-known stars talk about his golden boy.
© Copyright IBTimes 2023. All rights reserved.