First Black Female Republican In Congress: Mia Love Wins Utah House Seat In Tight Race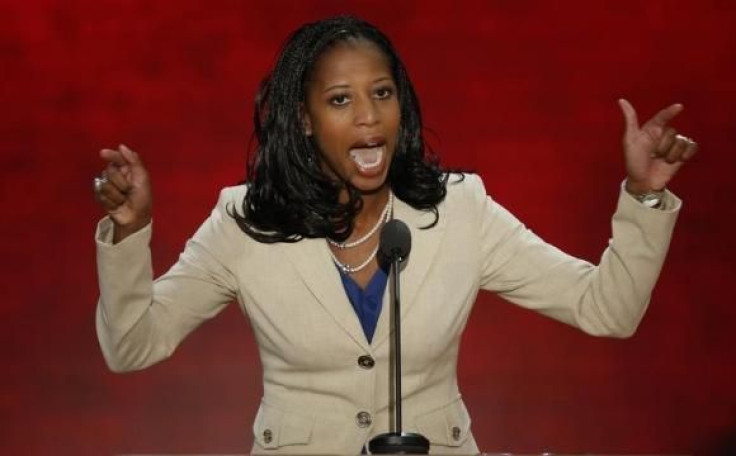 In one of the most closely watched and expensive House races of the 2014 Election, rising Republican star Mia Love, a Brooklyn-born Haitian-American woman, held off a late surge by Democrat Doug Owens to win Utah's 4th Congressional District. With 99 percent of precincts reporting, Love defeated Owens, 50 percent to 47 percent.
Love, 38, a mother of three and a member of the Mormon church, becomes the first black Republican woman and the first Haitian-American to be elected to Congress. Polling data had the former mayor of Saratoga Springs well ahead of Owens in August, but Owens was able to close the gap in recent weeks.
It was a comeback of sorts for Love. In 2012, she lost to popular six-term incumbent Rep. Jim Matheson by just 768 votes out of 245,277, or 0.3 percent, in a district that includes parts of Salt Lake County. Libertarian candidate Jim Vein finished with 2.6 percent of the vote, perhaps playing spoiler to Love's historic bid two years ago. Matheson, the lone Utah Democrat in Congress, announced in December he would not seek re-election for an eighth term.
Love withstood a late charge by Owens in the polls. In August, Love had a 12-point lead in a UtahPolicy.com poll.
The 2014 campaign was marked by a wide disparity in campaign contributions. Love's campaign raised more than $4.67 million, compared to $658,000 by the Owens campaign, according to the Center for Responsive Politics. Of the more than 19,000 individual contributions to Love's campaign, 95 percent came from outside Utah.
Owens, a Salt Lake City native and Yale Law School graduate, is the son of the late Wayne Owens, a 2nd district representative for 16 years. Owens was aided by the support of Matheson, who campaigned on his behalf. In an October debate, Owens portrayed Love as too extreme, claiming she was "hiding her position on student loans, Pell grants, and the Department of Education."
At an April campaign event, she touted her resilience. "I'm kind of a nightmare for the Democratic Party," Love said. "They don't want me there. But I'm coming."
Love appeared at the 2012 Republican National Convention in Tampa, Florida, giving a four-minute speech where she told the story of her immigrant parents, who arrived in the U.S. with "$10 dollars in their pocket."
The Love victory was part of a convincing overall victory for the Republicans in the midterm elections. The GOP regained the majority of the U.S. Senate, and gained seats in the House.
© Copyright IBTimes 2023. All rights reserved.
FOLLOW MORE IBT NEWS ON THE BELOW CHANNELS