Five Android Features the Apple iPhone 5 Will NOT Have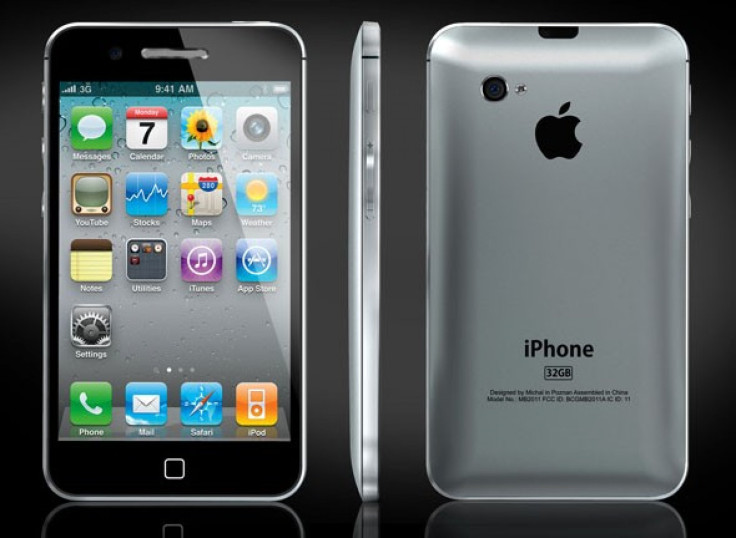 Apple iPhone 5 rumors have set the media guessing about the next probable date and possible hardware upgrade.
The most recent rumor suggests that the revolutionary iPhone 5 is not due until mid-2012. Another report suggests not one but two iPhones, an iPhone 5 and iPhone 4S, will be released in September this year.
It's not just the iPhone 5 release dates which have kept the media bemused. It's also the ever-growing list of specifications the next iPhone will boast. However, a careful analysis of past comments by Apple executives and reports by research firms reveals some features that will surely not be showcased in iPhone 5.
To that end, here's a list of rumored features that will NOT wind up featured in the Apple iPhone 5:
NFC-enabled mobile payment
In May, BusinessInsider, quoting a Bernstein report, said that Apple's next iPhone will not support NFC-based mobile payment. The Independent, citing some of the largest mobile carriers in the UK, said that Apple will forego NFC in its next iPhone due to lack of industry standards about the technology. The rumors that Apple will equip its next iPhone with NFC gained momentum when Google released its NFC-based mobile payment feature in the form of Google Wallet in May. The Google Wallet will currently be available with Google's Nexus S 4G phones available on Sprint network.
Flash Support
If there is one certainty about iPhone 5, it is that it will not support Flash. In an open letter Apple CEO Steve Jobs in April 2010 stated that Apple would not support Adobe Flash. He said: Flash was created during the PC era -- for PCs and mice. He further said: But the mobile era is about low power devices, touch interfaces and open Web standards -- all areas where Flash falls short. Jobs cited other reasons to the list like Adobe's proprietary control over the Flash platform, the existence of its favored HTML 5 platform, besides questioning the reliability and security of Flash, citing it as the No. 1 reason behind Mac crashes.
Higher Internal Storage
Apple's iPhone 4 comes in two internal memory specification, 16/32 GB. However, since Apple unveiled its cloud-locker facility the iCloud at WWDC, the possibility of Apple offering a 64GB or higher internal memory configuration in iPhone 5 is suspect. iCloud presently gives users 5GB storage in the cloud. Users can store music, documents, apps and calendar on iCloud. Thus, Apple can leverage iCloud support to limit the iPhone's internal memory requirement. This would also keep Apple's costs low, as there is a significant price difference between a 16GB and 32GB iPhone model. A 16GB iPhone 4 costs $199 and a 32GB model costs $299 with contract.
Larger Display
Apple may follow its iPad 2 specs and may maintain the existing 3.5-inch display size in the upcoming iPhone 5. When Apple released its iPad 2 it did not change the display size, keeping it at the 9.7-inch form factor, even while multiple Android tablets were released with 10.1-inch, 7-inch and 8.9-inch displays. Apple launched the iPhone 3GS with the same form factor 3.5-inch screen and instead of increasing the size of the iPhone 4 display, Apple focused on offering higher-resolution retina display. Also keeping the display size at 3.5-inch offers significant economic benefits to Apple, as it does not have to re-work its manufacturing process, since increasing the display size requires a major capital outlay. Thus, Apple could possibly optimize the display rather than increase the display size.
4G LTE iPhone 5
Jefferies & Co. analyst Peter Misek had stated that Apple will not release a 4G LTE iPhone this fall as Qualcomm's LTE chipset, which Apple would have used, were not reaching the yields that Apple expects for its iPhone 5. Also BMO analyst Keith Bachman stated that Apple will not release a 4G phone data transfer on 4G network that will severely impact iPhone's battery life.
While these features will be missing from iPhone 5 it is rumored that the next iPhone will feature an 8MP camera with dual-LED flash, edge-to-edge screen, tear-drop design, voice recognition features, 1080p video playback support, A5 processor and SIM-less worldphone design with 3-4 internal antennas for GSM and CDMA compatibility.
Must Read: Apple iPhone 5 versus Top 10 Android 'super' smartphones (the ULTIMATE smartphone war)
Also Read: Apple iPhone 5 facing threat from HTC myTouch 4G Slide?
Also Read: Apple iPhone 5 with unlimited data plan? Here's how
© Copyright IBTimes 2023. All rights reserved.