Flamin' Hot Cheetos Ban Could Become A Reality At Schools, Should The Snacks Be Banned?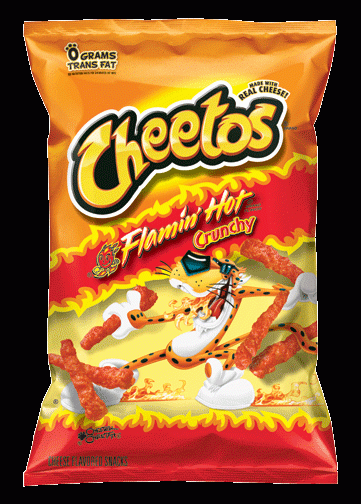 Schools in California and New Mexico are attempting to place a pan on a popular student snack, Flamin' Hot Cheetos, due to health concerns.
According to ABC News, some schools said Flamin' Hot Cheetos, a spicy version of the popular cheese flavored snacks, pose a health hazard due to the high fat and salt content and artificial coloring and flavoring. Experts have even said the spicy Cheetos are "hyperpalatable," or considered an addicting food.
"Our brain is really hardwired to find things like fat and salt really rewarding and now we have foods that have them in such high levels that it can trigger an addictive process," University of Michigan clinical psychologist Ashley Gearhardt told ABC.
News comes after a school in Illinois banned Flamin' Hot Cheetos from its school lunch menu, which at one point sold more than 150,000 bags.
"If children were to bring in snacks that are high in fat, high in calories, that's their choice," Rockford School District Interim Superintendent Robert Willis told ABC. "We're not going to be providing those kinds of foods."
Similarly, a school in California doesn't allow candy or Flamin' Hot Cheetos to even be brought in.
"We don't encourage other chips, but if we see Hot Cheetos, we confiscate them — sometimes after the child has already eaten most of them. It's mostly about the lack of nutrition," Jackson Elementary School principal Rita Exposito in Pasadena, Calif., told the Chicago Tribune.
Another teacher in Albuquerque, N.M. sent home a note home to students' parents asking them to refrain from bringing Flamin' Hot Cheetos to school. The teacher blamed the health concerns of the snack as well as the "mess" it makes, WTVR reported.
Frito Lay, the company owned by New York-based PepsiCo that manufactures and sells the Flamin' Hot Cheetos along with other Cheetos varieties, told KCBS in Los Angeles it is "committed to responsible and ethical practices, which includes not marketing our products to children ages 12 and under. We also do not decide which snacks are available on school campuses and do not sell snack products directly to schools."
Meanwhile, ABC reported, Flamin' Hot Cheetos have become a sort of fad on the Internet, like a Facebook fan page with almost 50,000 "likes" as well as a YouTube video of children rapping about the snack, which has garnered more than 3.3 million views.
© Copyright IBTimes 2023. All rights reserved.