Flight Diverted After 3 Are Injured During Bad Turbulence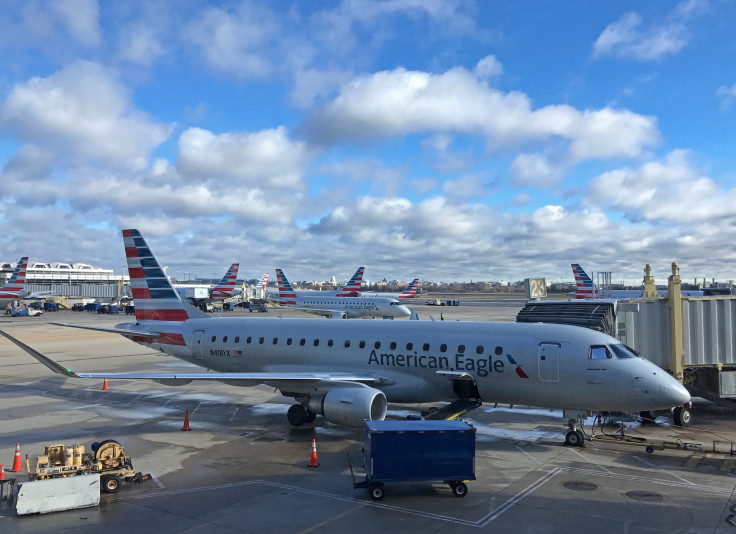 An airline flight was diverted Tuesday after hitting bad turbulence, according to CBS affiliate KMOV. The turbulence resulted in the injuries of three people on board.
SkyWest Airlines Flight 3167 was in route from Atlanta to Chicago before it met a wave of turbulence. The airline took precautionary action and landed the plane at St. Louis Lambert International Airport (STL) in St. Louis, Missouri. Flight 3167 was operating under American Eagle — an American-based airline that allows several airlines to fly under its brand.
A SkyWest flight attendant and two passengers sustained injuries from the turbulence. However, no further incidents occurred upon landing. Paramedics met Flight 3167 at the tarmac to transport the three injured people to the local hospital.
A representative from SkyWest Airlines issued a statement to International Business Times Tuesday about the emergency landing in St. Louis.
"SkyWest Flight 3167, operating as American Eagle from Atlanta to Chicago, diverted to St. Louis after it briefly encountered unexpected severe turbulence," SkyWest told IBT. "The flight landed without incident in St. Louis, where paramedics met the aircraft."
SkyWest added, "A flight attendant and two customers were transported to a nearby hospital for evaluation. The safety of all onboard our aircraft is our primary concern. Both American Airlines and SkyWest are taking care of our passengers and crew at this time."
A representative from American Airlines did not immediately return IBT's request for comment.
SkyWest Airlines isn't the first to suffer from turbulence issues in-flight. American Airlines hit a wave of extreme turbulence early August, according to USA Today. The severe turbulence that plagued Flight 759 caused injury to at least 10 people. United Airlines also faced severe turbulence in July, according to Business Insider. Turbulence on United Flight 1031 caused injury to nine passengers and one crew member.
How dangerous is turbulence? Turbulence is listed as the most common form of in-flight injury, according to the Federal Aviation Administration (FAA). Turbulence causes injury to approximately 58 people annually, but a bumpy ride shouldn't create cause for concern among passengers and airline crew members.
"Flying is the safest way to travel. Passengers can easily prevent injuries from unexpected turbulence by keeping their seat belt buckled at all times," the FAA wrote in a press release.
Airline pilots determine methods to reduce turbulence ahead of their flights. According to The Washington Post, pilots utilize multiple sources to help plan for possible turbulence.
"They receive weather forecasts and reports before liftoff and real-time intel from other pilots and air traffic controllers mid-flight," the publication reported August 9. "Using this data, they can determine which patches of sky and altitudes to avoid. In addition, new aircraft can automatically sense the turbulence at the moment of impact and report the details back to the ground."
Weather is constantly changing, which can sometimes make early predictions irrelevant. Therefore, unpredicted turbulence has the ability to occur. According to a blog post from airline pilot Patrick Smith, turbulence levels are graded on a scale from "light" to "extreme."
"When we pass on reports to other crews, turbulence is graded from "light" to "extreme,'" Smith wrote on his website, Ask The Pilot. "The worst encounters entail a post-flight inspection by maintenance staff. There are definitions for each degree, but in practice, the grades are awarded subjectively."
Follow me on Twitter @dory_jackson
© Copyright IBTimes 2023. All rights reserved.