Floyd Mayweather Net Worth 2021: Did Boxer Earn $100M From 'Fake' Logan Paul Fight?
KEY POINTS
Floyd Mayweather has an estimated net worth of $450 million
The boxer earned more than half a billion dollars from just two fights
Mayweather's match against YouTuber Logan Paul reportedly netted him about $100 million
Floyd Mayweather is one of the highest-paid athletes of all time. The boxing champion and promoter recently saw a jump into his already massive fortune after signing on to fight YouTuber Logan Paul.
For his exhibition match against Paul, Mayweather was expected to receive a guaranteed $10 million and 50% of the pay-per-view revenue, SportingFree reported. The undefeated boxing champion was estimated to earn about $100 million in total from the June 6 fight. Paul was believed to have signed on for $250,000 upfront and 10% of the pay-per-view revenue.
Following the match, which Mayweather won, the veteran boxer appeared to confirm the amount he earned from the fight during a recent press conference. In a video that has since surfaced on Twitter, he claimed to have made $100 million from a "fake fight."
"I'm the only person that can do a fake fight and get 100 Ms. I could do legalized sparring and get 100 M's," Mayweather claimed during the press conference.
But while $100 million is a huge sum, this still pales in comparison to Mayweather's earnings from his biggest fights.
In his decades-long career, Mayweather, 44, has fought several high-profile names and earned a lucrative amount for each match. As of this year, the retired boxer's total career earnings surpassed the $1.1 billion mark, and he is currently worth an estimated $450 million, according to Celebrity Net Worth.
Mayweather earned more than half a billion dollars from just two fights: Manny Pacquiao and Conor McGregor.
Mayweather was initially scheduled to fight Pacquiao in 2009. The event was considered to be the most anticipated match of the decade, but talks fell through as the two boxers failed to reach an agreement.
The fight between the two boxing legends finally took place six years later on May 2, 2015, in Las Vegas. The fight ended with Mayweather's win and gave him a massive profit of $250 million for a 60-40 split with Pacquiao.
In August 2017, the undefeated boxing star squared off against McGregor. The match was held in Las Vegas and generated more than $550 million in total revenue. Mayweather got himself a hefty $275 million check for his role in the fight and its promotion, Forbes reported.
After defeating the UFC star, Mayweather ended his professional career with a clean 50-0 undefeated record. However, he continued to rake in millions as he fought Japanese kickboxing star Tenshin Nasukawa in an exhibition match in December 2018 and Paul this June.
As of this writing, Mayweather is one of just six athletes whose career earnings have breached $1 billion. Others on this exclusive list are Michael Jordan, Tiger Woods, Arnold Palmer, Jack Nicklaus and Michael Schumacher.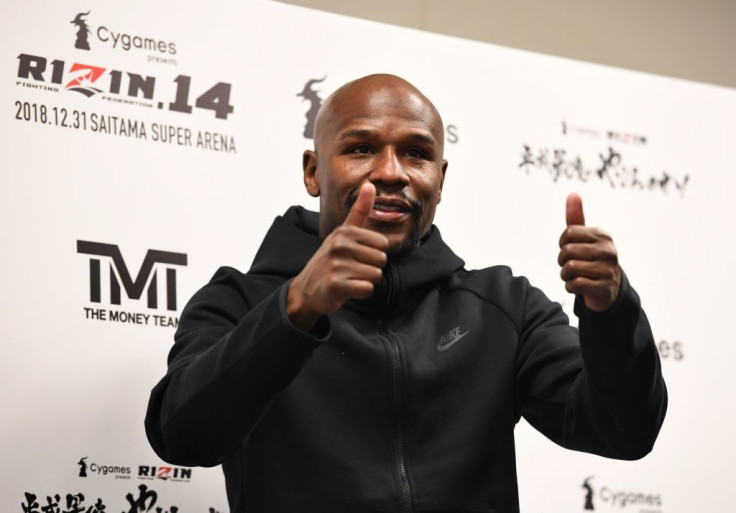 © Copyright IBTimes 2023. All rights reserved.