Food inflation eases, but RBI action seen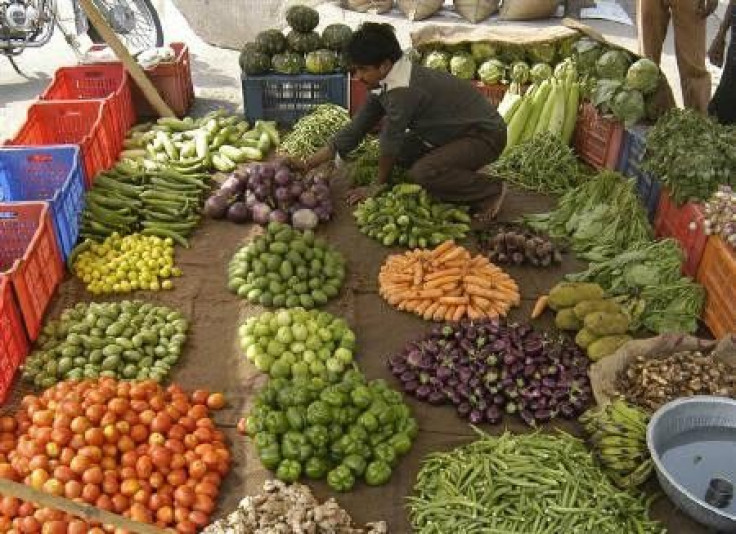 Food inflation eased for the second straight week in January, tracking lower fruit and vegetable prices, but accelerating headline inflation in December is likely to put pressure on the Reserve Bank to raise rates at policy review on Jan. 25.
India's food inflation quickened to a one-year high late last month as unseasonal rains spoilt summer harvest of perishable vegetables like onions, potatoes and tomatoes in several key producing states.
India's food price index rose 15.52 percent and the fuel price index climbed 11.53 percent in the year to Jan. 8, government data on Thursday showed.
In the prior week, annual food and fuel inflation stood at 16.91 percent and 11.53 percent. The primary articles price index was up 17.03 percent in the latest week, compared with an annual rise of 17.58 percent a week earlier.
Analysts expect food prices to moderate by February, but they would still remain high.
The build-up of food inflation will take two months to dissipate. So, it will moderate in January and February and we expect food inflation at 10-12 percent by March, said Abheek Barua, chief economist at HDFC Bank.
I expect the RBI (Reserve Bank of India) to continue to be hawkish and continue with its rate hikes as non-food primary product inflation is sticky and can have pass through effect into wages and general prices, Barua said.
The wholesale price index, the most widely watched gauge of prices in India, rose 8.43 percent in December from a year earlier, compared with 7.48 percent in November, reflecting that food inflation has fed into the broader economy.
While monetary measures are largely ineffective in tackling supply-led problems like food inflation, the RBI is widely expected to raise policy rates by 25 basis points in its Jan. 25 policy review to rein in inflationary expectations and dampen overall demand.
India's 5-year swap rate was down 2 basis points to 8 percent on a knee-jerk reaction after weekly food inflation eased, but rose back to previous levels as rate hike concerns and a hawkish policy stance weighed.
This week, the RBI governor Duvvuri Subbarao said that the central bank is 'desperate' to control inflation, in a sign which is being widely read as indicative of further monetary tightening.
Finance Minister Pranab Mukherjee met state finance ministers on Wednesday and said local factors are widening the gap between wholesale and retail prices.
Mukherjee said the federal government has taken measures to facilitate imports and restrict exports where needed, but urged state governments to review local levies and state level marketing regulations which add to food prices.
© Copyright Thomson Reuters 2023. All rights reserved.